Sustain's Agriculture Bill priorities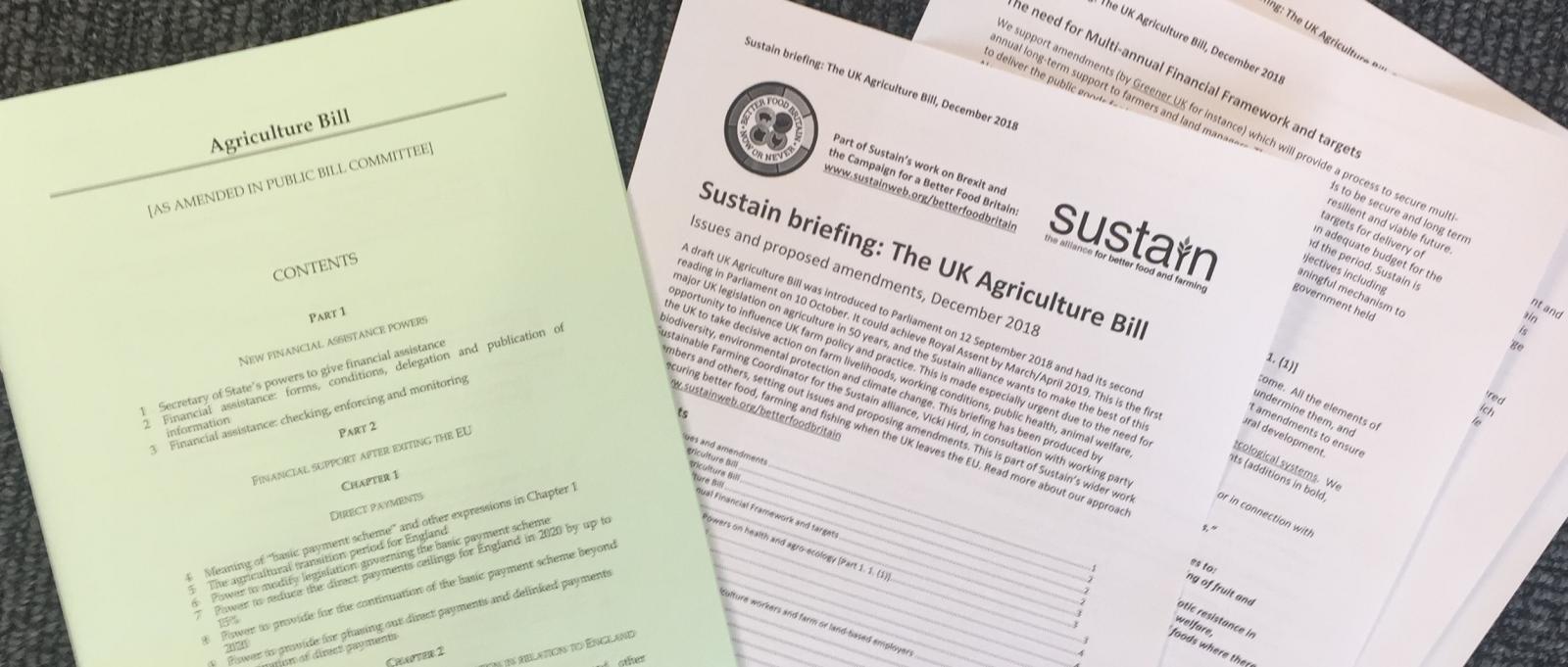 Sustain is coordinating the alliance's response to the Agriculture Bill, which was introduced to Parliament on 12 September 2018 and had its second reading in Parliament on 10 October. It could achieve Royal Assent by March/April 2019.
This is the first major UK legislation on agriculture in 50 years, and the Sustain alliance wants to make the best of this opportunity to influence UK farm policy and practice. This is made especially urgent due to the need for the UK to take decisive action on farm livelihoods, working conditions, public health, animal welfare, biodivesity, environmental protection and climate change. We produced a 10-point primer on the first Bill draft in September 2018.
Sustain is focusing our attention on supporting amendments to the Agriculture Bill on five key themes:
Public health - support for farming methods that promote public health, such as low antibiotic and pesticide use, and promotion of healthy fruit and vegetable production. Read our public health amendment briefing and recent blog.
Agro-ecology - support for whole-farm systems, such as organic, that can deliver on multiple environmental, social and animal welfare benefits. Read our agro-ecology amendment briefing and blog.
Fair dealing - support for powers, duties and regulation to ensure fair trading practices throughout the food supply chain, to protect decent livelihoods. Read our fair dealing amendment briefing.
Agricultural workers - support for reinstatement of an Agricultural Wages Board for England, to ensure better pay and conditions for farm workers. Read our 2 page briefing on the amendment we want and longer agricultural workers briefing.
International trade - support for an amendment to ensure that imports of agri-food products must meet the same high standards expected of British farmers, to prevent unfair competition.
For more detailed background on the amendments, read our technical amendments briefing (December 2018) - note that this is an evolving document, so get in touch if you want updates. As amendments are tabled, we will produce new versions.
We are asking the public to contact their MP about their concerns for the Bill. Please consider contacting your own MP to encourage them to speak out on public health, agro-ecology, fair dealing, agricultural workers and high standards in international trade.
The list above shows those amendments that Sustain is actively supporting. We are also supportive of a wide range of other amendments championed by others, relating to - for example (but not limited to):
The need for multi-annual budgets for farming and land-management support
Integrated action on climate change and reducing greenhouse gas emissions from agriculture
Recognition of soil conservation and soil health
Action to reduce pesticide use, improve worker protection and reduce pesticide residues in food
amendments to ensure higher animal welfare outcomes and better labelling
Protection of County Farms
Action to improve farmer training and skills

Contact Vicki Hird vicki@sustainweb.org for more information
Produced with the support of the Friends Provident Foundation
---
SHARE