Sustain alliance AGM: Looking forward to 2020 - and beyond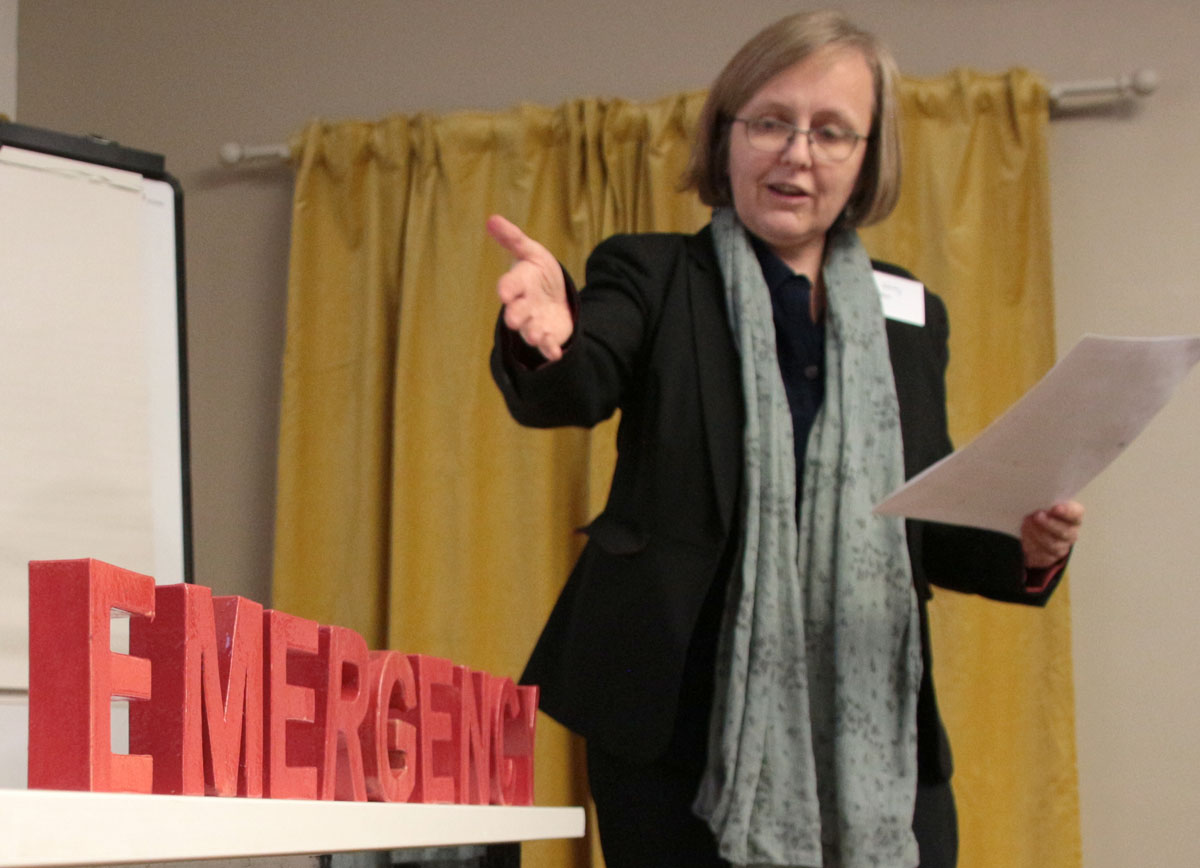 Sustain's chief executive Kath Dalmeny looks forward to 2020, set to be a momentous year for food, farming and fishing; in which Brexit will keep us busy, but other priorities must not be forgotten.
At this year's Sustain alliance AGM, we stand on the cusp of a General Election that will define the political landscape for the five years of Sustain's forthcoming strategy. We have the possibility of the UK leaving the EU by the end of January (by fair means or possibly foul).
Next year, when we meet at our next AGM, we will know much more about what type of Brexit will play out, and what type of trade deal we have – EU or US style. Also the Conference of the Parties on climate change will have come to Glasgow, COP26. The eyes of the world and our movement will be on what progress our country has made – or failed to make – both domestically and on the international stage on key initiatives that could deliver on our country's Paris Agreement commitments and SDGs – the Agriculture Bill, ELMS, the Fisheries Bill, the Environment Bill, the National Food Strategy. We will have a lot on our collective plates.
There's also the chilling possibility of a US trade deal in which we now know, and I quote from the leaked trade papers: "the US is bound by Congress not to mention greenhouse gas emission reductions in trade agreements".
So our strategy is not just about the next one or even five years. We all know – in our heads and in our hearts that we are gathering at the start of a decade that must see the transition to a radically different society. We are entering a decade in which we must achieve a radically different way of organising ourselves and organising the food system: one that restores nature, averts catastrophic climate change and ensures that everyone can live and eat well.
This re-writes all of our job descriptions, shifts all of our ways of thinking and doing. We want to achieve resilient communities connected to sustainable food producers, rewarded fairly for their skills and effort in feeding us and for conserving our soil and our bees and our trees and our seas. Skilled and valued food production, more sharing and caring to ensure that we and our fellow citizens are well fed and our children brought up to love each other, love nature and perpetuate a better food culture. If we are to achieve that future… then I have to say this: I think some of the main players in achieving that are in this room, and in this alliance. That's how important the work of all of you, and of the Sustain alliance working together, has become.
This word EMERGENCY is in the room with us, it won't go away for the rest of my working life. I asked my five-year-old daughter, "When I talk to people at events, how do you think I should make people remember that we're talking about an emergency?" She said, "Write it in big, red letters." I said, "Great idea, let's do it." I have been taking large red cardboard letters spelling out EMERGENCY to talks. It is partly to provoke the audience, but they are also about making me – us – step up to its implications. This word now provides the underlying current to everything that we must all now do. Everything that Sustain was made for, 20 years ago.
I can't help feeling incredibly grateful to the original founders of Sustain for the foresight in establishing these priorities, this structure, this mandate, this spirit, this style of alliance-based leadership that have helped us to come so far. As someone said in our recent members survey: "If Sustain didn't exist it would be absolutely necessary to invent it."
What that makes me think this: What priorities, what structure, what mandate, what spirit, what style of alliance-based leadership will the next generation of Sustainers feel grateful for, 20 years' down the line? What tools do we need to be setting in place now, to help them in the future?
Let me give you a flavour of what you as the Sustain alliance membership have already told us about what you think should be our compass for the next 5, then 10, then 20 years. We consulted members by a variety of means, for example via working parties, our National Food Strategy consultation and the recent Sustain strategy survey. Here's a snapshot of what you've said so far (more details to follow). Generally, the priorities of members for Sustain are:
Climate change and nature emergency
Post-Brexit policy and legislation
Good governance of food, farming, fishing and environment policy (includes, legislation, accountable bodies, fiscal measures, certification and standards)
UK trade policy and standards (food, fishing, agriculture, health, workers, environment)
Healthy and sustainable diets
Tackling the root causes of food poverty
Sustainable farming and farm livelihoods (includes agro-ecology, organic, pasture-fed, antibiotics stewardship, agroforestry, better routes to market, local food infrastructure)
Sustainable fish and fishing livelihoods
Good food education, jobs and skills
And how do members think we should be doing this? Again a snapshot, but broadly:
Campaigning for policy and legislation. This came out way ahead of all the others, which is music to my campaigner ears.
Having a presence in the Westminster parliament, and work with devolved administrations
Holding food businesses and public authorities to account for action on key issues
Supporting systematic local action; building the food movement
Undertaking research and/or producing compelling evidence supporting what we champion
And… Sustain members think that setting 'bold targets' and working collaboratively with the Sustain alliance to achieve them is a good idea. Here's a snapshot of responses, expressed like a poem: "Great - really powerful. I like this approach, it gives members a common goal to work towards. Like it. We need to be bold. I am enthusiastic about it. It's always good to aim high."
But what could that mean in practice? We can aim, systematically, step by step, to play our part in:
halving childhood obesity by 2030; eradicating food waste; bringing in a nitrogen tax
achieving net zero GHG emissions and nature restoration; a 10-year transition to agroecology
realising everyone's fundamental human right to adequate and nutritious food
setting progressive goals for percentages of the UK food market to be served by values-led, climate- and nature-friendly food enterprises; and for increasing proportions of our diets to be both healthy and sustainable;
aiming for every single piece of fish caught, farmed, sold or served in the UK to be from verifiably sustainable sources, preferably by law.
We're sounding like the SDGs. And that's no bad thing. But we can bring Sustain-style spirit to achieving them, with a game plan, campaigns for standards, legislation and accountability and a tireless and joyful persistence. Look back a bit less than five years. In 2015 we said at Sustain's AGM that foodservice companies serving half a billion meals per year had signed up to our alliance's verifiably sustainable fish standards. And today, we're an inch away from declaring that figure has moved up to a billion. We can achieve change at scale. We do achieve change at scale (fish pun intended). But when do we ban the sale of unsustainable fish? Surely the time has come. This is a nature emergency.
Big ambitions bring me to the subject of "leadership". What is Sustain-style "leadership"? I've been noting alliance-style leadership phrases that other people have shared over recent months: "patient collaboration", "making it easier to face up to hard truths", "generous leadership", "leadership from within the gang", "no ego"; "no movement without the whole lot moving together, like a shoal of fish, only no-one remembers exactly who started it", "navigation not steering".
And from our friend and colleague Pete Ritchie of Nourish Scotland: the sort of leadership that's 'octopus management' which means (he says) "decentralised decision-making, plus the capacity to override that, at the level of the whole, to escape immediate threats". Of course, octopuses are clever, inventive, fluid, squeeze through tight holes and coordinate eight arms all at once. That does sound a lot like Sustain!
Let's finish with three words that should also be in Big Red Letters. One was brought to our lexicon by an old friend Penny Walker, who facilitated a session in October. We asked her to help us talk as a Sustain team about "leadership in the face of climate and nature emergency". And she said, "Let's also talk about courage." COURAGE. We're going to need it.
The second word is EMERGENCY. But not just EMERGENCY. Replace some letters and we get AGENCY. We must be cultivating agency with everyone we work with. We are entering new waters, we're going to need a lot more friends taking action, and we have brilliant ideas, but not all of the answers. We must also be open to solutions, passion and routes to resilience that are coming through from communities, nature-friendly farmers, social entrepreneurs, procurement officers, young people. Diverse voices and actors that we must listen to and cultivate.
And the final word? Well, you know me. It's going to be LOVE. It's our glue. I love working with you all, most especially my Sustain colleagues. And we really love winning campaigns. I truly believe that the main way in which we will generate the momentum for a just transition is to follow both our heads and our hearts and to make it as fun and convivial as humanly possible. Because we are going to need a good food movement as never before, motivated by recognition of our common vulnerabilities; facing up with courage to the hard realities of the years ahead; but recognising that we have the ideas, the motivation and very considerable powers in this room to do something about it.
---
18/12/2019
Sustain
SHARE
---
Sustain: Sustain: The alliance for better food and farming advocates food and agriculture policies and practices that enhance the health and welfare of people and animals, improve the working and living environment, enrich society and culture and promote equity.
---
More blogs