Sustainable Development Goals, Planetary Boundaries and Doughnut Economics – Sustain chief executive Kath Dalmeny reflects on big ideas that inspire the Sustain alliance to take action.

The Sustain alliance works together to achieve better food, farming and fishing. People sometimes ask "what do you mean by better?" and "what are you aiming to achieve?" – these are both very important questions.
The Sustain alliance is aiming to achieve a healthy, fair, humane and sustainable system for farming and fishing, producing good food, accessible to everyone, in a way that respects biodiversity and animal welfare, and protects and enhances the natural environment. This is our big goal. Over the years, we have worked together to achieve significant steps forward, and our movement has plenty of ideas for what needs to happen next.
To catalyse change, Sustain often 'zooms in' on a particular issue, such as sustainable fish, children's food or farm antibiotics, bringing together communities of interest to instigate collaborative projects and campaigns, taking concerted action to fix issues of common concern. This is vital, to be able to get into the nitty-gritty of solutions, working with sectoral specialists, policy-makers and practitioners. But we will always have the 'bigger picture' in mind as we do so. Solutions to the grave environmental, health and social issues of our time must be pursued in ways that balance a range of considerations, in the context of ecological limits and social justice.
Here, we set out some of those 'big picture ideas' that influence our work. They set the scene and provide the motivation, framework and foundation for action. We learn from such theories and philosophical approaches. However, it is also important to remember that Sustain is interested in catalysing change in the real world. We turn theory into action.
Below, we highlight three 'big picture ideas' that shape our work (among many others). These are:
Read Sustain's Guide to Good Food, setting out what you can do – and ask others to do – to help make our food and farming system fit for the future.
Planetary Boundaries
The world's natural systems are under enormous pressure from human demands. For many years, there has been growing concern that the way we live, travel, house ourselves and eat could push the earth's systems beyond their limits. As a species, we are using copious fresh water, cutting down forests and emitting too much of the greenhouse gases that cause dangerous climate change. Unchecked, this could push natural systems beyond their capacity to recover or to sustain human life, with devastating consequences.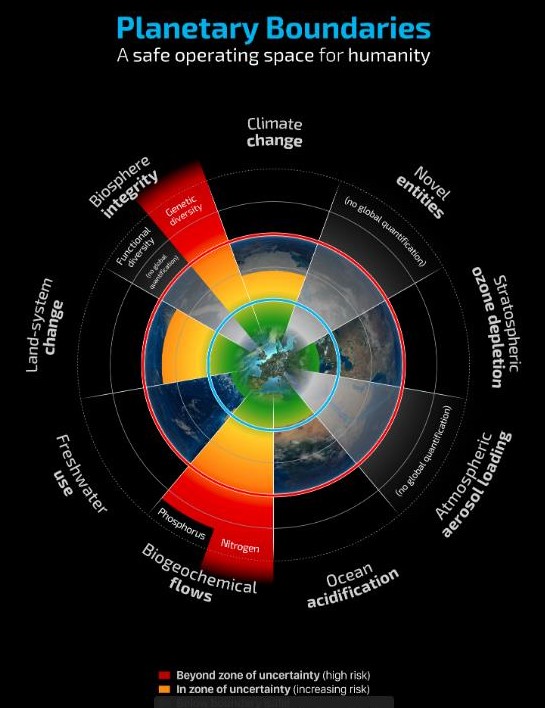 Scientists from the Stockholm Resilience Centre identified nine main areas in which human beings are putting pressure on the world's natural systems – shown in the diagram. The scientists made a global assessment of how well or badly we are doing on each theme. They also suggested a Planetary Boundary – revealing in which areas human demands could be pushing natural systems beyond tolerable limits.
For Sustain, this is a sobering analysis, because so many of the nine issues are directly connected to the way we feed ourselves. Nitrogen and phosphorous are used in vast quantities in farming, and this analysis shows we are already going well over sensible limits. Farming and fishing are also one of the main ways in which human demands impact on wildlife and habitats, reducing genetic diversity, another issue that has gone beyond its Planetary Boundary. Meanwhile, industrialised farming and our consumption of a narrow range of food varieties and processed foods has reduced the diversity of the crops we grow and the animals we consume, and hence also reduced our food system's resilience to climate change and disease.
The Planetary Boundaries analysis looks at upper limits. It also offers us the optimistic possibility of a 'safe living space for humanity' if we are able to keep below planetary limits. This sort of analysis must surely be our guide for policy, business practices and behaviours, affecting both what we consume and how it is produced. The choices we make will affect everyone – now and for future generations to come.
Doughnut Economics
Meanwhile, what about the millions of people who are not even able to meet their basic needs? How can we balance the need to cut back, with the need to continue to improve people's lives?
We need to find a way to meet everyone's needs within the means of the planet. In other words, to ensure that no one falls short on life's essentials (from food and housing to healthcare and political voice), while ensuring that collectively, we do not overshoot our pressure on Earth's life-support systems, on which we fundamentally depend – such as a stable climate, fertile soils, clean water, thriving pollinators and a protective ozone layer.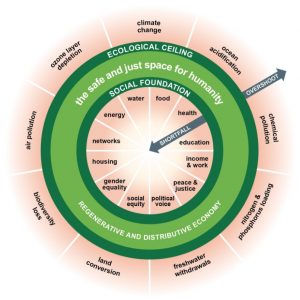 Economist and international development specialist Kate Raworth adapted the Planetary Boundaries analysis to show that whilst there is an 'ecological ceiling' for human demands on the planet, we also need to think about a 'social foundation' – a lower limit below which people's living standards should not all. She playfully calls this 'Doughnut Economics'.
For Sustain, this approach illustrates an integrated approach to human progress on a finite planet. We believe this type of thinking should act as a compass for government policy, business practices and individual behaviour. We believe that sustainable food, farming and fishing (on the production side), and sustainable manufacturing, retail, foodservice and individual behaviour (on the consumption side), must all play their part in helping human beings stay within a safe and dignified living space, whilst protecting and enhancing nature.
Sustainable Development Goals
The Sustainable Development Goals are a helpful way to organise action to achieve the safe and dignified living space described by Planetary Boundaries and Doughnut Economics. The Goals have been agreed internationally by countries (including the UK), working together to achieve progress on social and environmental goals. Increasingly, governments, companies and civil society organisations are using these as a framework to prioritise their work, to measure progress and to collaborate to achieve shared aims.
As the United Nations explains "The Sustainable Development Goals are the blueprint to achieve a better and more sustainable future for all. They address the global challenges we face, including those related to poverty, inequality, climate, environmental degradation, prosperity, and peace and justice. The Goals interconnect and in order to leave no one behind, it is important that we achieve each Goal and target by 2030."
Just look how many Sustainable Development Goals are relevant to our food, farming and fishing! We consider that Sustain's work contributes to addressing at least 12 of the 17:
No Poverty (SDG1) and Zero Hunger (SDG2)
Good Health and Well-being (SDG3), and Reduced Inequalities (SDG10)
Decent Work (SDG8)
Sustainable Cities and Communities (SDG11)
Responsible Production and Consumption (SDG12)
Climate Action (SDG13)
Life Below the Water (SDG14)
Life on Land (SDG15) and Clean Water (SDG6)
Partnerships for the Goals (SDG17)
In 2019, we wrote a short briefing called Food, Farming, Fishing and SDGs: How the work of the Sustain alliance furthers the aims of the UN's Sustainable Development Goals, a snapshot in time illustrating how our projects relate to making progress on the SDGs. In it, we give some examples, noting that all of Sustain's work is usually relevant to more than one Sustainable Development Goal, so our categorisation serves as an illustration.
We add a cautionary note: Whilst the Sustainable Development Goals are a helpful organising framework, they also fall short in some ways. Whilst the UK government is a signatory to the framework, there is no legal duty for those responsible for taking action to play their part, and we witness many policies and activities – by businesses, government and other public authorities – that result in sluggish progress or which can perversely undermine the goals. Hence, Sustain often advocates legal measures and systems for robust review, accountability and redress, to make sure that effective progress can be made and measured.
Published 4 Jun 2019
Sustain: Sustain The alliance for better food and farming advocates food and agriculture policies and practices that enhance the health and welfare of people and animals, improve the working and living environment, enrich society and culture and promote equity.
Kath is Chief Executive of Sustain: The alliance for better food and farming, since 2016 leading the alliance's response to Brexit and its profound implications for healthy and sustainable food, farming and fishing and developing the Campaign for a Better Food Britain. During the Covid-19 coronavirus pandemic in 2020, Kath has been the alliance lead on Food and Vulnerability, serving on numerous liaison and coordination groups to support the emergency food response at local and national level. She was instrumental with the Good Law Project and Doughty Street Chambers in launching a judicial review of the government's approach to children's holiday hunger during Covid-19.
Kath Dalmeny
Chief Executive
Support our charity
Donate to enhance the health and welfare of people, animals and the planet.