Response, Resilience and Recovery: London's Food Response to Covid-19
This year, our report assessing action on food in London replaces and combines our previous Good Food for London and Beyond the Food Bank reports. The new report looks at what councils had in place before Covid-19 that enabled a good food response, their emergency food response to Covid-19, as well as recovery planning to ensure a good food environment and access to food for all.
The report finds that where strong foundations were in place that predated the Covid-19 pandemic, by and large this enabled a stronger, more resilient food response to the pandemic. The research also found that the conditions created by the pandemic have, in a significant number of cases, engendered new positive action on food, especially in terms of new partnerships between councils and the voluntary and community sector.
Contents of report
Executive summary
Survey and approach
Recommendations for action
Council leadership in food across London
London's food in numbers
How are councils taking action?
Partnerships and collaborative approaches to action on food
Joined-up work on food across London during Covid-19
'Cash-first' approaches to tackling food poverty
Food access
The Covid-19 emergency food response across London
Issues with the emergency response

Food access and Black, Asian and minority ethnic Londoners
Food access for older, disabled and medically vulnerable people

Children's food access
Food growing and production
Supporting a good food economy
The climate and nature emergency and food
Healthier Catering Commitment
Food related recovery planning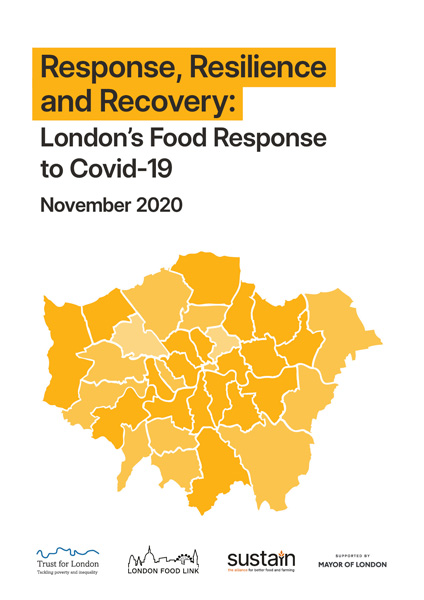 Response, Resilience and Recovery: London's Food Response to Covid-19
32pp - 2020 | 2696Kb
Published 25 Nov 2020
London Food Link: London Food Link brings together community food enterprises and projects that are working to make good food accessible to everyone in London to help create a healthy, sustainable and ethical food system for all.