Good Food for London 2018
In our annual London borough league table and series of good food maps, we shine a light on which boroughs are leading the way in creating a better food future for all Londoners. Good Food For London encourages London councils to take action on good food and measures progress in 11 different areas, from food growing, encouraging breastfeeding, school food, Fairtrade and fair pay.
In 2018, the league table is topped by the Royal Borough of Greenwich, followed by Islington, Tower Hamlets, Lambeth and Lewisham. The London boroughs of Barnet and Bexley are also recognised as 'most improved' after demonstrating significant progress since 2017.
---
Following on last year's launch of the Local Government Declaration on Sugar Reduction and Healthier Food (which four boroughs had signed), this year the measure has been updated to also include boroughs progress on running a SUGAR SMART campaign. This has been one of the most active areas for boroughs in 2018, with 10 boroughs now having signed the Local Government Declaration and 12 running SUGAR SMART campaigns, six of which are doing both. A further seven councils are in the processing of signing and/or setting up a campaign.

In 2018 the measurement on community food growing was updated to better capture how councils are supporting this sector and the work of Capital Growth. It now assesses councils on how they support access to land, integrate growing across different council departments, provide information and promote opportunities to growers, build the capacity of growers locally and recognise the importance food growing in local planning policy. This year 13 councils are taking action across all of the areas described above, eight are taking action across two areas and 10 are taking action across one area.

A number of the measures saw slight increases to council action. Two more councils are now London Living Wage Friendly Funders and six boroughs have received top marks for being London Living Wage accredited, promoting the scheme locally and being Friendly Funders (up from three in 2017). One new borough has reached Stage 3 for full Baby Friendly accreditation and another council has begun to take action on sourcing sustainable fish.

In schools, one new borough has achieved Gold Food for Life Served Here in a majority of its schools, with 24 out of 33 boroughs having at least Bronze accreditation in a majority of their schools and/or another catering sector under council control (e.g. care homes, workplace canteens or early years settings). Moreover, an increasing number of schools are engaged with Healthy Schools London and/or the Soil Association's Food for Life Awards, with at least some or a moderate proportion of schools in 31 boroughs involved.

This year's measurement on local food partnerships was updated such that boroughs were assessed on whether they have an active food partnership and action plan with involvement and commitment of the local authority, as well as membership with Sustainable Food Cities (SFC). Further points were awarded to those who had also achieved a SFC Award. This year eight boroughs have active local food partnerships that are members of SFC. In addition, Lambeth (Bronze, 2015) and Greenwich (Bronze, 2016) have also received SFC Awards, as well as the Greater London Authority & London Food Board (Silver, 2017).

Over the last two years (2016-2018) the number of councils who have taken action on animal welfare has stayed the same. No new councils have received Good Egg awards for buying cage-free eggs and no further awards for sourcing higher welfare chicken, dairy, pig or rabbit have been achieved by councils since 2017.

Despite seeing increased participation by councils after first launching in 2011, the Healthier Catering Commitment has seen a small decrease in participation over the last year. Fewer boroughs have also maintained their Fairtrade status since 2017. This is the second year in which both measures have seen participation decrease.
---
Report contents
London boroughs league table
Part 1: Mapping support for good food
Ensuring the best start for babies
Community food growing
The London Living Wage
Fairtrade food
Food for Life Served Here
Sustainable fish
Animal welfare
Healthier catering
SUGAR SMART
Local food partnerships
Improving food culture in schools
Part 2: Further actions for good food by London boroughs
A new London Food Strategy
Taking a place based approach to tackling childhood obesity
TRiFOCAL London: Transforming City Food Habits for Life
Colour your borough with vegetables
Drinking fountains in London
View the Good Food For London 2018 league table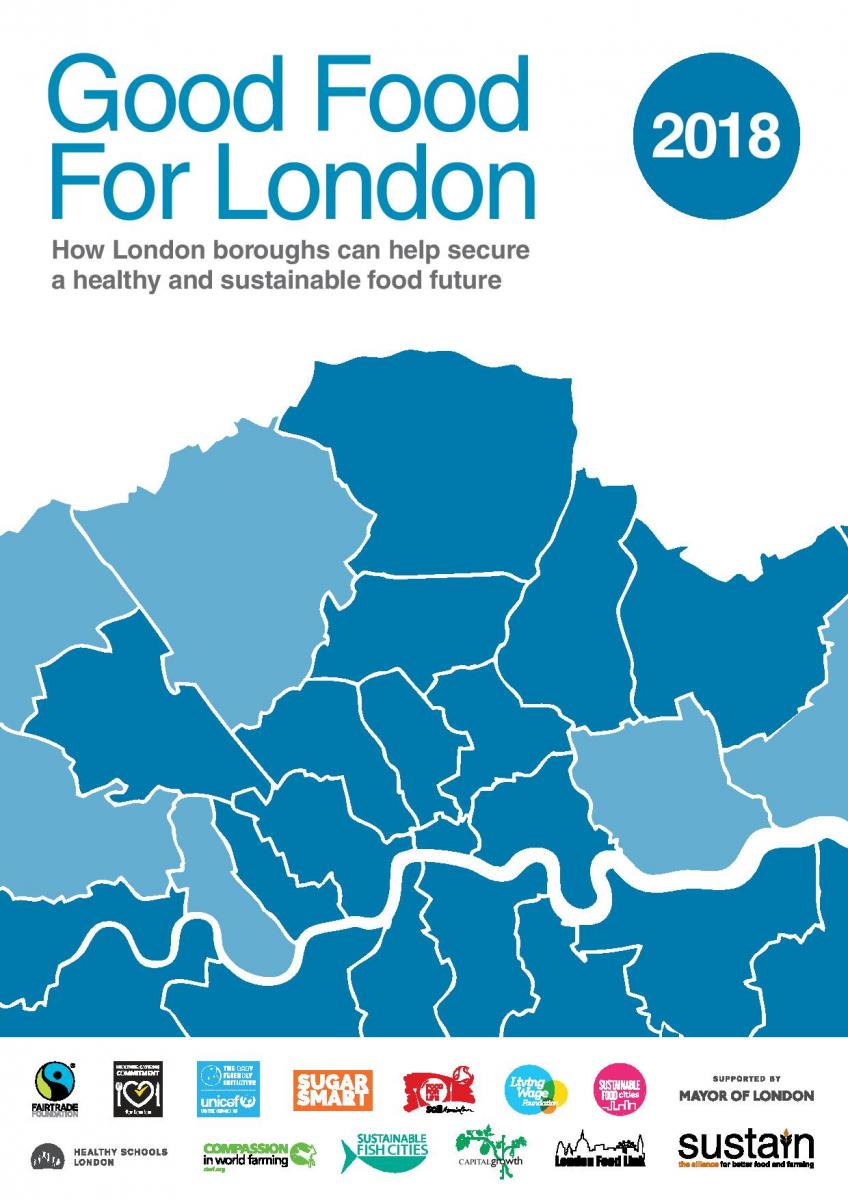 Good Food for London 2018
24pp - 2018 | 4936Kb
Published 5 Nov 2018
London Food Link: London Food Link brings together community food enterprises and projects that are working to make good food accessible to everyone in London to help create a healthy, sustainable and ethical food system for all.