Crumbs of news from the world of Real Bread.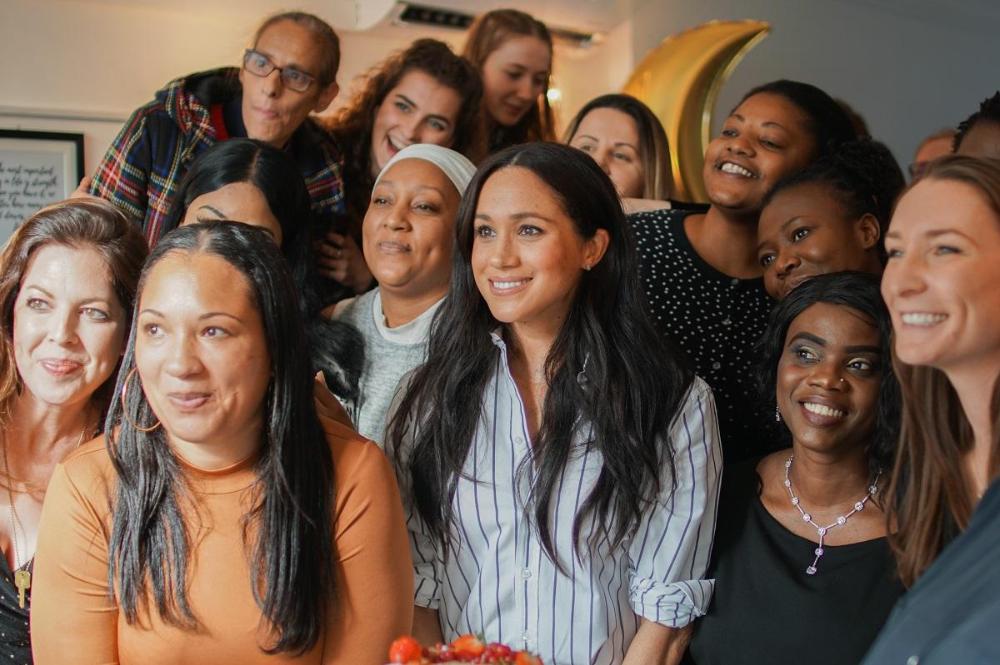 The Duchess of Sussex opening Luminary Bakery Camden © Lizzie Blix
Royal unveiling of a bright new future
The Duchess of Sussex officially opened Luminary Bakery's new cafe in Camden. A post on the @SussexRoyal Instagram account read: 'It was a special moment to acknowledge the spirit of Luminary and their remarkable business model that opens its arms to women from vulnerable circumstances (be it abuse, poverty, trafficking, marginalisation) and equips them with the job skills and confidence to succeed.'
Gift ideas
A reminder of stuff you can give the Real Bread lover in your life or that you could ask someone to buy for you. Sales of each support our charity's work.
Slow Dough: Real Bread is our book with around 90 long ferment recipes.
Gift subscription. Sign someone up as a Campaign supporter and they'll receive True Loaf, and all the other benefits, for a year.
Real Bread dough scorer. Wire Monkey has produced this exclusive edition of the unique UFO lame.
The Real Bread Loaf Mark
The latest bakeries that have signed up over the past few months to our scheme to give shoppers their at-a-glance assurance that a loaf is additive-free are: Noa Bakehouse, Wild Baker, Knife and Fork, Granton Garden Bakery, London Road Craft Bakery, Ruth's Little Kitchen and The Loaf.
Cereal gathering
On 21 November, Campaign ambassador Ben Mackinnon's E5 Bakehouse in London is hosting a party to 'raise a glass to the new grains movement' and mark the launch of Farmerama's new six-part podcast series, CEREAL on the 24th. Campaign supporter Kimberley Bell's Small Food Bakery in Nottingham will be hosting a similar do on the 29th.
The Bake District
Having taken a Bread Angels course, Sarah King has opened her Bread By Sarah microbakery in Beckermet, Cumbria. She currently bakes on Thursday and Friday and is considering increasing this as demand grows.
Scottish grain gathering
A reminder that Common Grains is on 24 November at Bowhouse in Fife. The event aims to connect crofters, farmers, millers, brewers, bakers, scientists and other people interested in grains being accessible, nourishing and nurtured in a way that cares for land and empowers people. For full details and to book email commongrains@gmail.com
BHB's GBBO winner
Better Health Bakery has revealed that this year's Great British Bake Off winner, David Atherton, was a volunteer baker for the social enterprise during 2016 and 2017. The east London bakery says David is now keen to 'help spread the word about its social mission to support wellbeing and recovery from mental ill-health.'
GBBO is now accepting applications for next year's series. Yet again, we have urged the producers to dedicate more than just one show to the wide world of bread, and to take advantage of each episode's two day recording for the bakers to showcase their skills crafting genuine sourdough and other long-fermented doughs.
Better bytes
Bakery Bits have a brand-new website they say is 'really quick and much better than ever before.' Campaign supporters giving it a go for an order of £50 or more will receive a 10% discount.
Taste of Tuscany
Marcella Gianni Celli has published a collection of memories and recipes from growing up in Tuscany. It reflects using seasonal, local ingredients and many of the recipes include Real Bread. The Book is available from Ivy Cottage Baker stalls in Cumbria for £10, or by post for an additional £1.50 p&p.
Happy birthday
Forge Bakehouse is seven, Seven Hills Bakery is eight and both the School of Artisan Food and Hartingtons are both ten. Here's to many more years sharing the Real Bread love!
---
What's your news?
If you have something Real Bread related you'd like us to help you share, please email (stuff posted on social media can get missed) a couple of short lines, including a link to where you have published full details, to us at: realbread@sustainweb.org
We have supporters in 20+ countries and we'd particularly love to hear more from those of you outside the UK.
Please also add your bakery or bakery school to the Real Bread Map and individual classes and events to our calendar.
We might post news on social media, rather than here; give priority to paid-up Campaign supporters; and reserve the right not to publish at all.
---
Sippet: A small piece of bread, often fried or toasted, used as a garnish or to dip in things. The British crouton.
Support our charity
Your donation will help support the spread of baking skills and access to real bread.