DWP Secretary Amber Rudd confirms Government considering food hardship fund in the event of no deal Brexit
DWP Cabinet member Amber Rudd has confirmed that the Government "have been looking at the possibility of having a hardship fund" to help people cope with food price inflation in the event of a no deal Brexit. Downing Street has previously refused to comment.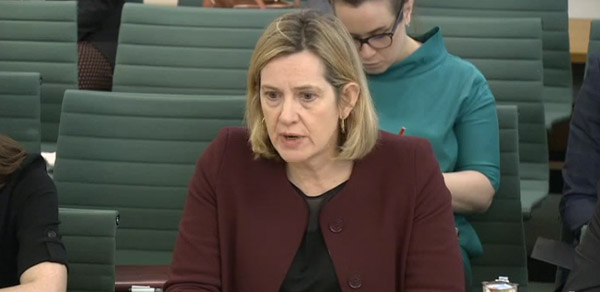 The confirmation came when Secretary of State for the Department of Work and Pensions Amber Rudd gave evidence to a session of a DWP Select Committee inquiry, held on 11 March: transcript here - extract below.
News that Government has been considering a 'hardship fund' and other measures to help vulnerable people was first reported in The Times on 25 February 2019, following a leaked document from the EU Exit and Trade (Preparedness) Committee chaired by Prime Minister Theresa May, of which Rt Hon Amber Rudd MP is also a member. The document reportedly indicated that the Government may be assessing options for a 'tax and benefits policy' to redress cost-of-living increases (including higher food prices) in the event of a no deal Brexit, to help those on a low income, or those who might tip into crisis due to job losses.
Downing Street has previously refused to confirm that such measures are under consideration, in response to media enquiries. When questioned by the DWP Select Committee, Amber Rudd refused to provide any further details beyond confirmation that a hardship fund was being looked at as a "possibility".
On 7 March, Sustain, frontline charities, public sector food providers and groups working with local authorities, sent an open letter to the Prime Minister (also copied to Amber Rudd), calling on Theresa May to confirm provision of such a 'hardship fund' in the event of a no deal Brexit, saying: "We must not let no deal Brexit cause a food crisis for people most in need."
[Extract from the DWP oral evidence session, during a short discussion relating to no deal Brexit planning]
Q58 Ruth George MP: "What about food prices and inflation that will hit people on the lowest incomes?"
Amber Rudd: "Government overall have been looking at the possibility of having a hardship fund should it be necessary."
Chair, Frank Field MP: "Will that be food subsidies?"
Amber Rudd: "I am afraid I cannot be drawn any more on it."
Full transcript here: http://data.parliament.uk/writtenevidence/committeeevidence.svc/evidencedocument/work-and-pensions-committee/benefit-freeze/oral/97869.html
---
14/03/2019
Brexit
SHARE
---
Brexit: We stand at a cross-roads. When the UK leaves the European Union, will our leaders uphold good standards for our food, farming, fishing and trade deals? And will they agree a sensible deal with the EU? We need to make sure that they do!