A joint investigation by ITV News, The Bureau of Investigative Journalism and The Guardian has discovered Asda, Iceland and Lidl are buying frozen chicken products from SuperDrob - a major European meat supplier - which they say is the source of an outbreak of antibiotic resistant Salmonella in the UK in 2020, which killed five people and infected around 1,300 others.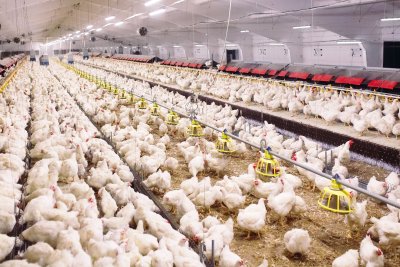 Indoor chicken farm. Copyright: David Tadevosian shutterstock
Reporters from the Bureau of Investigative Journalism (BIJ) found that the Polish meat business, which sells frozen poultry products to Lidl, Asda and Iceland, is sourcing chicken from farms that use fluoroquinolone antibiotics, classified as "critically important for human health" by the World Health Organization (WHO). Fluoroquinolones are often used to treat serious salmonella infections in humans.
Superdrob was linked to a fatal salmonella outbreak in 2020 – which the Bureau says involved bacteria resistant to multiple drugs – and there were at least 15 salmonella contaminations linked to SuperDrob poultry in the 18 months that followed.
Unhygienic or cramped conditions on livestock farms can lead to the spread of bacteria such as salmonella. Giving antibiotics critical for maintaining human health to animals to cover up for poor conditions can lead to bacteria developing resistance, meaning the drugs will no longer work to treat human infections. Antibiotic-resistant bacteria led to an estimated 1.2 million deaths globally in 2019.
Kath Dalmeny, CEO of Sustain said:
"To lose antibiotics for human medicine is a terrifying prospect; it will cause needless suffering and potentially endanger the lives of millions. To waste our remaining antibiotics to cover up poor conditions on chicken farms is deeply irresponsible. It is incredibly disturbing to learn that meat from animals dosed with critical antibiotics is being sourced for UK supermarkets; this could lead to potentially lethal bacteria developing antibiotic resistance.

"The use of human critical antibiotics in animal farming must stop, and use of other farm antibiotics greatly reduced. They should only ever be used on individual sick animals, not preventative or mass medication. This needs to be treated as an absolute priority by farmers, law-makers, vets, standards inspectors, border controls and big buyers such as supermarkets, foodservice companies and food manufacturers. Responsible antibiotic use is everyone's business, with no room for compromise."
Cóilín Nunan, of the Alliance to Save Our Antibiotics, added
"Highest-priority critically important antibiotics, like the fluoroquinolones and colistin, are massively overused in Polish farming. European Medicines Agency data shows that 38% of total European farm fluoroquinolone use and 26% of total European farm colistin use occurs in Poland. The UK government, the Food Standards Agency and supermarkets should all take responsibility for ensuring that food produced with such gross misuse of life-saving antibiotics does not reach the British consumer.

"The government also needs to end all group treatments with highest-priority critically important antibiotics. Since all treatments in poultry are group treatments, this means that none of these antibiotics should be ever be used in poultry farming."
Support our charity
Donate to enhance the health and welfare of people, animals and the planet.