Sustain Brexit Forum news roundup: Sustainable farming
Farm support, access to farm labour and the future of animal welfare are just some of the issues being addressed in UK farm policy. This is an extract from Sustain's Brexit Forum newsletter, June/July 2018. Sign up to receive news updates monthly or bi-monthly at: www.sustainweb.org/brexit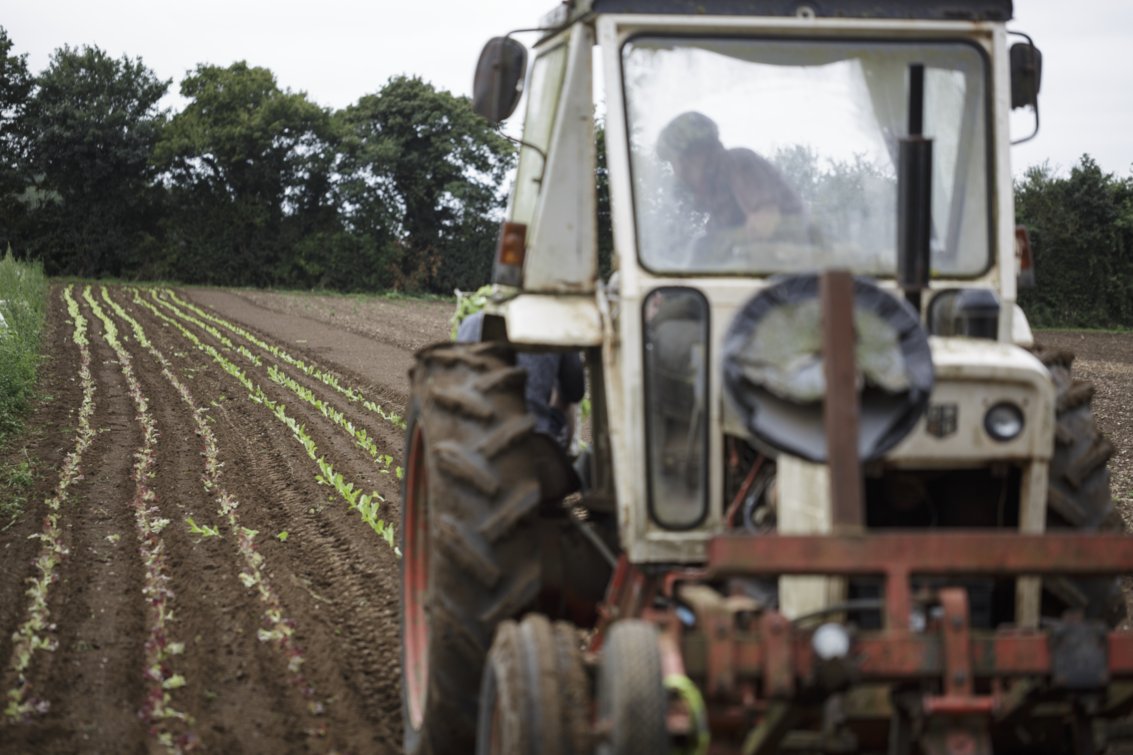 Read Sustain's briefing for MPs and policy-makers on UK agriculture policy. Contact: vicki@sustainweb.org
Rethinking farm support
Academics, public health advocates and food and farming specialists have joined forces to call on the Prime Minister and her Cabinet, formally to recognise public health as a public good in UK agriculture policy. The Food Research Collaboration, Royal Society for Public Health and Sustain co-signed a letter to the PM and Secretaries of State and Ministers for the Defra and Health Departments, highlighting three indicative areas where a 'public goods or benefits' approach could help – farm antibiotic controls; pesticide reduction; and fruit and vegetable production.

Sustain is backing the new Fruit and Vegetable Alliance, a group of small and large fruit and vegetable producers, producer organisations, trade associations, and health/food charities. These have come together, coordinated by the Food Foundation, to make the case collectively for supporting the production and consumption of fruit and vegetables in the UK.

Tom Lancaster of RSPB has reminded farmers and land managers that, "The debate on payments now is not how to spend the money, but whether there will be any money at all," and that "Far from being foes of the farming community, green NGOs are now among the few groups outside farming unions arguing for continued investment into farming and land management." The common aim, he argues, is the need to drive environmental restoration and, with it, long-term public investment in environmental land management, and therefore into farming and farm businesses.

The Country Land and Business Association (CLA) has published a blog: 'What should an agriculture policy designed for public benefit look like?' saying, "We want to move away from a system of entitlements to one where land managers are commercial providers of public benefits, with the government as the buyer." The CLA supports measures that reach as many farmers and land managers as possible, and which encourage farming and woodland management that improve soil and air quality, restore our historic environment, reduce greenhouse gas emissions, and improve animal health and welfare.

Farm subsidies are not the only financial concerns for farmers and rural communities. Sustain member CPRE has challenged Local Enterprise Partnerships to do more for England's countryside, highlighting the need for wealthy LEPs to serve the needs to rural communities, businesses and economies. Over the period from 2014 to 2020, across the 38 LEPs, they have received £6.5 billion of European funding and £7.2 billion across three successive rounds of Growth Deals agreed with the UK Government. Per individual LEP the allocation of these funds varies from £150 million for the Cumbria LEP to £1.07 billion for the Greater Manchester LEP.

Note: The UK Government's plans for a new Environment Act, green watchdog and principles and governance framework are also highly relevant to sustainable farming (see section on Environment Policy, below).

Why would anyone want to pick our crops?
English agriculture workers are more vulnerable to unfavourable wages and conditions in a system facing worker shortages related in part to Brexit, and where markets do not value farm incomes and employment standards. This needs to change and should be part of the new UK Agriculture Bill due in summer 2018, argues a new Sustain briefing called Why would anyone want to pick our crops? This offers practical solutions to problems amply illustrated by:
Recruitment agencies warning they cannot secure the number of workers needed by British farmers to pick their fruit and vegetables, in figures released by the Association of Labour Providers.
An NFU survey showing that last year there was a 12.5% shortfall of seasonal workers required to work on horticulture farms.
The British Summer Fruits (BSF) trade body warning that its members are already 10% to 15% short of labour and expect to have a shortfall of more than 30% by autumn 2018 as the government drags its feet on a seasonal agricultural workers visa scheme for non-EU nationals. European workers make up more than 90% of the UK's 30,000 seasonal berry pickers, but are now reluctant to come to Britain due to uncertain post-Brexit futures, better economic prospects at home and a 'hostile environment' in the UK.
A recent report by the EEF (Manufacturers' Association) has found employers more widely are now facing an acute and growing skills gap. They report that almost half of manufacturing employers are concerned about accessing the skills their business needs after the UK leaves the EU; 17% of companies saw a slump in applications from European citizens; and 68% want more guidance on what Brexit means for them and their employees.

Agriculture policy news from Parliament
Sustain welcomed a report by MPs on the Environment, Food and Rural Affairs (EFRA) Committee - the result of a rapid inquiry into the Defra Health and Harmony consultation on future farm policy, recommending that government should:
provide thorough sectoral assessment of impacts to identify support for small and medium-sized farms and ring-fencing funds to fund the rural economy and environment;
address the barriers to productivity;
consider wider food policy public impact such as reducing diet-related diseases, supporting healthy food in farm payment models; and ensuring use of healthy, affordable and British food in Government food procurement;
assess which public bodies can coordinate the environmental land management system; and
guarantee that trade agreements prevent acceptance of agri-food products that do not meet British environmental, animal welfare and food standards.
Michael Gove has signalled that Defra may renege on plans to cap the amount of money that the largest landowners are paid in farm subsidies. He had previously proposed a £100,000 limit, freeing up almost £150 million for 'public goods'. In June, he told MPs that Defra was exploring alternative plans for "everyone to take a small slice reduction" instead.

On 27 June, Wildlife and Countryside Link joined forces with Greener UK to put on a bustling Farmers' Market in Parliament. Hosted by EFRA Committee Chair Neil Parish MP and attended by over 50 MPs and Peers, farmers shared their experiences of running profitable farm businesses that have the environment and animal welfare at their heart. The aim was to demonstrate the growing cross-sector consensus on the interdependence of nature and farming and the need for a strong Agriculture Bill (expected imminently) enabling us to use public money to help both farmers and the environment.

Nourish Scotland (a sister alliance to Sustain) believe that recent government publications on the future of Scottish agriculture give no clear direction for farming after Brexit and are "underwhelming".

The future for UK livestock farmers
The sheep industry must prepare for Brexit 'no deal', says the National Sheep Association, emphasising the importance of retaining the UK's diversity of sheep breeds and stratified system of upland and lowland farms after Brexit, and saying the industry should prepare for the worst case by opening up export markets outside the EU. Chief executive of the NSA Phil Stocker said the industry needed to protect natural capital – air, soil and water – and seek to make efficiencies by reducing losses and improving sheep health and welfare.

The Agriculture and Horticulture Development Board (AHDB) warns that "Welsh upland sheep farmers are extremely vulnerable to the impact of Brexit, with falls in farm income predicted no matter what trade deal the UK gets with Brussels."

The Sustainable Food Trust has said that the UK red meat sector, particularly producers in the hills, simply cannot compete and will lose when exposed to global market forces: "We will never compete on price in a free-trade world, no matter how low we drop our standards (which is something nobody wants to see happen)." They urge producers and UK farm policy to concentrate on:
A great product, clearly different from the competition.
An accessible, functioning infrastructure for connecting high provenance product to the marketplace.
The need to re-localise and re-vitalise local food infrastructure, such as local abattoirs and local markets was also noted. A group of interested organisations and individuals, including Sustain, have joined forces as the Campaign for Local Abattoirs (www.localabattoirs.com).

The future for animal welfare
A new Food Brexit Briefing from the Food Research Collaboration highlighted the opportunities and risks of Brexit for livestock. A Better Brexit for farm animals: what the Government must do to protect welfare standards is by Peter Stevenson, legal expert and chief policy adviser to Compassion in World Farming. It spells out how UK law needs to be updated and amended, as we leave the EU, to make sure first of all that animal welfare standards do not fall, and secondly that any new subsidy system rewards high-welfare farming.
Libby Peake of the Green Alliance told a parliamentary enquiry, "If the UK leaves the system [of chemicals regulation] where it cannot access the safety information which is owned by EU companies, there is a possibility that we would have to re-conduct those animal tests in order to ensure the same safety standards for a UK system."
Defra Secretary Michael Gove said, "It is the advice of officials that there is nothing in the Chequers Agreement that would preclude this or a future government from having a ban, and certainly from having higher standards governing live exports."
Farming Minister George Eustice told MPs, "As a country, we are proud of our high food safety and animal welfare standards, and we've no intention of undermining our reputation for quality by lowering our food and animal welfare standards in pursuit of trade deals."
Meanwhile, in EU farming news…
For those interested in how EU agriculture policy will evolve when the UK leaves, legal texts and factsheets on natural resources and the environment have been published by the European Commission.

---
31/07/2018
Brexit
SHARE
---
Brexit: We stand at a cross-roads. When the UK leaves the European Union, will our leaders uphold good standards for our food, farming, fishing and trade deals? And will they agree a sensible deal with the EU? We need to make sure that they do!