In a new briefing out today (25 July 2018) the Sustain alliance makes the case for bringing in a new body in England to negotiate wages and better conditions for agriculture workers.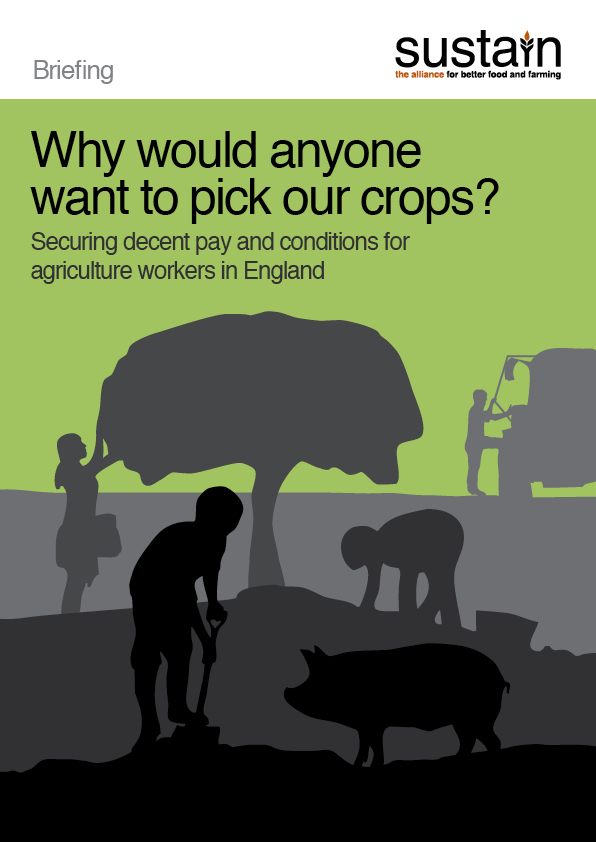 More than 40 per cent of the UK's agricultural workforce are employees, rather than farmers or family labour. Yet English agriculture workers (unlike those in Wales and Scotland) have no statutory protection for their pay and conditions since the abolition of the Agricultural Wages Board (AWB) in 2013.
This leaves English agriculture workers more vulnerable to unfavourable wages and conditions in a system where markets do not value agricultural workers as vital contributors to our food chain. This needs to change and should be part of the new UK Agriculture Bill due in summer 2018.
This new briefing from the Sustainable Farming campaign summarises the current state of UK and English farm employment, the loss of the Agriculture Wages Board, what a new system would mean for farmers and workers, wider rural communities and consumers and what else needs to happen.
The EU Referendum vote has already made it more difficult for farmers to recruit and retain farm workers because of the fall in value of sterling and a more hostile climate for migrant workers. Some farmers are already unpicked crops going to waste; others say they are planning to move their businesses abroad, or have done so already.
It is clear we need new approach to attracting, keeping and nurturing workers on the land. We need:
Establishment of a new collective bargaining body to protect existing workers in England and enhance the status of farm work to attract recruits into the industry.
Markets to be regulated to ensure farmers can earn sufficient income from trading to meet the costs and working environment that result from decent pay and conditions. Deals and pricing in the food supply chain needs to be regulated to ensure fair incomes for suppliers, including farmers and growers, and therefore those working for them.
New farm support and policies designed to encourage a vibrant rural economy by fostering growth and quality jobs in rural areas and in sustainable farming and encouraging generational renewal.
Further action on measuring accurately: the size of the workforce; modern slavery in our global supply chains; and health and safety in farming and food.
Making this happen should be part of the new UK Agriculture Bill, due after the summer 2018 Parliamentary recess, as well as associated policies.
Vicki Hird, Sustainable Farming campaign coordinator for Sustain said:
"We are facing a real crisis in farm workers so it makes sense to reconsider how they are able to secure decent wages, conditions and development opportunities. The loss of the agricultural wages board was far from popular amongst farmers as well as workers, as it provided an easy tool for farmers and a level playing field. It needs to be reinstated, otherwise who will want to pick our crops?"
Diana Holland, Assistant Secretary General of Unite the Union said,
"Following a shamefully short consultation in 2010, the coalition government abolished nearly a century of protection of agricultural workers in England - while protection remains in Scotland, Wales and Northern Ireland. As the union of agricultural workers, Unite campaigned hard - not just to defend minimum pay, progression opportunities and conditions of agricultural and horticultural workers, but to defend rural communities as a whole, and to ensure workers' voices are fairly and effectively represented at the collective bargaining table. Unite has monitored the serious impact of abolition, both on pay and conditions, and on the removal of a collective voice for the workers themselves through their union. Self-regulation in the sector has failed. Unite strongly welcomes the focus from Sustain on the 'race to the bottom' down the food supply chain, and the call for a new collective bargaining body for agricultural workers. Food security is essential to us all, and Unite is clear, we need safe healthy food and high quality jobs."
- ends -
Contact: Vicki Hird 07903478249 vicki@sustainweb.org
Notes
1. The new briefing "Why would anyone want to pick our crops? Securing decent pay and conditions for agriculture workers in England" can be accessed here.This is a briefing on the topic and has not had a full consultation process due to time constraints.
2. A new UK Agriculture Bill is due to follow from the consultation on Defra's Health and Harmony command paper on future farm policy after we leave the European Union. One section on 'A skilled workforce' recognised the need to attract a sufficient and suitably-skilled workforce and the need to attract more domestic workers.
This work was supported by the Friends Provident Charitable Foundation
Support our campaign
Your donation will help us work with farmers to push for policies to support farming fit for our future.