The following lists, with links, the events Sustain staff will be running or are involved in, at this year's Oxford Real Farming Conference. You can see the full and exciting ORFC Global 2021 programme here. Do join us.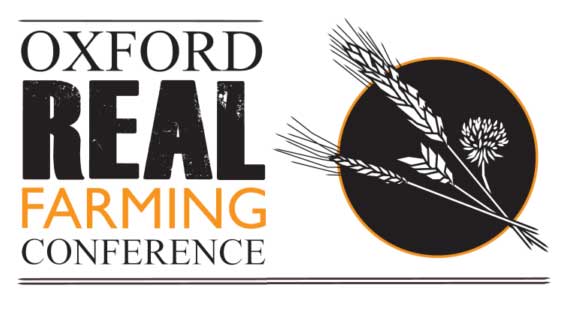 Credit: ORFC
Keynote Panel - 14:00 - 15:00 Thursday, 7 January
Chair Baroness Rosie Boycott
Speakers: Orla Delargy (Sustain), Devinder Sharma (food and trade policy analyst) and Sharon Anglin Treat (Senior Attorney at the Institute for Agriculture and Trade Policy)
The UK has exited the EU but is in the process of striking trade deals with new partners around the globe and leading a big free trade agenda. This has enormous implications not only for our own food standards but those of our partners. This session is to explore where we are and discuss what we can influence still and how.
Workshop - 14:00 - 15:30 Tuesday, 12 January
Advance registration needed
Join this exciting workshop (run by James Woodward and Vicki Hird from Sustain with partners) to discuss and explore the barriers and opportunities to scaling-up supply chains and infrastructure for agroecological farming. We want to delve into the problems with the current centralised system and look at ways the sector can open up better opportunities for farmers: how could we expand the network of local abattoirs, millers, food hubs and more? How can we ensure that farmers get fair access to markets and gain more pence on the pound? There will be interactive sessions so that delegates can share their experiences and ideas from here in the UK and around the world, so come along and get stuck in.
Panel Discussion 15:00 - 16:00 Wednesday, 13 January
Chair: Vicki Hird
Speakers: Lynne Phillips (Defra Delivery Director for the Future Farming and Countryside Programme), Adrian Steele (Soil Association and organic cereal and livestock farmer), Rebecca Laughton (organic grower, and works for LWA and Growing Communities)
The new crop of farm support schemes – from Environmental Land Management scheme (ELMS) to productivity and Animal health and welfare are all getting finalised and piloted after some delay. The ELMS will be piloted in England in 2021 and so details should be available on what Defra will be paying for, who is eligible, how the payments and scheme will work on the ground, and how 'whole farm' the scheme will be. Do they live up to what we need for an agro-ecological transition? If not what can we do and how? We will hear from DEFRA on the current state of play and from farming organisations about what is good, what may be still missing from the suite of measures., and how we can influence the final schemes.
Panel session at 13:00 - 14:00 Friday, 8 January
Vicki Hird (Head of Farming, Sustain) will also be speaking at this session, alongside Professor Dave Goulson and Charles Secrett and Chaired by Matt Naylor
Support our campaign
Your donation will help us work with farmers to push for policies to support farming fit for our future.