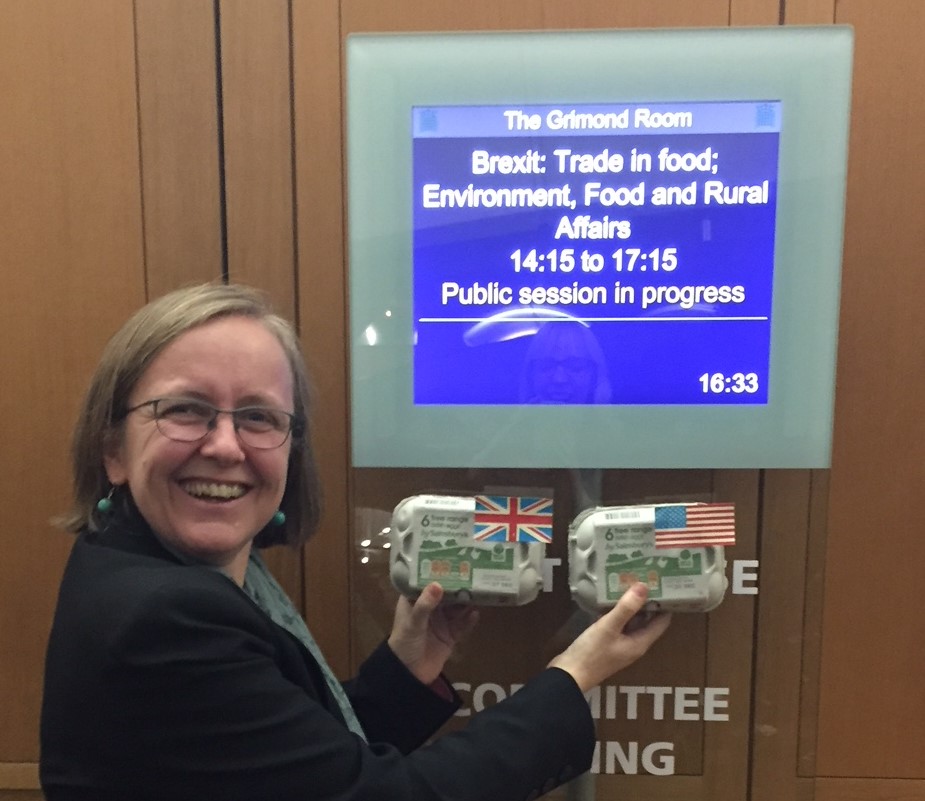 Picture caption: Sustain's Kath Dalmeny shows eggbox props used in oral evidence to the EFRA Committee, illustrating comparative salmonella rates in UK and US eggs
The EFRA Committee's comments were published today in a report on the conclusions of the parliamentary committee's inquiry into Trade in Food, conducted in autumn 2017. The report says: "The UK has an international reputation for high animal welfare, environmental and food standards. These must not be sacrificed on the altar of cheap imports. Doing so could undermine the premium British brand and might affect our ability to negotiate trade deals with other countries. We will hold the Secretary of State [Michael Gove] to his assurances that there will be no compromise on animal welfare, environmental and food standards."
Sustain's chief executive Kath Dalmeny worked with food standards experts to give written evidence and oral evidence to the EFRA Committee, arguing that the beguiling promise of 'cheap food' from new international trade deals could result in serious risks and costs to health, the environment, animal welfare and British farming livelihoods. Sustain and member organisations had also expressed earlier concerns to UK Secretary of State for International Trade Liam Fox about his apparent dismissal of meat quality concerns as a 'detail'.
Kath Dalmeny said: "If you're one of the 8.4 million people in the UK struggling to afford enough to eat, then the 'cheap food' promised from new international trade deals sounds superficially attractive. But let's be clear – cheap food comes at a cost, and somebody has to pay – usually people's health, the NHS and British taxpayer. Our Sustain alliance members, several with direct professional experience of defending food standards, are telling us that a race to accept cheap food through new international trade deals could result in more food poisoning, dodgy food processing methods to clear up faeces on meat, profligate use of antibiotics in farming, filthy working conditions, low wages, poor animal welfare and thousands more British farmers going out of business."
Sustain has urged the government and UK trade negotiators to back a beneficial 'race to the top', using trade deals to champion high food standards.
The EFRA Committee also backed Sustain's recommendation that the Government should ensure that protected geographical indicators are retained in a similar form after the UK leaves the EU. These enable artisan and local food producers to market traditional food products, with legal protection against copycats. Examples of protected names in the UK include Scotch beef, Welsh lamb, Yorkshire Wensleydale cheese, Jersey royal potatoes and Melton Mowbray pork pies. Sustain understands that protection of such names can be especially controversial in trade negotiations, with international trading partners eager to cash in on the popularity of premium products through copycat marketing.
The EFRA Committee report states that the UK's food and farming industry generates over £110 billion a year and employs one in eight people in the UK. It notes that trade is vital to the industry, with the EU being the UK's single largest trading partner in agri-food products, accounting for 60% of exports and 70% of imports.