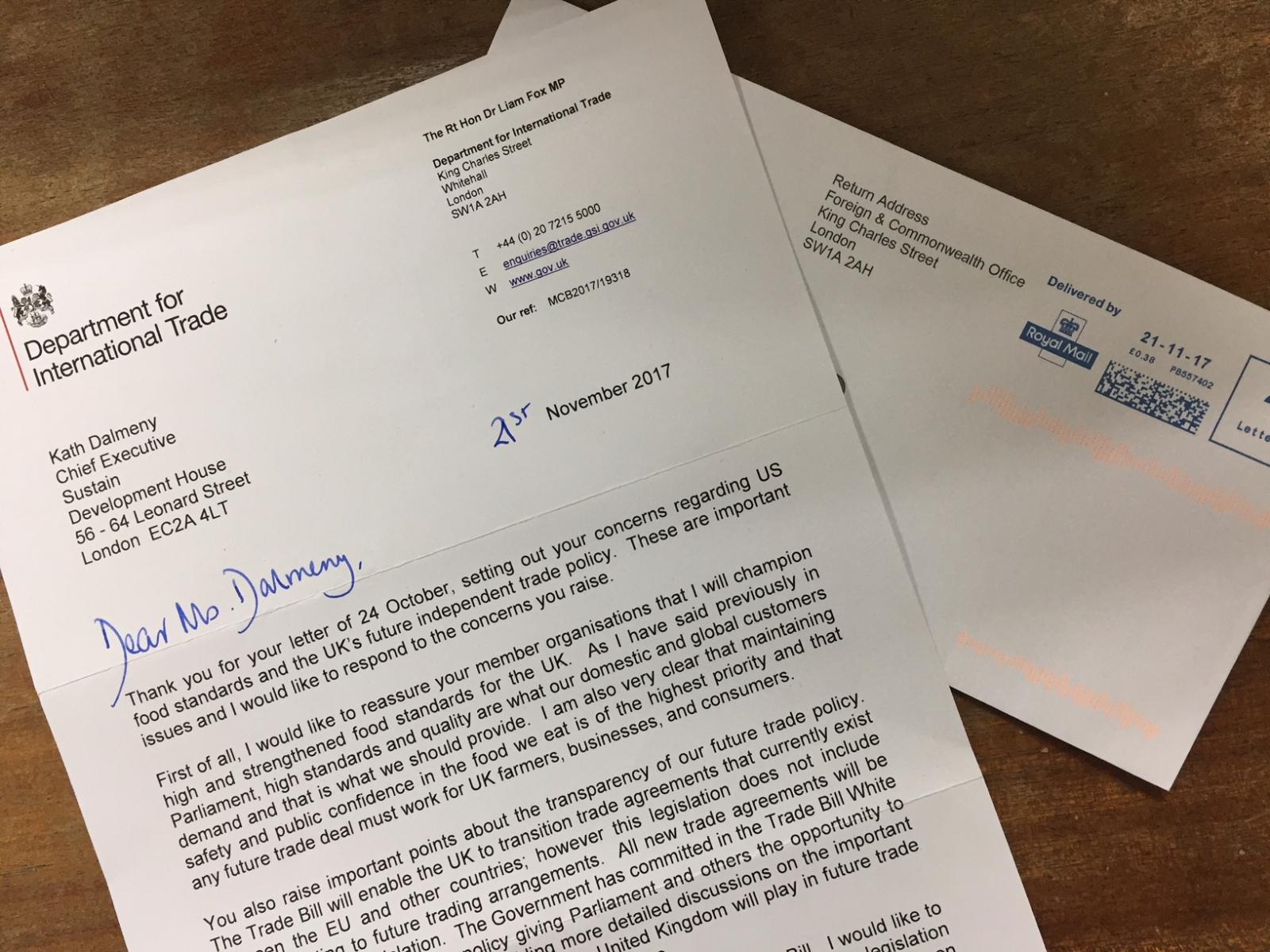 The UK's Secretary of State for International Trade, Dr Liam Fox, has responded to concerns expressed by the Sustain alliance, relating to US food standards such as chlorine-dipped chicken, hormone-reared beef, food irradiation and high fructose corn syrup in processed foods. Read our alliance letter, and Dr Liam Fox's response below.
Alliance members wrote to Liam Fox and Brexit Secretary David Davis, urging them to uphold high food standards in the UK's new Trade Bill and the EU Withdrawal (Repeal) Bill, and expressing alarm at Liam Fox's apparent dismisall of concerns about chlorine-dipped chicken as a 'detail' of new trade deals with the US.
Read the text of the original letter, and the list of 28 signatories, from across the range of issues represented by the Sustain alliance. Dr Liam Fox's response is reproduced in full below.
21st November, 2017
Dear Ms Dalmeny,
Thank you for your letter of 24 October, setting out your concerns regarding US food standards and the UK's future independent trade policy. These are important issues and I would like to respond to the concerns you raise.
I would like to reassure your member organisations that I will champion high and strengthened food standards for the UK. As I have said previously in Parliament, high standards and quality are what our domestic and global customers demand and that is what we should provide. I am also very clear that maintaining safety and public confidence in the food we eat is of the highest priority and that any future trade deal must work for UK farmers, businesses, and consumers.
You also raise important points about the transparency of our future trade policy. The Trade Bill Will enable the UK to transition trade agreements that currently exist between the EU and other countries; however this legislation does not include powers relating to future trading arrangements. All new trade agreements will be subject to future legislation. The Government has committed in the Trade Bill White Paper to an inclusive trade policy giving Parliament and others the opportunity to contribute. We look forward to holding more detailed discussions on the important role that interested parties from across the United Kingdom will play in future trade agreements and their implementation in due course.
Finally, you raise a number of points around the EU Withdrawal Bill. I would like to reassure you that the Bill will not aim to make major changes to policy or legislation beyond those which are necessary to ensure the law continues to work properly on day one. The Government will introduce a number of other Bills over the coming months to ensure we are prepared for our withdrawal – and that Parliament has the fullest possible opportunity to scrutinise this legislation.
Thank you for taking the time to write, and I am looking forward to further engaging with the Sustain alliance and other stakeholders on these important matters.
Yours sincerely,
The Rt Hon Dr Liam Fox MP
Secretary of State, Department for International Trade & President of the Board of Trade
Share
Get updates
Brexit: We stand at a cross-roads. When the UK leaves the European Union, will our leaders uphold good standards for our food, farming, fishing and trade deals? And will they agree a sensible deal with the EU? We need to make sure that they do!
Menu
Support our charity
Donate to enhance the health and welfare of people, animals and the planet.