NEWS
Will you join the Big Dig 2018?
For the 7th year, the Big Dig will connect London's finest urban gardeners to new diggers and the green fingered for a day of fun, family friendly activities designed to get more Londoners involved in growing food and gardening.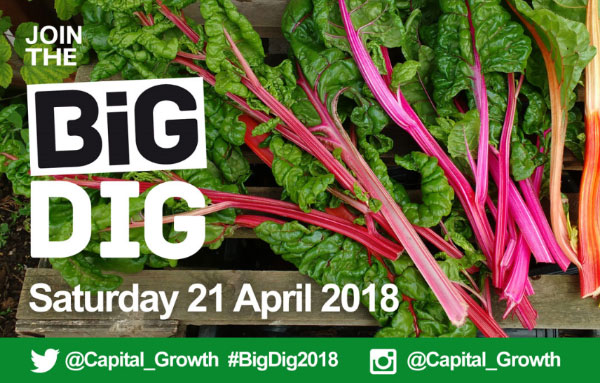 Over 40 gardens from 20 London boroughs are taking part on Saturday 21st April – will you be joining them? Meet new neighbours and feel a part of your local community while learning essential gardening skills.
Organised by Capital Growth, the 40 gardens are often found on rooftops, parks, schools and can be tucked away out of sight but they can all be found on Capital Growth's online map.
"Remembering that such beautiful tranquil spaces exist so close by helps when you're stuck on a crowded train or tired after a long day," says Camilla, volunteer with The Castle Garden and London Grown.
It's a chance too for community gardens to get new volunteers for the busy summer season ahead.
"Taking place on the same weekend as Earth Day, we are so excited to be running the seventh Big Dig day. Last year over 600 people joined the 48 participating Big Dig gardens.
This day is one the highlights of our calendar as we know it will get Londoners growing food together, many for the first time." says Chris Speirs, Project Coordinator of Capital Growth.
The Big Dig is a part of Capital Growth, a network of over 2,800 food growing gardens across London helping with advice to get started, finding and training volunteers and grow wildlife-friendly food.
Find out how Capital Growth has grown across London over the last 9 years here.
---