Charity donations to double in this year's Big Give Christmas Challenge
This year's Christmas Challenge by The Big Give launches on 29 November. Running until 6 December, participating charities have any donations made during this time doubled, raising millions of pounds for good causes. Read on to find out which London Food Link friends you could support.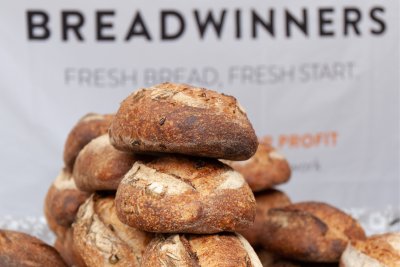 Breadwinners
Social enterprise Breadwinners support refugees into work, training and mentoring through selling artisan organic bread across London and Brighton's food markets. So far, they've supported 255+ refugees and young people seeking asylum through their programmes, with 96% reporting a significant increase in wellbeing after taking part.
Donations made via the Big Give Christmas challenge this year could fund new market stalls, pay travel expenses, or fund core costs so they can keep on selling and making (delicious!) bread.
Check out their donation page for info on how to donate.
Made in Hackney
Plant-based cookery school, Made in Hackney, believe everyone should have access to enough nutritious, tasty food of their preference, yet 8 million people go hungry on a daily basis.
Their team is fundraising to reduce hunger this Christmas, with plans to deliver 10,000 culturally varied and nutritious meals to their community members who need it most over winter. £2.50 pays for 1 meal, but the service offers so much more: care, connection, community.
Check out their donation page for info on how to donate.
Rose Vouchers for Fruit & Veg
The Rose Vouchers for Fruit & Veg Project - run by the Alexandra Rose Charity - helps families on low incomes buy fresh fruit and veg & in their local community and supports them to give their children the healthiest possible start, needed more than ever in this cost-of-living crisis.
Their aim is to raise an ambitious £72,000 to continue supporting parents and children to access fresh fruit and veg from local markets & independent shops using Rose Vouchers. They'll also work with children's centres that identify the families most in need and distribute the vouchers in Lambeth, Hackney, Hammersmith & Fulham & Tower Hamlets.
Check out their donation page for info on how to donate.
To find out more about the work of Breadwinners, check out our Roots to Work with Market Stall Manager Mahad.
---