Sutton Community Farm launches Crowdfunder to survive the cost-of-living crisis
Sutton Community Farm is calling on south London residents to help secure its future by raising £50,000 through a Crowdfunder this spring.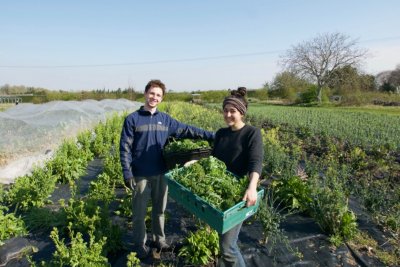 Sutton Community Farm. Credit: Sonia Cropper
Based on a beautiful 7-acre site in Wallington, south London, this is London's only community-owned fruit and veg farm - a unique enterprise whose future is now at risk. The farm grows over 40 types of fruit and vegetables, and last year the farm produced more than 18 tonnes of food. This is sold via their online farm shop and delivered to homes throughout south London and Surrey.
Working with nature is key to the farm's core principles: building healthy soils, creating habitats for wildlife, and never using chemicals to grow food. The farm also supports the livelihoods of many other organic farmers through trade, a model that builds a better and more resilient food system for the UK.
But Sutton Community Farm's vision is being threatened by the cost of living crisis.
Sutton Community Farm makes most of its income through selling VegBoxes and other fresh food through their online farm shop. Over the past year, rising costs have created financial uncertainty for this community enterprise.
Times are tough. But well-produced, locally-grown fresh food that is good for people and planet should not fall victim to the current economic crisis. At the start of the pandemic, the supply chains of the big supermarkets failed, and the demand for local and alternative food businesses soared. Once again, we've recently seen empty shelves for fresh food and further projected supermarket shortages that have exposed the vulnerability of the UK's food system.
Sutton Community Farm is working towards building a better, more resilient food system. This means paying a fair price for good food by directly supporting nature-friendly farmers. Crowdfunding £50,000 will provide financial security until 2024, allowing time to rebuild the farm's customer base and seek grant funding.
Visit the farm's Crowdfunder page to make a donation to help save Sutton Community Farm.
Don't forget fantastic rewards will be offered, ranging from engaging workshops and fun experiences on the farm, to VegBoxes, food items, and hand-made prints, as well as exciting offers from partner businesses!
Support our charity
Donate to enhance the health and welfare of people, animals and the planet.