A London Food Link gathering of good food
On 11 July, we gathered in Flat Earth Pizzas for the first London Food Link event in over 2 years and heard from some of the brilliant people bringing good food to London.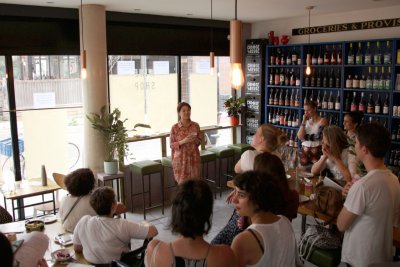 London Food Link and friends enjoyed a welcome drink and some delicious small plates from Flat Earth, before Stephanie Slater, chair of London Food Link, opened the event.
Our host, Sareta Puri, then shared her journey to plant-based chef, and how she's creating 'positive and lasting change which nurtures the planet', followed by updates from:
Sarah Brading, co-founder of sustainable pizzeria Flat Earth Pizzas
Rebecca Ghim, founder of The Ferm, a fermentation company using discarded parts of a harvest
Richard Galpin of Pembroke House in Walthworth, a centre for social action
Harshita Lalwani of Chelsea Green Publishing, leading publisher of books on sustainable living
Sean Turner of School Food Matters, the charity for children's access to sustainable food
Pamela Daniels and Veryan Wilkie-Jones of Made in Hackney, the plant-based community cookery school
Chris Young, of the Real Bread Campaign, who works towards a future in which everyone has the chance to choose Real Bread
Sonia Cropper of local London farm and vegbox scheme, Sutton Community Farm
Georgia Fox of Breadwinners who support refugees and young people seeking asylum in the UK
Guests then enjoyed a selection of heritage grain pizza, whilst catching up about all things good food in the city.
A huge thanks to everyone who contributed to the event!
Sign up to our newsletter to hear about future events and join London Food Link to support our projects and campaigns.
---