London Food Link has taken a look at how London Boroughs compare on their support for six key good food initiatives.
We present our findings in London Borough maps and have compiled this information to create a Good Food for London league table. The league table provides a strong indication of each borough's commitment to supporting good food.
Download a PDF version of the full report
Links to download each of the six individual maps, and the Good Food for London 2013 Borough League Table, are provided below
Why are we asking London councils to support good food?
The food we eat, and our relationship to it, affects not only our own wellbeing, but also our ability to build strong, vibrant communities and ensure a healthy planet. But the capital's food system has many problems. Well over half of adults in London are overweight or obese, with more than a fifth of 10-11 year olds at risk of being obese, above the national average. London's food system is also directly responsible for nearly 19 million tonnes of London's annual greenhouse gas emissions, a figure that must be curbed if we are to take seriously our commitments to reduce our contribution to climate change.
London's local authorities feed millions of people every day – including the most vulnerable, such as young children, older people and those with health problems or disabilities. Good food is also vitally important to achieving many of the wider objectives with which councils are charged. Boroughs are therefore well placed to play a positive role in helping to transform our food system for the better.
---
What are we asking for?
We are calling on London Boroughs to sign up to six key good food initiatives. Each initiative represents a significant action to support good food and is led by an expert organisation able to support London Boroughs to make the required changes.
There is a big difference in how the best and worst boroughs perform. View our Good Food for London 2013 league table to see how your borough performs or select an issue from the list below to view a London map representing the uptake across the capital. The measures are:
| | |
| --- | --- |
| | Has the Borough made a commitment to the Capital Growth campaign? Over 2,000 new community food growing spaces have already been created, many of which have been made possible by London Borough support. So far 21 Boroughs have made a commitment to continue to support the work of Capital Growth and 20 have recognised community food growing in council planning policy www.capitalgrowth.org |
| | Is the Borough a Fairtrade Borough? Fairtrade guarantees a better income for food producers in poor countries. London Boroughs can buy and promote Fairtrade food, to help tackle global poverty, and 23 out of London's 33 Boroughs now have Fairtrade status, making London the largest Fairtrade City in the world www.fairtradelondon.org.uk |
| | Is the Borough improving school meals with the Food for Life Catering Mark? The Food for Life Partnership helps schools improve food quality, education and introduce food growing, with proven benefits for children's health and educational attainment. The Food for Life Catering Mark works with caterers to improve food standards, and 24 London Boroughs so far have achieved a Bronze Catering Mark or higher, with 3 impressively going on to achieve a Gold award www.soilassociation.org/cateringmark |
| | Is the Borough serving up sustainable fish? Twenty seven London Boroughs have taken at least one significant action (twelve have taken at least two) to help save marine life and ocean ecosystems. Action may include buying verifiably sustainable fish for council meals and other publicly funded institutions, and running the Fish & Kids project to promote Marine Stewardship Council (MSC) certified sustainable fish in school catering www.sustainablefishcity.net |
| | Is the Borough serving higher welfare eggs, meat and dairy produce? Run by Compassion in World Farming, the Good farm Animal Welfare Awards celebrate commitments by local authorities to buying higher welfare eggs, meat and dairy produce. Ten London Boroughs have achieved a Good Egg Award for using free range eggs, and one borough, Islington, being the first borough to receive a Good Chicken Award, adding to its existing Good Egg Award www.compassioninfoodbusiness.com/awards |
| | This initiative has been designed by environmental health teams in London Boroughs with support from primary care trusts (PCTs), the Chartered Institute of Environmental Health (CIEH) and the Greater London Authority. It offers practical advice to food outlets to make food healthier. The scheme is promoted by environmental health teams and PCTs, with 25 London Boroughs participating in this or something to a similar standard, and 1 other borough exploring participation www.cieh.org/healthier-catering-commitment.html |
Are our demands realistic?
Yes, these measures aren't new! All six initiatives we're asking London boroughs to sign up to are already being demonstrated across the capital and each is supported by an expert organisation to support boroughs to make the change. In fact, the top four boroughs in the league table - Islington, Merton, Camden and Tower Hamlets – are participating in all six initiatives.
Can London Boroughs be doing more?
Absolutely, the measures chosen are just the start. If we're to create a healthy, ethical and sustainable food system that benefits all Londoners, Boroughs need to prioritise good food and recognise its importance in achieving many of the objectives with which they are charged. For example, new Borough responsibilities for public health present a great opportunity to put good food at heart of efforts to achieve health and wellbeing objectives.
Share
Join us
London Food Link: London Food Link brings together community food enterprises and projects that are working to make good food accessible to everyone in London to help create a healthy, sustainable and ethical food system for all.
Menu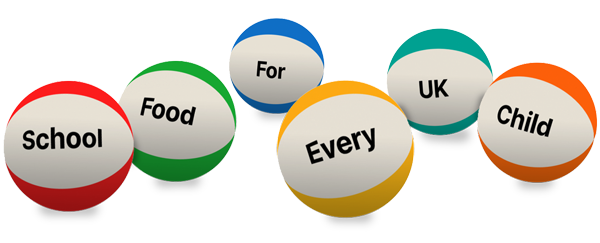 Ask your MP to end the school food postcode lottery now
Good Food for London 2014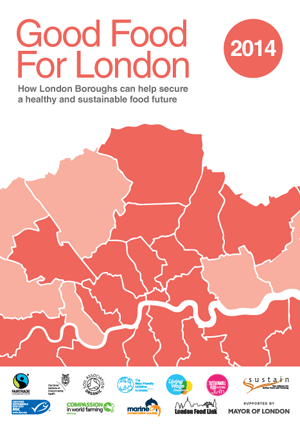 London Food Link has taken a fresh look at how London Boroughs compare on their support for good food.
Support our work
Your donation will help support community food initiatives and enterprises to thrive as part of a more sustainable food system.