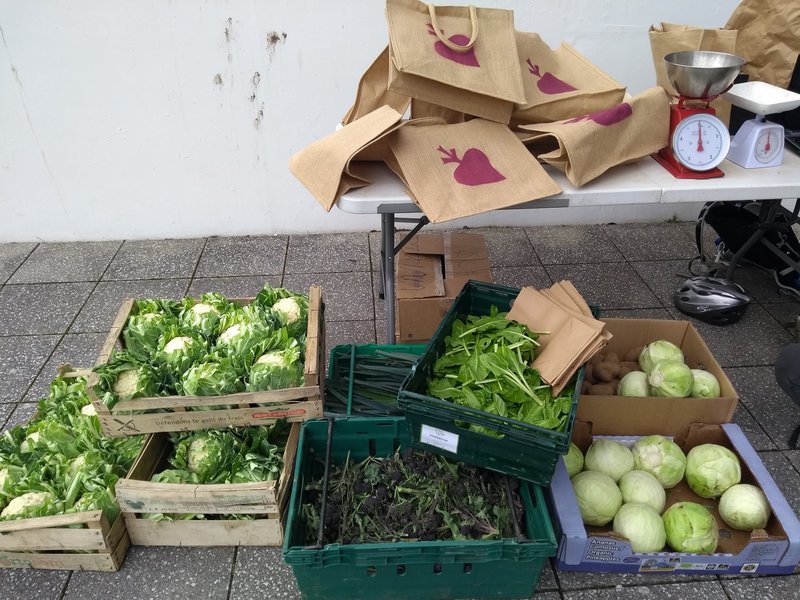 In order to run a food co-op there are certain items of equipment and other resources you will need in order to get going but depending on what type of co-op you're planning to run (and the premises you have access to), you may not need to buy much to get started.
Where to get equipment
Search for free items or add wanted posts on Freecycle, this can be a good source of office furniture or old fridges.
Find equipment on local community for-sale forums, these could be on websites, Facebook or other platforms.
Suppliers of used catering or retail equipment can be great if you're fitting out a shop with fridges, shelves etc. - an internet search will find you local operators.
Check sales listings in your local newspapers, or their websites, and consider adding a 'wanted' listing or writing an article about what you're doing that includes a request for specific donations.
Retail or catering suppliers such as Alliance Online, Global Foodservice Equipment or Nisbets should be able to supply most of the items on this list.
Equipment to consider
Please note this is not an exhaustive list and the listing of any specific products or services does not constitute an endorsement or recommendation by Sustain.
Weighing scales: Electronic scales are better for weighing produce, and some models are also able to calculate the price as well as the weight. Before ordering work out what the maximum weight of produce you are likely to supply is, and check that the scales are rechargeable and able to run on batteries should you not have access to electricity. A few different options for suppliers selling scales are Inscale, MK Scales and Nisbets.
Cash box or till, card reader, calculator and receipt book: If you are running a bag or box scheme on a smaller scale, you might only need a cash box, but if you're running a stall or store with a larger amount of customers it might be worth buying a till. Second hand, ex-showroom as well as new cash registers and tills are available from www.cashtillsdirect.co.uk. Some co-ops use iZettle or SumUp to be able to accept card payments, and it is possible to process all transactions including cash payments through their systems to keep track of sales and provide email receipts to customers.You can also use a receipt book (available from any post office or stationary shop) to write receipts when requested.
Paper bags or other food packaging: Paper bags can be useful for bagging up small items like new potatoes or mushrooms, and you will likely also need to provide your customers the option of a carrier bag (though you should encourage your customers to bring their own bags and containers to reduce environmental impact!). Alternatively you could get fabric bags printed and sell these at the co-op. Paper bags and other packaging are available from cash and carry stores as well as online from companies such as GreenGate, London Bio Packaging, Ambican, Vegware, Purple Planet eco supplies or Eco-craft.
Price labels: In order to meet Trading Standards requirements you need to clearly label prices along with the type of produce and in some cases the variety. You could do this on individual price labels or on a blackboard - a lot of food co-ops print or handwrite their signs.
Cardboard boxes, crates or bags: If you're running a box scheme you will need sufficient boxes or bags to supply your customers for at least two weeks in a row, based on them returning them every week. Many people are bad at returning these, even if they have to pay a deposit - so make sure you have a few extra. You could use the cardboard boxes or crates that produce often come in when you're starting out, or you could use reusable bags.
Shopping baskets: you can use plastic, wire or wicker baskets for your customers to use while shopping - though depending on the range of produce and size of your co-op you might not need them.
Knife or scissors to open produce and packaging can be bought online or through a kitchen equipment or craft supplier.
Cleaning materials: it can be useful having a dustpan and brush, cleaning spray and blue roll or kitchen roll on the stall.
First aid box
Tables and/or stall: If you're trading outdoors, you may need to purchase a gazebo. Surf & Turf and Gala Tent are reliable suppliers with gazebos starting from about £200. Folding tables are available from a wide range of online shops.
Fridge or chiller: If you're selling perishable produce such as meat or dairy, or you want to be able to keep your fruit or vegetables for longer, you may need a fridge.
Access to a phone, computer and printer/photocopier
Access to a sink
Buying tips
Try to get three quotes from different suppliers so you can compare prices
The cheapest is not always the best
Make sure whatever you order meets your specifications and will be suitable if you expand
---
To find more useful food co-op related information visit our homepage
Share
Get updates
Food Co-ops toolkit: The Food Co-ops Toolkit will give you all the information you need to set up your own food co-op.
Menu
Support our charity
Your donation will help us support communities to set up and run food coops and buying groups across the UK to improve access to healthy food.