Sustain alliance: Celebrating our achievements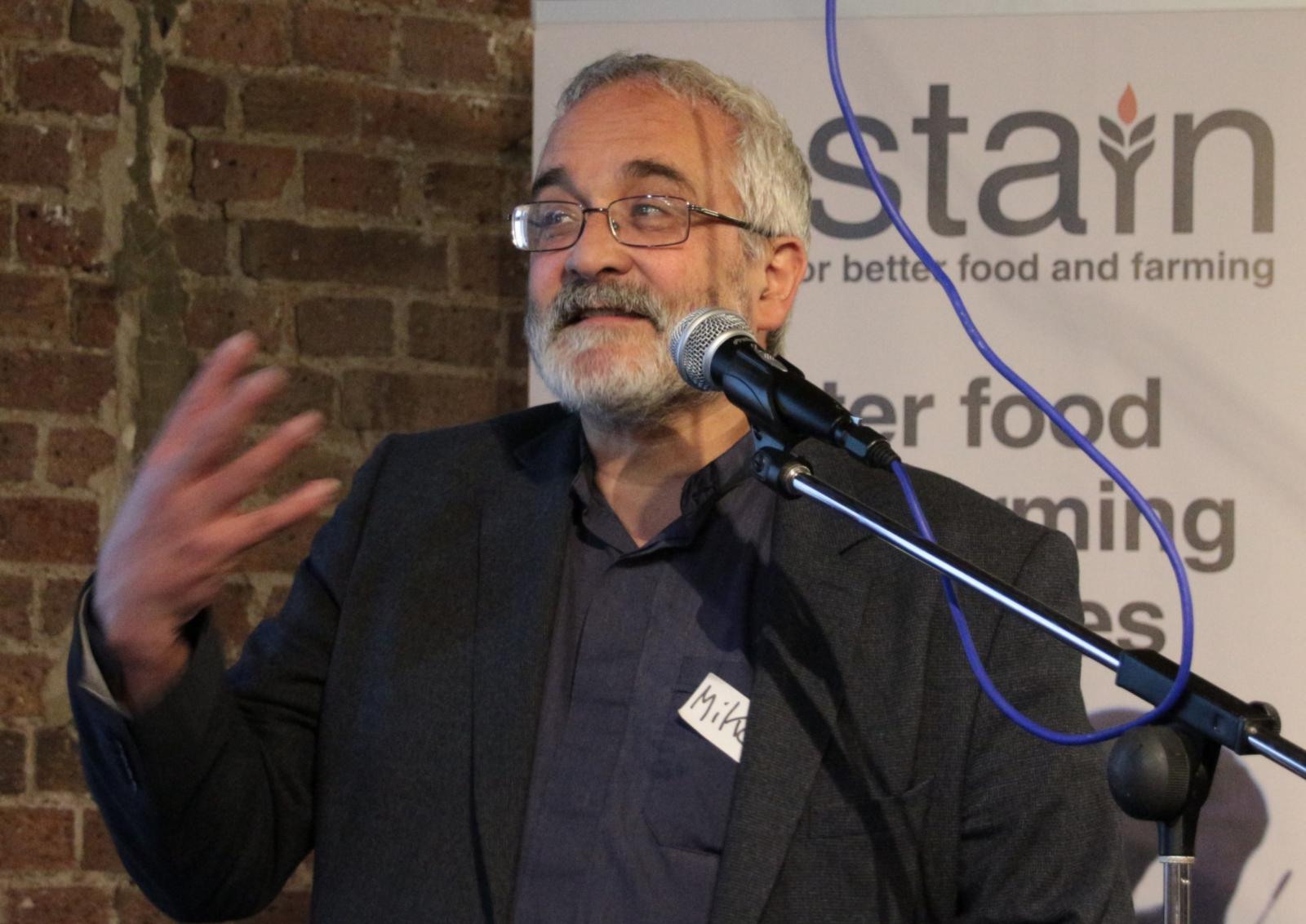 Sustain's Chair Professor Mike Rayner reflects on alliance successes over the past year, speaking at Sustain's Annual Gathering in November 2017. The experiences of the past year suggest that this is the time for the Sustain alliance to prove its full worth.
Professor Mike Rayner, Chair of Sustain's Council of Trustees, welcomed all those attending Sustain's AGM and Annual Gathering in November 2017, and gave an overview of Sustain's work and achievements over the past year. An edited summary of his talk follows is below.
The experiences of the past year suggest that this is the time for the Sustain alliance to prove its full worth. For a start, we stepped up to the major challenges presented by the UK's decision to leave the EU. Out of the initial confusion have emerged important partnerships, productive collaborations and a renewed sense of shared purpose. Helpfully, this also came at a time when Sustain launched major programmes of work on sustainable farming and solutions to food poverty 'beyond the food bank'. We must work together to ensure that any increased UK sovereignty gained over trade, agriculture, marine, social and health policy is used for good purposes, not to kickstart a race to the bottom.
But Brexit isn't everything. Sustain continues to build step-by-step improvements to address food poverty, health inequalities, children's health, hospital food standards, sustainable food buying iand much more. We have been vocal in defending the sugary drinks levy, announced by government in March 2016, whilst continuing to run the Children's Health Fund to prove that such a levy is both practical and beneficial. Nearly 50 places are now active members of the Sustainable Food Cities network, many running food campaigns with Sustain's support. Thousands of people are helping to promote Real Bread and sustainable fish. Sustain also plays an influential role in food policy for the capital; and across the UK we are playing a leading role in promoting community food growing, food enterprise by students, and integration of good food into GP prescribing for health and well-being.
Momentum is now building for Sustain's work to shape a fully-fledged Campaign for a Better Food Britain campaign to take our alliance through the forthcoming crucial months and years. In so many ways, this could make sense of – and build on – the work of the Sustain alliance over the past decade and more. Working together, we have already won better food education for children, restrictions on junk food marketing, a sugary drinks tax, hospital food standards, national promotion of organic food, sustainable fish policies and official recognition of the contribution of livestock production to climate change. The time is now right for us to put our combined shoulders to the wheel. We must use the tectonic shifts associated with Brexit to push together for healthy and sustainable food, fishing and farming standards to be taken to a new level of importance in both business practices and public policy, for the benefit of everyone.
This really is only a few select highlights. Download Sustain's annual report to see more activities and achievements. A summary is set out below, under our four strategic themes.
Read also Sustain's CEO Kath Dalmeny speaking about 2018: an exciting year ahead for food, farming and fishing, also at Sustain's AGM and Annual Gathering, November 2017.
Supporting better farming and food production
This year has seen Sustain increase its capacity for active work on farming and food production, welcoming the return of Sustain co-founder and sustainable farming expert Vicki Hird, and has seen the following highlights throughout the year: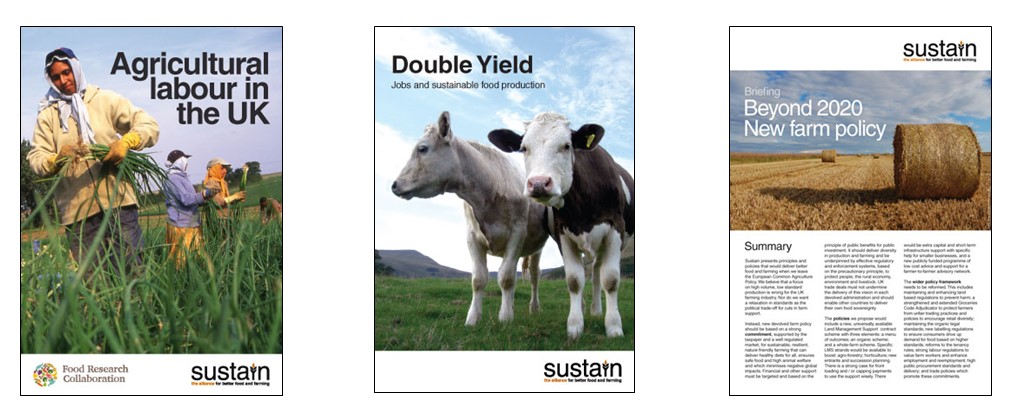 The launch of our campaign for a million better jobs for better farming and land use, alongside reports on farm labour.
After extensive consultation, the release of our paper on options for new 2020 farm policy.
The launch of the Grocery Code Adjudicator Action network, which Sustain co-founded, to extend the remit of the GCA to support fair trading for farmers.
With Compassion in World Farming and Soil Association, we help run the Save Our Antibiotics Alliance which as well as featuring on BBC television's Panorama, got widespread press coverage for its report which revealed that 24% of supermarket chicken revealed to contain anti-microbial resistant bacteria.

Whilst not strictly about farming, food production and fishing – a big agenda for this year's work has been Brexit.
Amongst the many forums that we've convened, letters written (to ministers), MPs and policy makers we've met with and press work we've done – one of the most resounding themes is how this has been valued by the alliance. We've had such great feedback from our members – too many to cover here, but encapsulated by something Pete Ritchie, Director of Nourish Scotland fed back saying "This is what Sustain was made for."
Increase the sustainability of food supply
Our work on sustainable fish goes from strength to strength, with highlights this year including a fish 'medal' table of caterers at sporting venues to tie in with Rio 2016, and our work to improve commitments from Tokyo 2020. With notable commitments from Welsh government and Levy restaurants, and Durham becoming the second Sustainable Fish City, we now have sustainable fish commitments from over 200 caterers serving 700,000 meals.


On the Campaign for Better Hospital Food, our report on a sample of London's hospitals showed only 50% met the basic food standards that the Government has set. Prue Leith has joined our calls for better hospital food and been a fantastic champion for the campaign, generating lots of media attention.
Ensure good food is accessible, affordable and well promoted to all
The year 2015-16 has seen us ramp up our work on food poverty and food access – helping to form the UK Food Poverty Alliance with Sustain member organisations and other groups:
Releasing our Beyond the Food Bank report and league table as part of our London Food Poverty campaign (this year's report has just come out).
Supporting activity on food poverty throughout our Sustainable Food Cities network which has led to 23 developing food poverty action plans.
Our work to support food coops and student food enterprises has got into full swing, with X student food enterprises and coops funded and supported, and 400 enterprises listed on our Food Coops finder.

One of our big areas for success over the last year has been on sugar:
We have worked with HM Treasury to follow through on our successful campaign for a sugary drinks levy – protecting it from industry push back, and arguing for hypothecation with £1billion committed to schools through the healthy pupils capital programme.
Over 80,000 children have benefitted from projects supported by our Children's Health Fund, via a voluntary levy on sugary drinks by restaurants and venues throughout the UK.

Our work with Jamie Oliver has continued most recently at a local level where we have supported Sugar Smart campaigns across the UK, with 5 launching within the time of our last annual report, but as of today we're up to 13 launched, with another 30 at different stages of development.
Our tooth fairy stunts around the Coca Cola truck created enough of a stir last year that we've ramped up the action this Christmas and we hope you can join us at your local tooth fairy stunt – sign up at the back.
Our Children's Food Campaign has continued to create waves beyond sugar – coordinating over 700 responses to proposals to control food marketing to children, and celebrating a milestone in our campaign for new rules restricting non-broadcast food and drink marketing to children.
Improve our food culture, education and skills

Our Real Bread Campaign continues to grow and now has 1,400 supporters, with 27,000 followers on twitter having run its eighth annual Real Bread Week and fourth Sourdough September involving thousands across the UK. Plus the Campaign published its first recipe book.
It was another bumper harvest for Capital Growth – our London food growing network – with 225K meal portions harvested from over 2500 gardens.
Capital Growth also supported 150 community garden leaders, and trained 307 people at our Regents Park Allotment and beyond.
Also within our London work we had another fantastic Urban Food fortnight with 11,000 people attending 87 local food events around the capital, which coincided with celebrating 10 years of the Mayor of London's Food Board which we helped to set up.
30 out of 33 London boroughs have improved commitments to good food as part of our Good Food for London league table and report, bringing together the work of many Sustain members.
There are now 49 places supported through the Sustainable Food Cities network UK-wide, which we run with the Soil Association and Food Matters. We welcomed Lincoln earlier this week. By our calculations: 30% of UK is noweaten within places in the Sustainable Food Cities network.

Phew! And this only reflects a handful of the achievements of our work up to Spring 2017, with much more happening since, and not even all the projects we have worked on. We have also:
Supported hundreds of ambassadors for The Crunch project.
Run Edible Gardens Open Day and The Big Dig.
Launched our new Food Power programme to support Food Poverty alliances across the UK, and started to develop work on the Right to Food.
Worked on Food Growing Schools and Growing Health: both joint projects with Garden Organic.
Continued to run our London Food Link network, The Jellied Eel magazine, and other support for smaller food enterprises.
As well as all the work we do with Sustain members, we also support great alliance projects such as UK Food Group, Eating Better Alliance, the UK Food Poverty Alliance, Better Food Traders network, Trade Justice Network and Nourish Scotland.
I'd like to thank all our members, particularly those we have partnered with; to thank our funders, some of whom are present, for their generous support and continued commitment. And most of all to thank the staff and volunteers for their tireless work on achieving all that we've just heard.

---
30/11/2017
Sustain
SHARE
---
Sustain: Sustain: The alliance for better food and farming advocates food and agriculture policies and practices that enhance the health and welfare of people and animals, improve the working and living environment, enrich society and culture and promote equity.
---
More blogs