How far can planning help tackle child obesity?
Planning authorities are being challenged in their efforts to defend planning policies to restrict new hot food takeaways. Gillian Morgan, planning lead at Sustain, looks at how Councils, coordinating across functions and working in partnership with communities, can fight back.[1]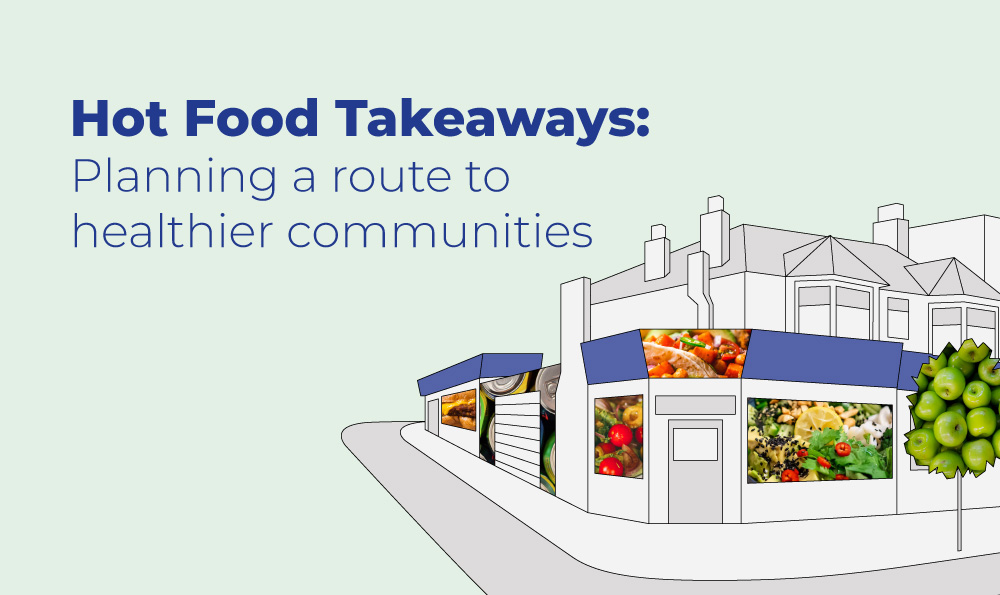 Hot food takeaway businesses are cheap to start up and run, especially if they are using nutrient poor, empty calories to sell in areas where multiple deprivation is already prevalent.
Bold planners are tackling this. Planning policies to restrict new hot food takeaways near schools are one of the few concrete ways local authorities have to stop their areas becoming more saturated with unhealthy food. Yet even these tools are coming under attack, with local authorities lacking capacity to provide adequate evidence to stand up to the resources of multinational chains. McDonalds and KFC are allocating millions of pounds on expansion plans, in stark contrast to Government ambitions to halve child obesity by 2030.[2] It's almost as if businesses want to double, not half, child obesity by 2030.
With approximately 70,000 takeaways across Britain[3], and hot food takeaways tending to provide unhealthy food, planning tools alone can only go so far and the Government with the whole sector must look into more radical options to improve the healthiness of what is on offer if it is serious about tackling child obesity[4].
Local authorities need more powers to decide what happens in their localities. Planning policies can only focus on new takeaways. If we are serious about tackling child obesity, we should also be looking at existing takeaways and other outlets selling unhealthy food to kids around school hours.
Across the UK, young people are growing up in places saturated with cheap, unhealthy food. Unhealthy takeaways are concentrated in lower-income neighbourhoods and many aggressively market school kids discounts or 'uniform deals'. Food being sold in Gateshead is known to be extremely unhealthy, and often contains more saturated fat and calories in one serving than is recommended for an entire day. The quality of food on sale in Gateshead is not different to any other area, it's just that the council has gone to the expense of having takeaway meals analysed.
Although Central Government recommends councils use planning policies to control access to unhealthy food[5], draft policies are being withdrawn under pressure from objections by takeaways chains, and many more councils fear the financial implications of pursuing these policies before they even begin.[6] Worse still, some councils value the economic benefits of small takeaway businesses and some planners think they are being elitist in restricting more hot food takeaways opening in what are often poorer areas. Wake up and smell the grease! People in food poverty or living in conditions lacking basic amenities don't want to rely on junk food; its not a choice but a necessity.
Eating food that has a low nutritional value in childhood has a knock on effect on health in later life. In cities such as Nottingham, the policy was challenged by the major fast food chains and the planning inspector decided that there was insufficient 'locally-specific evidence' to keep it. This is one less tool that community has to try and combat childhood obesity. Why would the evidence be different in Nottingham? Are children's bodies in some parts of the UK more resistant to diabetes and heart disease?
But despite there being national targets for obesity reduction, there is only so much local councils can do with their existing powers.
Collaborative work, sharing of knowledge and expertise ensured that Gateshead Council tackled this issue. Since putting in place planning policy that would restrict Hot Food Takeaways[7] there has been an overall reduction in the number of hot food takeaways, creating healthier environments for residents and visitors. This was a joint effort between Planning, Public Health and Environmental Health.
Here at Sustain[8] we are calling on the Government not only to require restrictions on new hot food takeaways near schools, and engage with planners and the planning inspectorate on the importance of these policies, but also to explore restrictions on businesses selling unhealthy food to under 16s on school days, or within school run hours, and the potential for a licence to sell unhealthy food outside of these opening hours. It would also be a good idea to ensure houses have sufficient space for food preparation, cooking, dining and storage so that families would not have to rely on pre-prepared meals.
The report is available for download at https://www.sustainweb.org/publications/hot_food_takeaways/
A shorter version of this blog was published in the April 2020 RTPI monthly magazine, The Planner.
---
Planning Food Cities: Find out how to get involved shaping the future of your local area to create a more sustainable and local food system.
Gillian is supporting Sustainable Food Cities engage in the plan-making process to ensure that community food growing has been taken into account in their local plans.
Gillian Morgan
Planning Lead Planning Food Cities
Support our work
Your donation will help communities to engage with their planning system to create a good food environment.