Please sir, can we have some more… Saving school meals was just the start
Following on from the successful campaign to save universal infant frees school meals from being cut, Ben Reynolds explores how the food and farming movement could apply the learning from this to a wider vision for Better Food Britain in the wake of Brexit.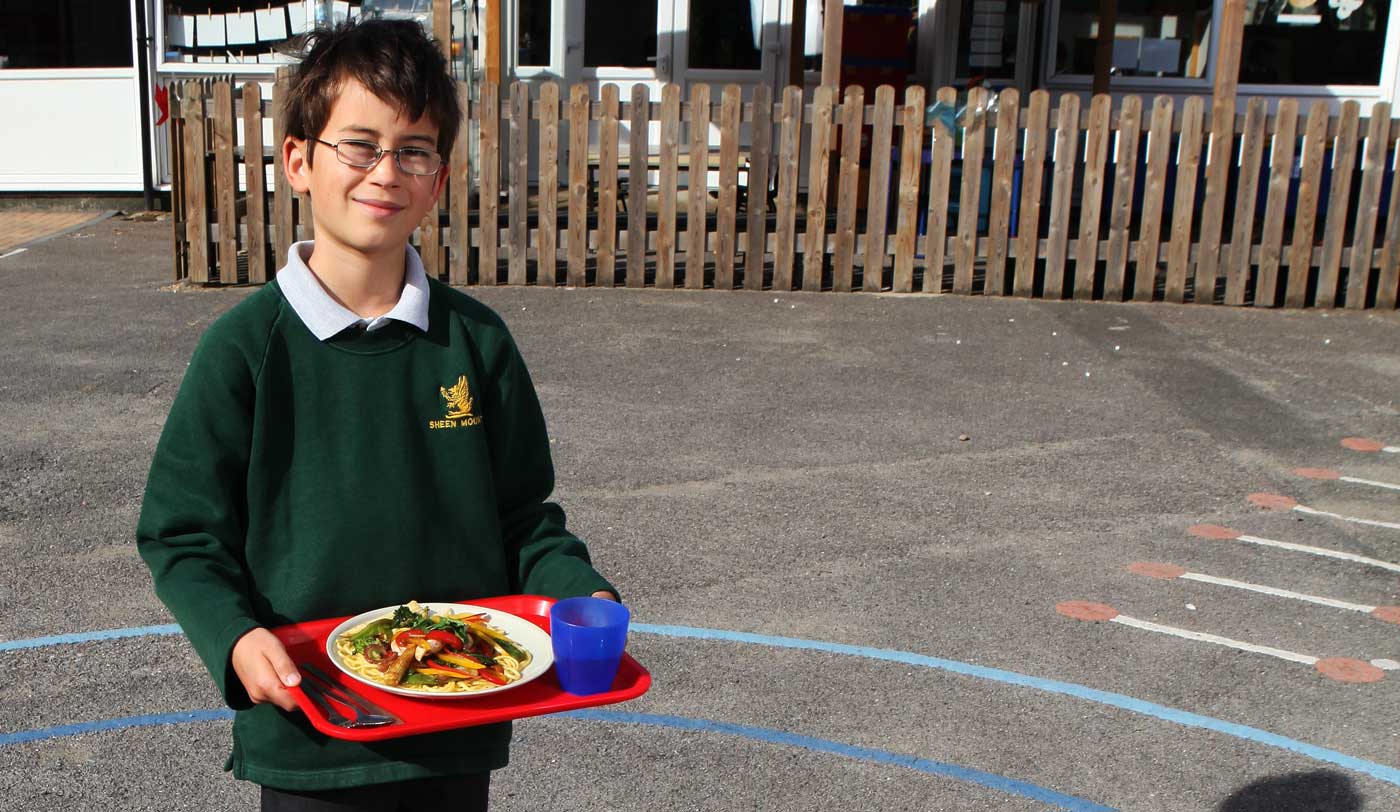 Theresa May's proposal to cut universal infant free school meals was rightly derided as ill thought through the moment it was announced. And it only went downhill, with more voices and evidence adding their weight, public support dropped from 23% to
12% over the course of the election
. Following the election result, the horse not only appeared to be back in the stable but well and truly bolted in when the chairman of the Conservative 1922 Committee of government back-benchers
derided the idea
of replacing UIFSM as "a silly thing".

Victory finally came with the absence of the proposed cuts within the Queen's Speech. Cue celebrations from campaigners and parents alike: More money in struggling families' pockets, 17,000 catering jobs across the UK saved, the future health of the nation now a little perkier, with resulting savings on the NHS not inconsiderable. It sounds, all in all, exactly the kind of policy you would promote if you wanted to get votes, not the other way around. Especially if your own party had introduced it in the first place!
So is the time now right to call for more? Considering the public support and the quantifiable benefit to children's health, this would make a strong case on its own, but it's not the only reason why we should be looking to go further, as the fall-out from leaving the EU over the next few years will no doubt show.
The focus on Brexit by food and farming organisations has understandably majored on standards and farm subsidies – both areas largely governed at EU level, albeit with extensive UK input. In fact food and farming arguably cover the largest areas of EU legislation and spend, so the lack of profile on these issues outside the sector and in the media is in all our interest to correct. Yet the main way in which it is likely to hit the headlines is through rising food prices. A survey released in the last week by
BBC's Farming Today
on agricultural, particularly horticultural, workers suggested huge labour shortages and a likely increase in the price of UK-grown fruit and vegetables. It should be stressed that this is due to workers being paid more, which we would argue is more widely the best antidote to the effect of rising food prices on low-income people. Equally the reports on the survey were accompanied by the spectre of production moving abroad if the UK businesses can't compete.

What's all this got to do with school meals, I hear you ask. Potentially everything. The challenge the farming and conservation sectors have is to make the case to the public that farming still deserves to be subsidised. And as much as people want those public goods linked to wildlife, flood management, and everything linked to our green and pleasant land, they will also want more money ploughed into the NHS and other services. As Boris Johnson has famously said, our policy on cake could be pro having it and pro eating it. Those who manage our land have natural allies with the many who, to put it simply, cater and cure. But to get the voice of this movement that was so effective in calling for a sugary drinks tax and saving Universal Infant Free School Meals, from Jamie Oliver to the NHS, they need to think a little more creatively about linking production with provision of school, hospital, armed forces and prison food.
Look at the likely arguments, and in many cases realities, that will come up in the next two years of Brexit developments. Rising food prices will hit the poor the hardest. At the same time, diet related disease, the cost of which is putting the biggest burden on the NHS, disproportionately affects the poorest. Put simply, we can alleviate both by investing more in food in public institutions. We could increase the eligibility for free school meals to cover all those in poverty (roughly only half of those children considered by most poverty charities to be in poverty are currently eligible for free school meals). We could tackle holiday hunger experienced by children living in poverty. And we can invest properly in meals on wheels and care catering before it slides into ruin. These are just a few of the areas where investment would reap health, social and economic dividends. As well as saving money for the most vulnerable, these would take a huge burden off the NHS, and provide more investment in schools and social care. Importantly, increasing spend here would provide a huge potential market for high quality food from our producers.
Questions remain over what flexibility there will be outside of the EU to source more locally, to what extent WTO rules around procurement will apply, and to what extent trade negotiators might prefer to trade away public food services to other bidders. This only underlines the need for specifying high ethical standards in public catering contracts and helping British producers to meet them, complementing ethical production abroad for those things we can't produce. Whether its organic, high animal welfare, LEAF Marque, MSC or ASC sustainable fish, pasture fed, free range, or the many other certification schemes, we need to think creatively about how to use farm payments to expand the market for produce that meets these standards. We need to enable our producers to meet these standards, not only demanded by public sector, but by supermarkets and an increasingly conscientious consumer, both in Britain and in our major export markets. We must not, and probably cannot, compete with other larger nations on a race to the bottom in price and lower standards. Rather than heading towards Bargain Bin Britain, we should be investing in a
Better Food Britain
that marries high standards and decent wages across the food and farming sectors, with an expansion of those schemes that make good food affordable and accessible to all.
There is a lot of appetite for reforming farm payments, with growing support for the
policies put forward by Sustain
and its members to shift support away from subsidising large landowners simply for owning a lot of land (only encouraging them to own more!) Alternatively, the UK could invest in those farm sectors that are struggling, as well as investing in conservation and other public benefits. Across the food and farming sector we need to think more creatively about what counts as a public benefit. Surely, ensuring that children, hospital patients and older people in our country have enough decent food to eat would gain widespread support. This should go hand in hand with investing in sustainable farming livelihoods in beautiful, biodiverse landscapes. This is the joined-up vision we should be working together to promote.
Published 27 Jun 2017
Good Trade Campaign: Campaigning for good trade that benefits people and the planet at home and overseas.
Since joining Sustain in 2004, Ben has helped launch the Food Power network and was a founding member of the Sustainable Food Cities network. Most recently he came up with the 50 Fountains Challenge (run in partnership with Refill), born out of the Sugar Smart campaign which he developed with the Jamie Oliver Food Foundation. He worked with Jamie Oliver's team to get the government to adopt a sugary drinks tax, and set up the award winning Children's Health Fund which piloted the levy with restaurants.
Ben Reynolds
Deputy Chief Executive
Support our charity
Donate to enhance the health and welfare of people, animals and the planet.