Roots to Work: The Surplus Saver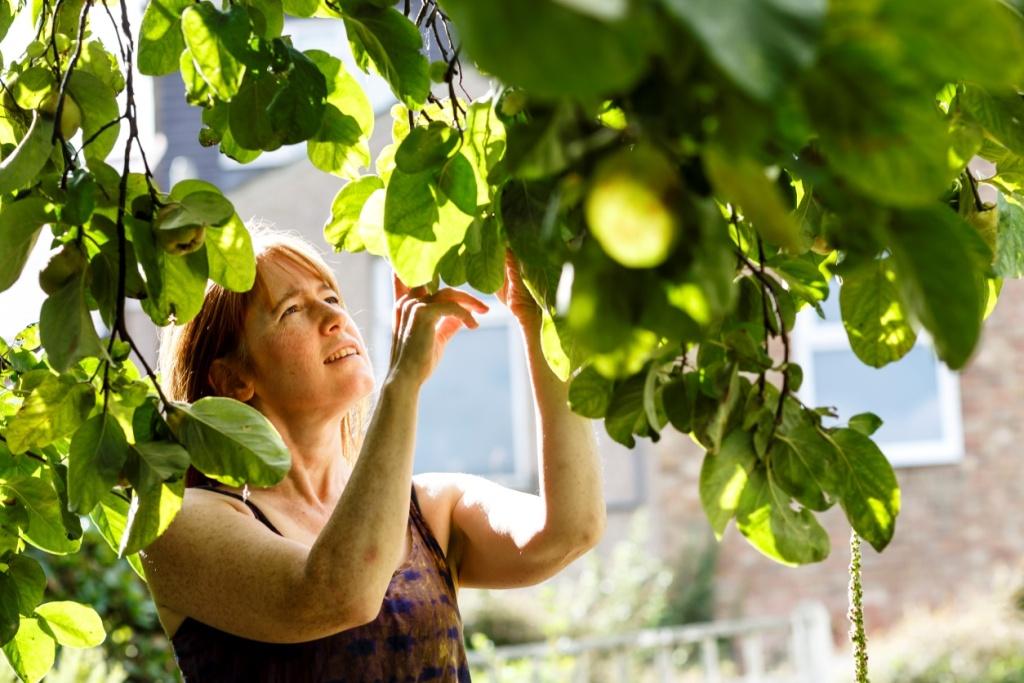 Zoe McIntyre meets Urban Food Awards 2016 winner Hazel Griffiths, founder of Tottenham-based Fruit Magpie.
Why did you begin making fruit cheese?
I have a large quince tree in my garden that I planted twenty years ago but never imagined it would yield over 100kg a year. When a friend encouraged me to start making quince cheese [a firm set, sliceable preserve], I thought I'd give it a try. I offered some to Wildes Cheese, a fellow Tottenham business. Their response was "how much can you make?"
When did you decide to set up Fruit Magpie?
As sales through Wildes increased, I wondered if fruit cheese could be more than a hobby. I was motivated by the idea that lots of fruit from urban gardens and allotments goes to waste and yet it can be some of the tastiest you'll find. I decided to collect and start using it from these growers in the hope that, as well as reducing food miles and doing my bit for waste, I could encourage city people to value food from their own backyards.
What is the most rewarding part of your job?
Knowing I am working on an issue as important as food waste, even in a very small way. In this I've had tremendous support from organisations like London Food Link, the Plunkett Foundation [through the Mayor of London's Urban Food Routes programme] and customers large and small. And at an everyday level, I still get a buzz from turning out a perfectly set fruit cheese.
What's the best way to enjoy your fruit cheese?
It is good sliced and eaten with cheese in the traditional way (different fruit cheeses complement different dairy cheeses), but it's very versatile. I like the apple chilli cheese with cold meats, the quince cheese as a glaze to roast ham, and the plum or damson cheeses melted into a sauce for duck, for example.
Have attitudes to food surplus changed?
Absolutely. I had no idea how many fantastic people and organisations were working on food waste until I started Fruit Magpie. High profile names have taken up the issue and TV and newspapers have come on board. I feel we now have a window of opportunity to make real progress.
What are your hopes for the future for Fruit Magpie?
I would love to expand my network of local tree owners to divert surplus garden fruit to people who need it - maybe in the way that the Kensal to Kilburn Harvesters do.
Fruit Magpie is a London Food Link supporter. Portrait by Miles Willis for The Jellied Eel
Find good food jobs and volunteering opportunities through Roots to Work, run by London Food Link's Capital Growth team
Electrify The 'Eel!
The original version of this article first appeared in The Jellied Eel magazine, an element of London Food Link's work as the voice for good food in the capital.
Be part of its future by pledging from £5 to £500 in the LFL crowdfunding campaign before 14 July 2017.
You'll be helping LFL to support and promote the people who grow, cook, make and save good food in London. This will includes a new local food map, more digital content, a new support and mentoring programme, making Jellied Eel magazine easier to produce, whilst staying free from unethical advertising. In return, you'll get to bag yourself a fantastic foodie reward.
---
15/06/2017
London Food Link
SHARE
---
London Food Link: This is the umbrella for all of Sustain's initiatives in London. Our work includes helping to influence local government policy, hands-on food growing training, running sessions for public sector caterers, creating guidance for independent eateries and food producers, public awareness campaigns, and joining the dots between people around specific food issues. The LFL supporter network is open to everyone who grows, produces, teaches, peddles, promotes and simply enjoys good food in the capital.
---
More blogs