The tenth annual, international celebration of Real Bread and the people who make it runs from 24 February to 4 March, so what better time to visit one of London's loveliest loafers?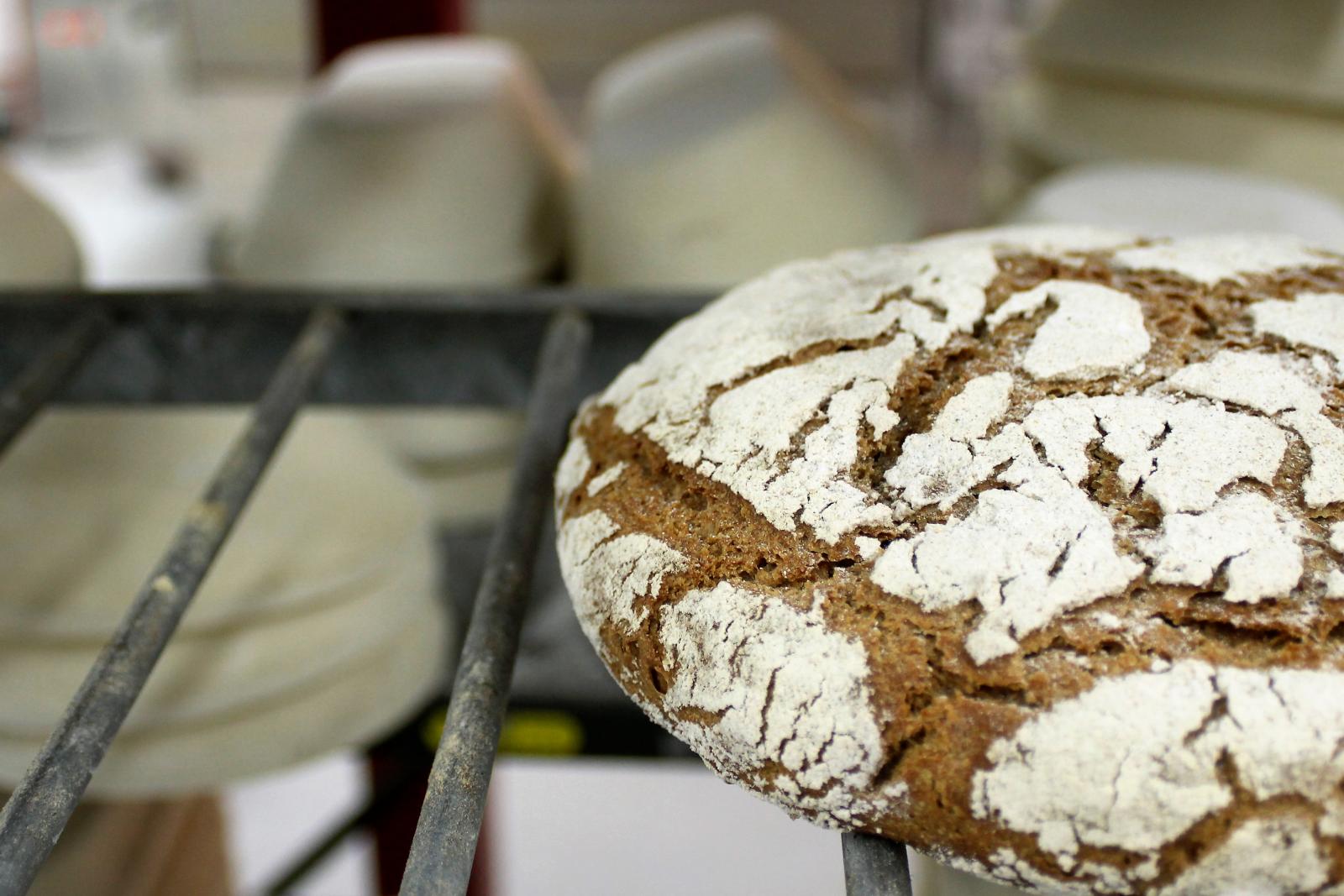 Real Bread cooling at Better Health Bakery by Chris Young
Back in 2009, the Real Bread Campaign launched #RealBreadWeek at the Real Food Festival. Since then, it has gone global, with messages each year coming in from flour arrangers as far away as Australia and Korea.
The idea of the week is simple: Encourage everyone lucky enough to have an independent bakery nearby to buy an additive-free loaf to support that local business; or roll up their sleeves to bake their own Real Bread. It's something everyone can do, with organisations from Busy Bees nurseries, through to Cucina Restaurants in schools, to Age UK groups getting involved.
The Capital is blessed with an ever-growing number of bakeries that have kicked (or never had) the additive habit, including around 100 that have added loaves to the Real Bread Finder map.
Here are thirteen of those that also support London Food Link or the Real Bread Campaign:
Better Health Bakery, Haggerston
Run by a mental health charity to create training and job opportunities…oh, and great sourdough
Bread Bread, Brixton
Wood-fired bakery run by Franco Manca co-founder Bridget, whose 'priority is to make healthy bread and ethical choices'…and great bread.
Brick House, East Dulwich and Peckham Rye
Home to the Londoners' Loaf winning Peckham Rye, Fergus and Sharmin's bakery and cafés specialise in San Francisco-style sourdough breads.
e5 Bakehouse, London Fields
Bakery, baking school, flour mill, unpackaged dry goods, social and community projects - what's not to love about what Ben and team get up to underneath the arches?
Holtwhites Bakery, Enfield
Richard and Kate are multiple World Bread Awards winners, whose doughs take between 12 and 48 hours to rise. Pastries, pizza nights, the Sticky Willy...
Karma Bread, Hampstead
The Challah Queen' Tami's microbakery hit the high street to bring 'home baked warmth to the streets of Hampstead Heath'
Kennington Bakery, Kennington
As microbakery owner John says: 'Any bread you like...as long as it's REAL'. Loaves named after battles, baked to order and delivered by bicycle
Ma Baker, Fulham
Cereal award-winning microbakery and baking school, run by Bread Angel (and Boney M fan?) Liz Wilson
Margot Bakery, East Finchley
Sourdough challah, wild garlic, babka and more. Michelle revived a dilapidated shop with passion, borroweed money and community spirit.
Ruben's Bakehouse, Twickenham and St Margaret's
Igor's team has 'a passion for organic flours, sourdough starters, long fermentation and wood-fired ovens.' British and mainland European breads and pizzas
St. JOHN Bakery, Bermondsey, Farringdon and Spitalfields
Owners Trevor and Fergus believe that 'bread is as fundamental on the table as your knife and fork'. Hear, hear!
The Hill Bakery & Deli, Camberwell
Former journalist turned baker, Adam set up shop to showcase 'small-scale, local producers and the excellent foods being made in London and the south east'
Wapping Sourdough, Wapping and Chelsea
Robin and Clare's home-based microbakery was given a boost when they spotted a Real Bread Campaign call for local suppliers to the London 2012 Games
Visit the Real Bread Campaign website to find recipes, events and more places to buy Real Bread as well as brush up on your flour arranging skills
Don't miss your chance to WIN an £80 baking class voucher at Bread Ahead's Real Bread Week Celebration on Sunday 25 February.
Published 23 Feb 2018
London Food Link: London Food Link brings together community food enterprises and projects that are working to make good food accessible to everyone in London to help create a healthy, sustainable and ethical food system for all.
Support our work
Your donation will help support community food initiatives and enterprises to thrive as part of a more sustainable food system.