This report explores how new Free Trade Agreements being signed between the UK and countries including the US, Canada and Australia could pose risks to the government's plans to tackle childhood obesity, and calls for adequate health impact assessment, scrutiny and governance of all new trade deals and the UK's food, health and trade systems.
In January 2021 the UK formally exited the transition period with the European Union. In charge of its own trade policy for the first time in 40 years, and outside of the EU's system of regulations, the UK is now in the process of negotiating a suite of Free Trade Agreements (FTAs) with other nations. How much it chooses to break away from EU regulations is the topic of much debate. At the same time, the Government has committed to halving childhood obesity by 2030 and launched a new obesity strategy in July 2021.
Sustain's new report, based on research conducted by Dr Pepita Barlow at the London School of Economics, shows how, without adequate health protections or parliamentary scrutiny, the UK's new FTAs could increase imports in highly calorific food and sugary drinks, undermining the obesity strategy.
Agreements could have direct or indirect impacts on prices, nutritional quality, availability and promotion of these foods and drinks as well as preventing policy making to tackle the rise of both childhood and adult obesity. The report considers the demands of future trading partners such as the US, Canada, Australia and New Zealand and shows how this could lead to deteriorating food environments and, ultimately, impact on childhood obesity.
This Executive Summary highlights the main arguments and evidence contained in the full report written for Sustain by Dr Pepita Barlow of London School of Economics, and presents four key recommendations for the Government:
Assert the right to regulate for public health as part of core trade negotiating objectives.
Conduct impact assessments of free trade agreements on human health.
Commit to parliamentary input to negotiating strategies, adequate debate time and parliamentary votes on final deals.
Establish a multi-agency integrated governance system for food and trade, with health at its core.
Contents
Introduction
About Free Trade Agreements (FTAs)
How do FTAs impact food environments and children's diets?
Price, nutritional quality and availability
Promotion, marketing and advertising
Indirect impacts on food environments
What the UK's FTA country partners want
United States
Canada
Australia
New Zealand
Recommendations
List of acronyms
Bibliography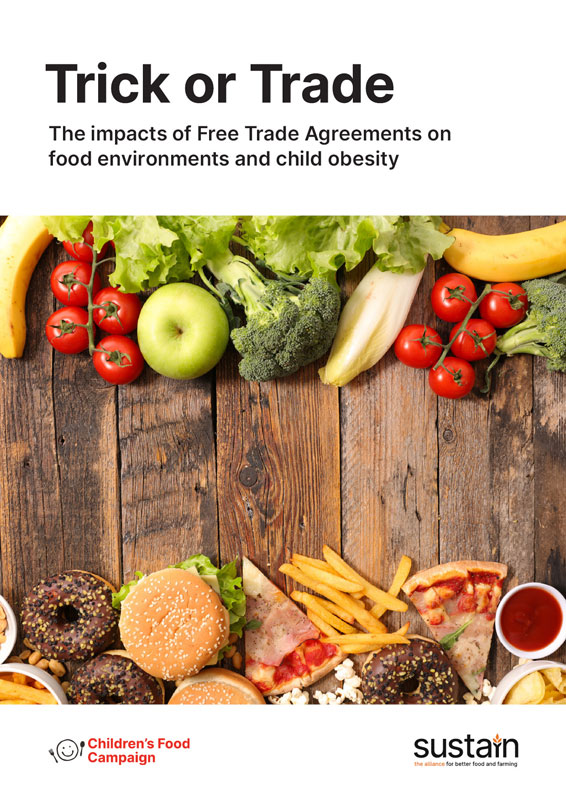 Trick or Trade: The impacts of Free Trade Agreements on food environments and child obesity
44pp - 2021 | 1095Kb
Published 4 Mar 2021
Good Food Trade Campaign: Campaigning for good trade that benefits people and the planet at home and overseas.