The UK Government has granted a zero tariff, zero quota deal to Australia, where legal food, farming, animal welfare and environmental standards are demonstrably lower than the UK. By signing this deal, the UK Government is signalling to other, large agricultural nations such as the United States and Brazil that it is willing to grant market access to lower standard agricultural produce.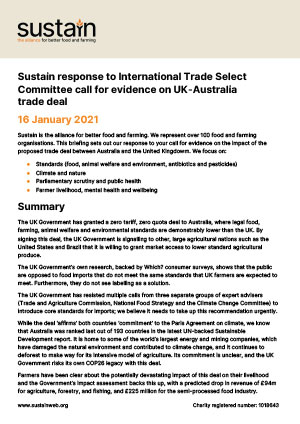 Sustain response to International Trade Select Committee call for evidence on UK-Australia trade deal
2022 | 133Kb
Published 19 Jan 2022
Good Food Trade Campaign: Campaigning for good trade that benefits people and the planet at home and overseas.