Good Food for London 2019
In our annual London borough league table and series of good food maps, we shine a light on which boroughs are leading the way in creating a better food future for all Londoners. Good Food For London encourages London councils to take action on good food and measures progress in 11 different areas, from food growing, encouraging breastfeeding, school food, Fairtrade and fair pay.
Report contents
London boroughs league table
Part 1: Mapping support for good food
Ensuring the best start for babies
Community food growing
The London Living Wage
Fairtrade food
Food for Life Served Here
Sustainable fish
Animal welfare
Healthier catering
SUGAR SMART
Local food partnerships
Improving food culture in schools
Part 2: Further actions for good food by London boroughs
The London Food Strategy: One year on
Every Child a Healthy Weight: Ten Ambitions for London
Mayor of London's Food Strategy: Kitchen Social
Good Food Retail
TriFocal: Transforming city food habits for LIFE
View the Good Food For London 2019 league table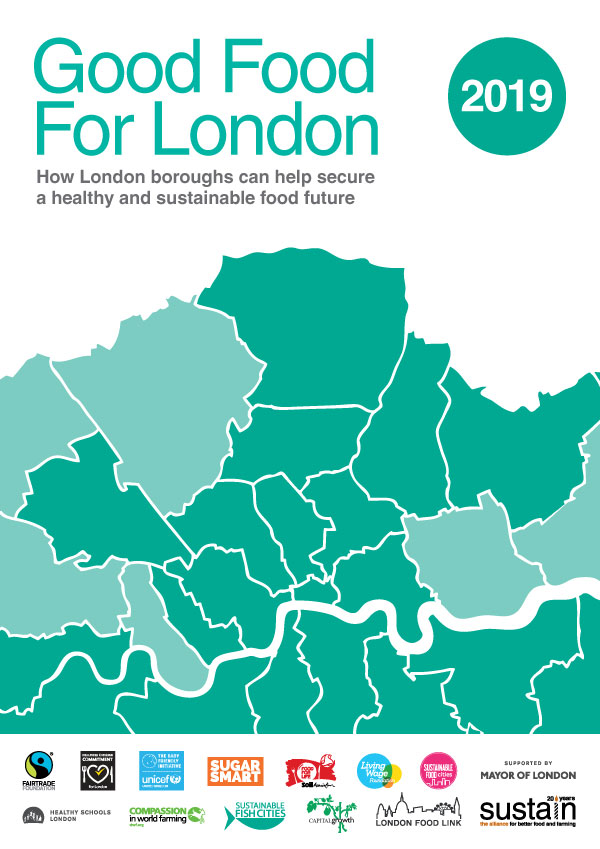 Good Food for London 2019
24pp - 2019 | 9248Kb
Published 29 Oct 2019
London Food Link: London Food Link brings together community food enterprises and projects that are working to make good food accessible to everyone in London to help create a healthy, sustainable and ethical food system for all.