Good Food for London 2016
The Good Food for London report measures progress and encourages London councils to take action on good food. It measures action on 11 different good food measures, from food growing, encouraging breastfeeding, school food, Fairtrade and fair pay. Scores range from 95 to 15 per cent. The Good Food for London league table 2016 is topped by the London Borough of Islington, followed by Greenwich, Tower Hamlets, Lewisham and Merton.
This year's highlights include:
30 out of 33 councils improved their scores since 2015
Many councils are serving sustainable fish; higher welfare meat, eggs and dairy and organic and freshly prepared food in schools and nurseries
Fewer are promoting whole-school approaches to changing food culture in schools showing there is still more that could be done in schools
Many are tackling food poverty by encouraging breastfeeding to ensure the best start in life for infants, and also paying the Living Wage to council staff and contractors and promoting the Living Wage locally
Increased support is being shown for food growing in the community and in schools
Many are including access to good food in planning policy (e.g. restricting new hot food takeaways) and working with local businesses to improve the food they serve through healthier catering accreditation schemes.
Report contents
London boroughs league table
Part 1: Maps of actions London boroughs are taking to support healthy and sustainable food
Ensuring the best start for every baby
Community food growing
The London Living Wage
Fairtrade food
Food for Life Catering Mark
Sustainable fish
Animal welfare
Healthier catering
Access to good food
Local food partnerships
Changing food culture in schools
Part 2: Further action for good food by London boroughs
The Local Authority Declaration on Sugar Reduction and Healthier Food
Beyond the Food Bank: London's Food Poverty Profile 2016
Food waste recycling in London
Procurement Across London - Catering Group
Food Flagships: second year
View the Good Food For London 2016 league table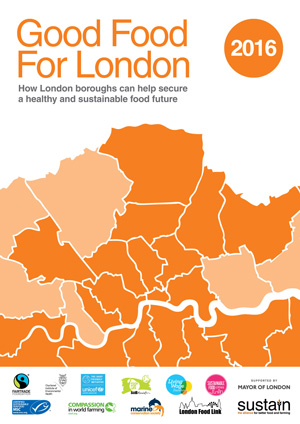 Good Food for London 2016
2016 - 44pp | 8415Kb
Published 15 Nov 2016
London Food Link: London Food Link brings together community food enterprises and projects that are working to make good food accessible to everyone in London to help create a healthy, sustainable and ethical food system for all.