Good Food for London 2015
The 2015 edition reveals how London Councils are showing leadership on school food and in other catering under council control but less able to control what goes on outside the school gates.
The Good Food For London report is now in its fifth year. The main findings are:
31 out of 33 London boroughs are doing more to improve the food available to their residents, workers and school pupils
More London councils than ever are serving sustainable fish; higher welfare meat, eggs and dairy; Fairtrade products; and organic and freshly prepared food in schools
Many are tackling food poverty by encouraging breastfeeding to ensure the best start in life for infants, and also paying the Living Wage to Council staff and contractors
Increased support is being shown for food growing in the community and in schools
On the negative side, less are taking up the 'Healthier Catering Commitment', a first step programme to help local authorities improve food in high-street takeaways.
The Good Food for London league table 2015 is topped by the London Boroughs of Greenwich, Islington and Tower Hamlets. In addition, four boroughs were recognised for having been consistently in the top five since results started to be compiled in a league table two years ago: Camden, Islington, Lewisham and Tower Hamlets. Eight boroughs were also celebrated for being 'most improved', demonstrating change is possible even in a short period of time: Barking & Dagenham, City of London, Croydon, Greenwich, Hackney, Newham, Wandsworth and Westminster.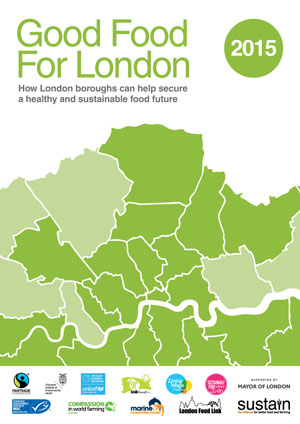 Good Food for London 2015
978-1-903060-63-6 - 48pp - 2015 | 4843Kb
Published 18 Dec 2015
London Food Link: London Food Link brings together community food enterprises and projects that are working to make good food accessible to everyone in London to help create a healthy, sustainable and ethical food system for all.