Good Food for London 2013
The Good Food for London 2013 report provides a league table of local authorities support for key good food initiatives, such as community food growing, high quality school food, helping local food outlets serve healthier food, and buying ethical food in schools and local authority canteens - including Fairtrade products, cage-free eggs and sustainable fish.
The Good Food for London 2013 report illustrates London-wide progress on all of the six good food initiatives that we have tracked, presenting these on colour-coded maps. In many London boroughs, school-children are now receiving fresher, tastier and more sustainable food , and tens of thousands of local residents have better access to green space for growing food. Borough support for farmers and local businesses has also improved, and there is an impressive number of London boroughs now working with local food outlets to help them make their food healthier.
In the Good Food for London 2013 league table, Islington and Merton are jointly named as London's top 'Good Food Boroughs'. It also shows that nearly half of London Boroughs have made progress since the previous league table was published in 2012. Hillingdon and Lewisham were also praised for having made the most progress. Over the past year, for example, Hillingdon has started to help local food outlets serve healthier food, and Lewisham has achieved "silver" Food for Life standards in its school catering.
As well as Islington and Merton, seven more London boroughs out of 33 were praised for their good food work: Camden, Enfield, Greenwich, Kensington & Chelsea, Richmond-upon-Thames, Tower Hamlets and Waltham Forest. Havering was also highlighted as a leader on good food buying, having helped several other boroughs to buy good food affordably through collaborative contracts.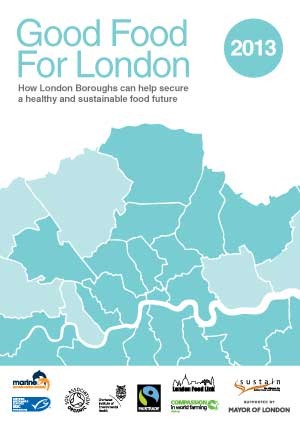 Good Food for London 2013
978-1-903060-59-9 - 32pp - 2013 | 3200Kb
Published 10 Oct 2013
London Food Link: London Food Link brings together community food enterprises and projects that are working to make good food accessible to everyone in London to help create a healthy, sustainable and ethical food system for all.