Good Food for London 2011
The 2011 Good Food for London report provides maps of London's 33 Boroughs to reveal how London Boroughs are taking action to help create a healthy and sustainable food system, for the benefit of everyone. It assesses London Borough progress on issues such as community food growing, school food, food waste, encouraging food outlets to serve healthier food, and buying ethical products, including Fairtrade, free range eggs and sustainable fish.
This report was compiled by London Food Link, a network run by Sustain, the alliance for better food and farming, with contributions from many independent organisations that promote healthy and sustainable food, several members of the London Food Board and the London Food Board's Chair, Rosie Boycott. It was published in November 2011.
The Good Food for London maps reveal that some London Boroughs are showing real leadership on several food issues – particularly Islington and Richmond, and also Camden, Croydon, Enfield, Greenwich, Merton, Sutton, Tower Hamlets and Waltham Forest.
The maps also challenge other Boroughs to follow their good example and take more action to help create a healthy and sustainable food system, for the benefit of everyone. If all London Boroughs took the simple, affordable and effective action in this report, it would significantly improve the health of Londoners, the livelihoods of the farmers and other food providers, and the sustainability of the food system on which we all depend.
For the first seven key food issues listed in the contents (see below), we have also provided maps showing how London Boroughs are already making progress. Each of these issues is also supported by a programme or organisation that can help boroughs to implement change. For the other key food issues, we have not provided maps – either because there is no easily available data, or because it is not easy to represent existing data on a map.
We repeated this process in 2012 to track progress, see: www.sustainweb.org/publications/?id=249. Find out more about the great work going on in London to promote healthy and sustainable food at: www.londonfoodlink.org.
Report contents
Introduction
Which London Boroughs are showing leadership?
Maps of action London boroughs are taking to support healthy and sustainable food

Community food growing
Food for Life in schools
Fairtrade
Sustainable fish
Animal welfare
Food waste
Healthier catering
Information about additional action London Boroughs are taking to support healthy and sustainable food, which we may map in future.
Improving health: promote healthier food
Supporting farmers: buy local and seasonal food
Reducing poverty: pay the Living Wage
Saving money: help institutions and residents buy good food cost-effectively
Building skills: train catering staff
Protecting consumers: ensure food safety
Promoting local shopping: support local shops and markets
Planning ahead: promote good food planning
How Borough action will help achieve a healthy and sustainable food legacy from London 2012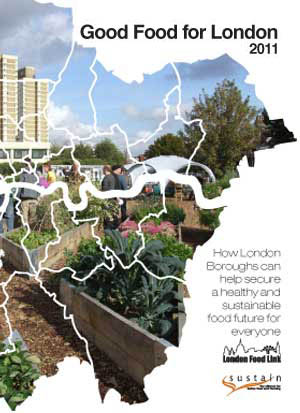 Good Food for London 2011
30pp - 2011 | 2019Kb
Published 17 Nov 2011
London Food Link: London Food Link brings together community food enterprises and projects that are working to make good food accessible to everyone in London to help create a healthy, sustainable and ethical food system for all.