In its 2019 election manifesto, the UK Government promised not to compromise on UK food safety, environment and animal welfare standards in future trade deals. It is currently negotiating a Free Trade Agreement with Australia, where a number of farming practices that are banned in the UK are still permitted.
For example, Australian farmers are permitted to use mulesing (the removal of skin from live sheep) battery cages, sow stalls and antibiotics as growth promoters. Furthermore, approximately 40% of Australia's total beef supply is produced in intensive feedlot systems where the animals are kept in close confinement and fed largely on grain rather than pasture.
Coming into regulatory alignment with Australia would put the UK's precautionary approach on products such as pesticides at risk, as well as potentially lowering the standard of nutritional information on food packaging. We believe that higher standards need to be ensured and maintained now, as well as improved over time.
Increasing imports of intensively-farmed beef – which has an extraordinarily high greenhouse gas (GHG) footprint – will make net-zero more difficult to achieve, and therefore, require stronger climate policies elsewhere.
Sustain is also concerned that the impact of the Australian trade deal on health has not been fully assessed, as well the economic impact on UK farm businesses. Australian farmers would effectively have an unfair advantage over UK farmers. Sustain believes that the best way to protect UK standards is via primary legislation.

Recommendations
The Department for International Trade needs to respond to the temporary Trade and Agriculture Commission report in full, and set out how it intends to fulfil the recommendation to not 'backslide' on standards.
The Department for International Trade needs to constitute the Trade and Agriculture Commission as a priority ensuring it has the broad and independent expertise to assess the Australia deal and others in terms of impact on standards.
Given the incompatibility between the UK and international standards on sanitary and phytosanitary measures, animal welfare and the environment, the Government needs to set out in detail how it will go about honouring its manifesto commitment to protect food safety, environmental and animal welfare standards.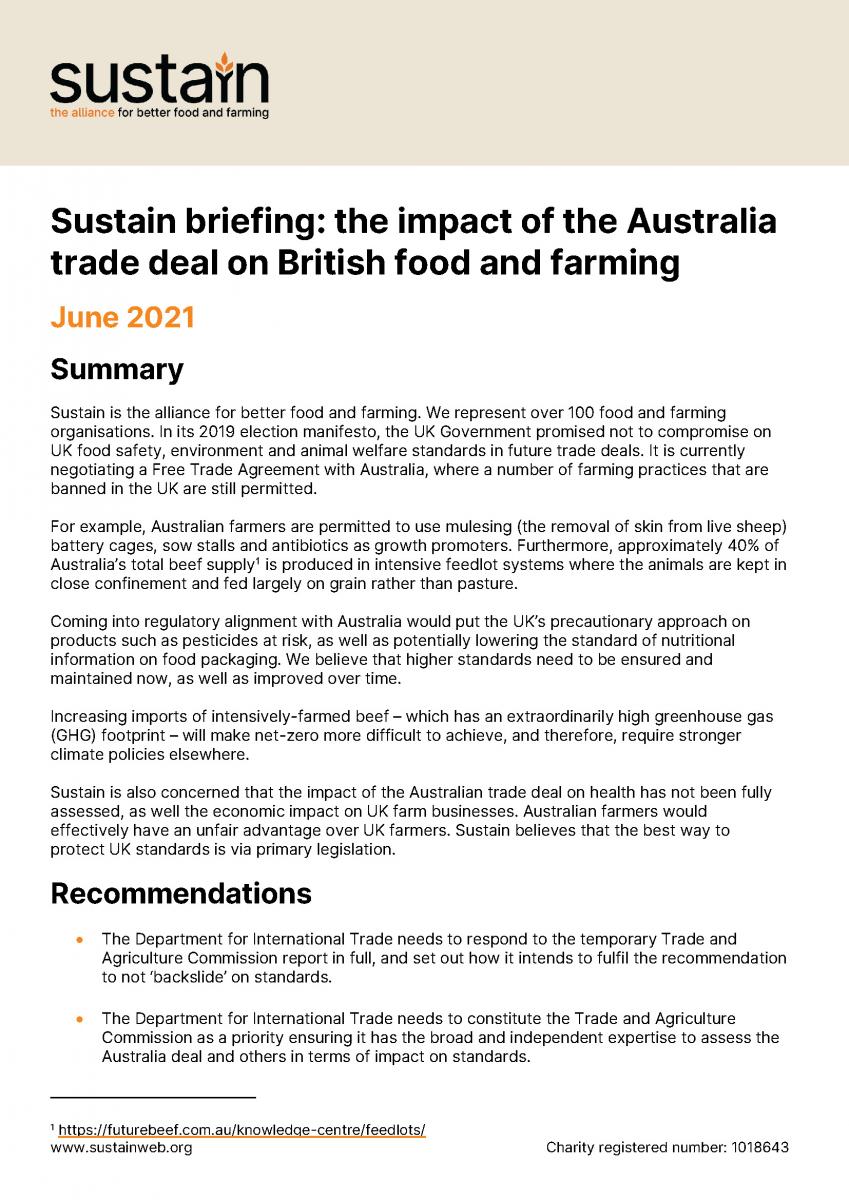 What might be the impact of the Australia trade deal on British food and farming
000 | 145Kb
Published 9 Jun 2021
Good Food Trade Campaign: Campaigning for good trade that benefits people and the planet at home and overseas.