With the support of other bakers and his family, in 2021 Mark Long launched a Real Bread network in New Zealand.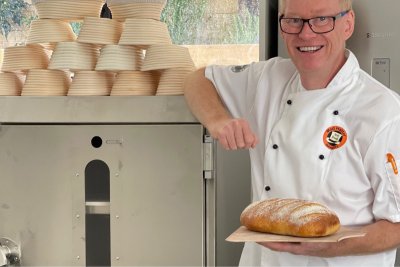 Mark Long. Copyright: Real Bread Aotearoa
Kia ora and welcome from Real Bread Aotearoa! Being so far south (next stop Antarctica) is a far cry from our northern roots, in God's Own Country of Yorkshire, but we've fully embraced Auckland as our home.
We have always been very keen supporters of the Real Bread Campaign and, despite moving to the other side of the globe in 2016, we continue to pay our annual subscription. Why? Because many of the issues are global and we feel it's extremely important to present a united front, no matter where in the world we reside.
Microbakers
We launched Mad Hatter microbakery in 2021, originally baking in a Rofco B20 and a two Miele Moisture Plus steam injection ovens. More recently, we were proud to be the very first in New Zealand to receive the Rackmaster RM2020. It seems an appropriate home for this amazing 'One Oven To Bake Them All' - after all, The Lord of The Rings movie trilogy was filmed here. Hot on its tail were a pair of awesome Tom Chandley Pico+ Artisan ovens. Manufactured in Manchester, England, these guys are another first for New Zealand! I guess we now know a bit about ovens and one day should get round to doing a comparison review. We now make and sell more than 150 items per week. NZ is probably the furthest point from HQ of the world-renowned Real Bread Campaign and so it was an honour to be invited to contribute to the Knead to Know…more microbakery handbook.
The NZ network
Later in 2021, we founded Real Bread Aotearoa. Sharing the Campaign's definition of Real Bread, our mission is also to find and share ways to make bread better for us, better for our communities and better for the planet. Our work involves networking with farmers, millers, other bakers and retailers, encouraging them to raise standards.
In te reo Māori (Māori language) Aotearoa means 'long white cloud' or 'long bright world'. We chose the name out of respect, because it is important to recognise the importance of the Māori people, their language and heritage. Many people call for the country's official name to be changed to Aotearoa - in August 2022, 70,000 people signed a petition to this effect.
We are living in interesting times, particularly with the advent of COVID, and our health is certainly at the forefront of our minds. It has often between said that we are what we eat. I believe that the cumulative effect of eating additive laden, commercial loaf products will inevitably have a negative impact on our health. That's why it's so important for us to use – and promote - natural, high-quality, sustainably-produced ingredients, so that we can all eat and enjoy healthier bread here in New Zealand.
Community connections
We consider community support, education and wellbeing to be absolutely fundamental to everything we do and these activities continue to be our main focus. Educating children through programmes in local schools, as well as teaching people to make their own bread at home, also feature highly on our agenda. As the name of our microbakery suggests, we think it's important to focus on fun and the therapeutic benefits of people making their own bread. Whilst we run it as a small business, we would rather people make their own. We want to help people take an active interest in cooking and eating more healthily, avoiding quick-fix ready meal and takeaway options.
Throughout the pandemic we have supported people in isolation by delivering Real Bread to them. Where opportunities arise, Real Bread Aotearoa makes donations of Real Bread to school festivals and other community events, enabling them to raise funds, whilst also promoting the benefits of Real Bread. This has been extended to support the people of Ukraine through fundraising activities and donating a proportion of funds from our microbakery sales.
We absolutely love to be innovative and are always striving for ways to enhance Real Bread. We have teamed up with Deep Creek Brews & Eats, a local restaurant, gastropub and on-site microbrewery. They supply us with beer barm and in return our Real Bread features on their awesome menu. Deep Creek is also home to Browns Bay Brewing Company, whose spent grain we use in our sourdough, giving another point of difference from commercial baking operatives.
The future
Compared to the Real Bread Campaign, our project is at an early stage of development, but we have many exciting initiatives in the pipeline. Currently, we are working in partnership with Taku Hiahia (which means my pleasure), a local handicraft shop that has links with the Māori community. It showcases amazing creations by local artists, including Real Bread bakers. Together we are developing a hub for our community, which will enable people to learn all about indigenous food, such as the legendary Māori rēwena bread, home baking and Real Bread Aotearoa.
We would love to hear from more farmers, millers, other bakers and retailers in New Zealand who share our values – please get in touch!
@madhatterbakery
Originally published in True Loaf magazine issue 52, October 2022
See also
Published 2 Mar 2023
Real Bread Campaign: The Real Bread Campaign finds and shares ways to make bread better for us, better for our communities and better for the planet. Whether your interest is local food, community-focussed small enterprises, honest labelling, therapeutic baking, or simply tasty toast, everyone is invited to become a Campaign supporter.
Support our charity
Your donation will help support the spread of baking skills and access to real bread.