This summary report captures what's been achieved by a cohort of councils working on Good Food Retail with the support of London Food Link over the last year.
During 2019 six councils in London undertook projects to improve Good Food Retail in their boroughs, five with funding from the Mayor of London, one with funding from Guy's and St Thomas' Charity, and all supported by London Food Link as a partner.
Each approach has been unique to the local context, with councils focusing on one or more of the following objectives:
Improving access to heathy, affordable food in convenience stores;
Increasing the take up of Healthy Start vouchers among local retailers and families;
Increasing healthier food options available at markets;
Developing a strategic plan to influence and lead the Good Food Retail agenda across a borough.
In this report we outline what's been achieved to date, the challenges and learnings of different approaches and case studies of the boroughs' work.
Contents
Key themes and learning
What is Good Food Retail?
Getting a Healthy Start in Bexley
Healthier convenience stores in Camden
Good food in the marketplace and beyond in Croydon
Developing a Good Food Retail Plan for Newham
Change4Life training toolkit in Kensington and Chelsea
Addressing food insecurity in Southwark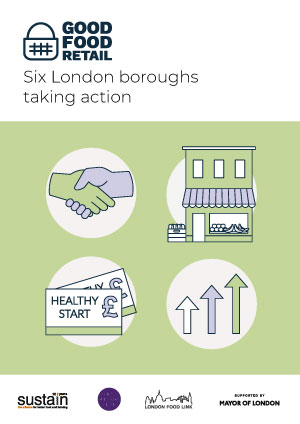 Good Food Retail: Six London boroughs taking action
18pp - 2019 | 3469Kb
Published 6 Dec 2019
London Food Link: This is the umbrella for all of Sustain's initiatives in London. Our work includes helping to influence local government policy, hands-on food growing training, running sessions for public sector caterers, creating guidance for independent eateries and food producers, public awareness campaigns, and joining the dots between people around specific food issues. The LFL supporter network is open to everyone who grows, produces, teaches, peddles, promotes and simply enjoys good food in the capital.