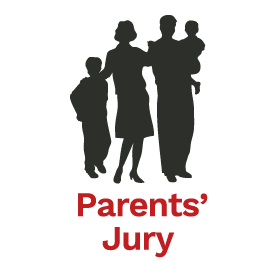 Giving a voice to parents on the food available and promoted in their children's schools, in shops, on the high street, and beyond.
Apply to be a Parents' Jury member
Current survey - sports sponsorship
2021 has been called the Summer of Sport, but with Coca Cola, McDonald's, KP Sports, Just Eat and Walker's Crisps sponsoring major sporting tournaments and using them to promote their less healthy products, we want to know what parents think of this type of marketing and its effects on children and young people.
Find out more about the current survey
The survey is open to any parent, guardian or carer of children under 18 at the moment, and is being conducted in partnership with Food Active, part of the Health Equalities Group.
Previous survey results
What is the Parents' Jury?
An online or virtual jury for parents to collectively make their voice heard on the food and nutrition issues which matter to them and their children.
Children's Food Campaign will share the findings of Parents' Jury surveys and other activities with relevant Government departments, politicians, advertising regulators and industry bodies, as well as the media
Parents' voices will contribute to our push for healthier, more sustainable food and the policies to support it.
Who can apply to be on the Parents' Jury?
Any parent or carer of a child aged 2-17, living in the UK.
How do I apply to be a member of the Parents' Jury?
One simple online application form is all you need to complete. It should take no more than 3 minutes.
We're looking for a broad mix of parents, from different backgrounds and areas, and with a range of views and experiences.
Initially we hope to select up to 500 people to sit on the Jury.
What can I expect as a Parents' Jury member?
If successfully selected for the Jury, you will receive regular surveys, as well as ad hoc opportunities to comment on topical news stories, adverts and policy announcements.
Don't worry – you don't have to commit to filling in every survey, but we hope that you'll feel as passionately as we do about making your voice heard.
You will be encouraged to share examples of best – and worst – products and marketing practices you have come across; as well as rate business and government attempts to make healthy choices easier.
There may also be the potential for participating in more in-depth interviews / focus groups in the future.
There's no payment involved. But Parents' Jury members may be invited to special events hosted by Children's Food Campaign, as well as be eligible for future discounts on joining other Sustain projects (e.g. London Food Link or Real Bread Campaign).
See past results from the Parents' Jury
Apply to be a Parents' Jury member
Share
Get updates
Parents' Jury: Giving a voice to parents concerned about the food environment their children grow up in.

Children's Food Campaign, the project which led the successful push for a sugary drinks tax, junk free checkouts, and universal infant free school meals, is launching a new initiative… the Parents' Jury.
Support our charity
Donate to enhance the health and welfare of people, animals and the planet.