The junk food industry is hijacking sport and children's health, according to Children's Food Campaign and Food Active.
Kicking Out Junk Food documents how 2021's 'Summer of Sport' was used by the food and drink industry to deluge families with marketing, advertising and sports personality-led promotions for pizzas, burgers, chocolate, crisps and fizzy drinks. The report's authors say the power of UK sport to influence healthier lifestyles is being undermined by a constant barrage of unhealthy food and drink sponsorship deals and advertising.
Key findings from research with 346 parents on the effects on children of sports sponsorship by less healthy food and drink brands include:
90% said the marketing of junk food through sport made it harder for them to feed their children a healthier diet food.
86% said Government should create new laws to stop partnerships between junk food brands and sport.
9 in 10 also agreed that grassroots sports and physical activities shouldn't have to rely on food and drink brands for funding
Researchers documented marketing activity during key sporting events over Summer 2021 including UEFA's EURO 2020 tournament, the English Cricket Board's new The Hundred tournament, the Tokyo Olympic and Paralympic Games, and a host of football leagues and cup competitions. Brands named in the report who established deals with sports bodies in order to be associated with sports clubs, tournaments and stars included Coca Cola, McDonald's, Just Eat, Deliveroo, Cadbury/Mondelez, KP Snacks, Papa John's Pizza and Carabao energy drinks, amongst others.
In the research with 346 parents across the UK, many voiced serious concerns about the way sports bodies and celebrities associate themselves with junk food brands, rather than acting as role models for healthy eating for children.
The report's authors are calling on Government and the sports industry to take action to kick junk food advertising out of sport including:
Government to include sports sponsorship in all future healthier advertising and marketing regulations for food and drink.
Sports associations to refuse all further sponsorship deals that include marketing less healthy food or drink brands
High profile athletes and sports personalities to use their influence to support healthy food programmes and refuse to work with less healthy brands.
Case studies collected over the summer found a plethora of marketing techniques utilised by less healthy food and drinks brands, including street-level advertising; shirt and sleeve sponsorship; social media and app-based promotions; the use of sports personalities, and discounted matchday food bundles at retail outlets and through online food delivery platforms.
When parents were asked what effect marketing of less healthy food and drink through sport has on children, the top three impacts were cited as: 'pestering their parents for less healthy food and drink' (81%), followed by 'preferring the brands linked with their favourite team or player' (78%) and 'thinking it is okay to eat less healthy food and drink' (77%).
The Government is set to implement new legislation on healthier food marketing via the new Health and Social Care Bill. As well as a 9pm watershed and total online restriction for a selected range of less healthy food and drink products, it is also introducing legislation to limit retail multibuy price and in-store display promotions. However, brand level advertising and many other tactics used in sports sponsorship marketing falls out of scope of these plans.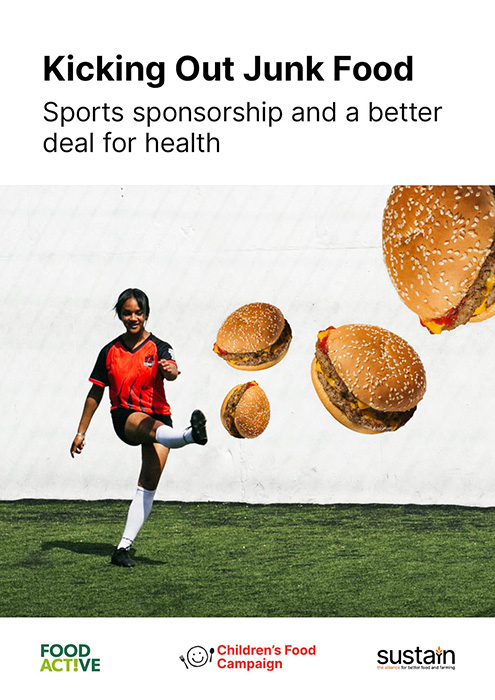 Kicking Out Junk Food: sports sponsorship and a better deal for children's health
49pp - 2021 | 3677Kb
Published 24 Nov 2021
Children's Food Campaign: Better food and food teaching for children in schools, and protection of children from junk food marketing are the aims of Sustain's high-profile Children's Food Campaign. We also want clear food labelling that can be understood by everyone, including children.