The main UK political parties have all now published their manifestos and the Sustain team has analysed them against our own political asks for the food system, which you can read in our Manifesto for a Better Food Britain.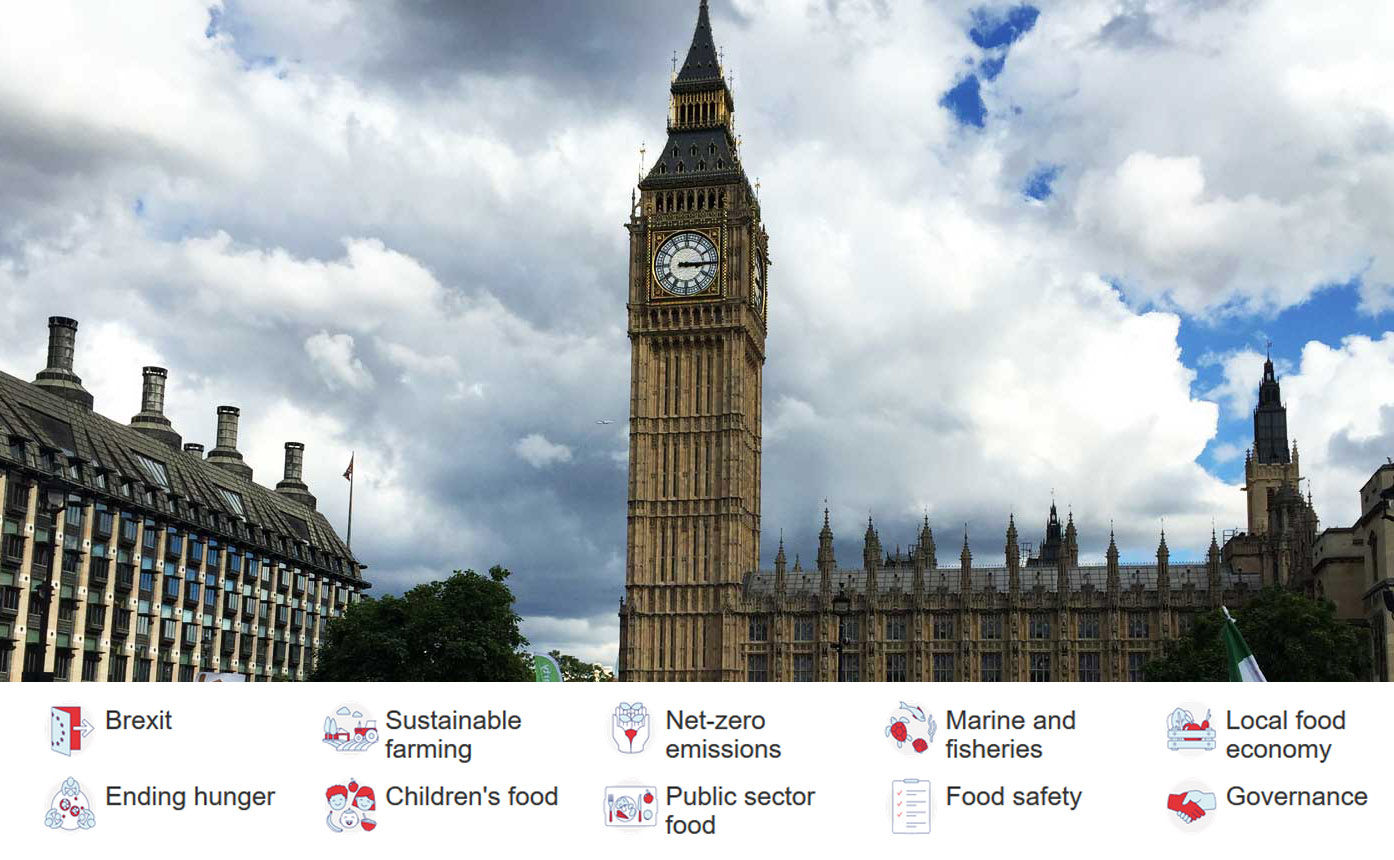 You can compare the main political parties' manifesto commitments on food, farming, fishing, health and the environment here.
Kath Dalmeny, chief executive of the Sustain alliance, said:
"This is the first General Election in living memory in which climate change, food and farming standards have featured so prominently in most party manifestos. The promises made now will shape our health, farming, fishing and the environment for the next five years -- a critically important period due to Brexit, new trade deals and the increasingly urgent need to take decisive action on climate change and restoring nature."

"Yet there are some startling gaps, both in the detail and ambition. For example, four leading parties (Labour, Lib Dems, the Green Party and the SNP) acknowledge the shocking rise in referrals to emergency food banks. These parties have committed to establishing everyone's right to food in UK law. Yet worryingly, the Conservative Party makes no mention either of the scandal of food banks or the food poverty that affects millions of our fellow citizens; beyond confirming the party's existing commitment to some children receiving free school meals."
Looking at the manifestos of the main political parties, here are some of the key points for Sustain:
Climate and nature emergency
We note that all of the main parties have sections on climate and nature emergency, with both Labour and the Greens committing to a multi-billion pound Green New Deal to help people make the transition to good jobs in new, climate-friendly industries.

The Lib Dems commit to a Nature Act with an £18bn budget for implementation, and the Conservatives to a £640 million new Nature for Climate (Net Zero) Fund.

The Greens commit to reaching Net Zero by 2030, Labour say they want to be "on track for a net-zero-carbon energy system within the 2030s"; the Lib Dems and SNP have committed to Net Zero by 2045 and the Conservatives by 2050.

On climate change, the Brexit Party says it will plant millions of trees to soak up carbon dioxide and pursue an (unspecified) initiative with the UN.
Sustainable farming and fishing
The Conservatives commit to a 'Public money for public goods' approach to paying farmers for the environmental benefits they deliver; as well as confirming their commitment to five years of farm subsidies.

Labour also commits to farming subsidies to support environmental land management and sustainable food production, county farms and new entrants. It also commits to an Agricultural Wages Board in England (a measure that Susain is calling for, to improve the incomes and working conditions of farm workers).

The Lib Dems similarly back public money for public goods and also promise to broaden the remit of the Groceries Code Adjudicator to protect food producers from unfair trading practices (a measure that Sustain is calling for, working with farming groups and others).

Plaid Cymru is campaigning on devolved responsibilities, including more pro-active public sector food procurement policies to support local producers. They also want full powers over food labelling.

The SNP says that EU regulation over eanimal and plant health and environmental and food safety gives Scotland access to export markets around the world. SNP MPs will support the Scottish Government's efforts to maintain all these current standards and regulations. This means strengthening and extending the remit of the Groceries Code Adjudicator (a measure that Sustain is calling for, working with farming groups and others) so it has clout to root out unfair treatment of farmers as the primary producers.

The Brexit Party say they would maintain farm payments (but don't say what for) and promise to invest £2.5bn in fishing and coastal communities.

The Greens specifically commit to prohibiting the routine use of antibiotics for farm animals and the Lib Dems say they will promote the "responsible use of antimicrobials", although this falls short of a ban on the preventative use of antibiotics in groups of healthy farm animals that Sustain and our colleagues in the Alliance to Save Our Antibiotics are calling for. Antibiotic use in farming is mentioned in neither the Conservative nor Brexit Party manifestos.

Each of the main parties has also made commitments (to varying degrees of ambition) on sustainable fisheries. Labour are the only one to commit specifically to fishing to a maximum sustainable yield, a key policy for sustainable fisheries and marine conservation that Sustain is calling for.
Good food for children and people on a low income
Labour, the Lib Dems, the Green Party and the SNP are all backing legislation to secure everyone's Right to Food, a fundamental shift in the way our country manages our food system, which Sustain is calling for, with promising signs that this might be incorporated into Scottish law in the near future. The SNP states that they will 'press for the UK to introduce new rights including a right to food for all and to support and resource action which makes such a right meaningful for people'.

Sustain has campaigned for many years for school food standards and universal free school meals:

The Conservative Party says it will continue to support existing free school meals (we are seeking clarification if this committment covers Universal Infant Free School Meals).

The Labour Party is calling for extension of free school meals to all primary school children. They also want to extend the sugar tax to milk drinks, ban fast-food restaurants near schools and enforce stricter rules around the advertising of junk food and levels of salt in food.

The Lib Dems are promising to extend the sugary drinks tax, extend free school meals to all primary school children and further restrict junk food marketing to children.

The SNP says they will press for all relevant UK government departments and agencies to apply for and achieve the Food for Life Served Here catering mark and to purchase more quality Scottish food produced to current farm assurance standards. Food for Life Served Here is run by Sustain member the Soil Association to promote fresh, healthy and sustainable food in public sector catering, and Sustain is calling for this to become the routine standard for public sector food, with ambitions to achieve Silver and Gold levels as standard.

To reduce costs for working families, the Brexit Party says it would reduce tariffs on certain imported food products. Sustain continues to have concerns about the problems associated with assuming that 'cheap food' or 'cheap food imports' will address food poverty - you can read our concerns here.

Read the Sustain alliance's Manifesto for a Better Food Britain in which we set out 10 key policy areas that we would like to see the next government take action on.
Note: Alignment with elements of the Sustain Manifesto for a Better Food Britain does not imply Sustain's endorsement for any particular political party or candidate. We ask all parties and candidates to consider how they can best help to achieve a healthy, fair, humane and sustainable system for food, farming and fishing, for the benefit of everyone.
Support our charity
Donate to enhance the health and welfare of people, animals and the planet.