A fair and transparent supply chain
What drives farm policy in the wrong direction? We have seen so many jobs and livelihoods lost in farming systems yet we spend £3 billion subsidising farming, and our supermarkets make huge profits.
How can we get the economics of the food chain and farm and trade policy to ensure good farming, jobs and livelihoods? There are many ways in which our food supply chain could become more fair and transparent. At the moment, whilst arguing for fairness and transparency more broadly, Sustain is focusing on one particular mechanism to help kickstart the process.
We launched our new report Super Market Failure in 2019 which exposes super market failure using three key indicators: the Living Wage, pay disparities and each supermarket's approach to Groceries market regulation. We make policy recommendations and argue for better food trading that supports farmers, food workers, consumers and the environment - fairness from farm to fork. Read the media release and download the report.
Sustain and many others backed the original establishment of a Groceries Code Adjudicator (GCA) in 2013. We now want the government to support British and overseas farmers by extending the remit of the GCA to protect farmers from unfair trading practices by UK supermarkets and food manufacturers. Unfortunately, despite our concerted efforts, in early 2018 the government refused to extend the remit of the GCA to protect farmers, but we're not giving up.
We are also concerned with futher concentration in food retail and the lack of diverse market opportunities for farmers, growers and their customers. See our response to the proposed Asda Sainsburys merger announced in 2018.
Most suppliers producing and processing the food on our supermarket shelves are vulnerable to unfair trading practices that can send competent businesses into bankruptcy, undermine competition and lead to a worse deal for consumers.
Unfair trading practices include buyers cancelling orders at the last minute, making deductions from invoices, or asking suppliers to pay unexplained fees. Meanwhile, Brexit means that farmers and small food businesses supplying UK manufacturers and retailers are grappling with additional uncertainties and business risks.
The GCA is the regulator that currently prevents the UK's ten biggest supermarkets trading unfairly with their direct suppliers. It has made good progress in tackling the bullying behaviour of some of the supermarkets. However, most farmers and small food businesses supply supermarkets only indirectly and are therefore not protected by the Adjudicator or Code. What is needed is for the GCA's remit to be expanded to cover the widest possible extent of the food supply chains that serve our supermarkets.
This is not a new idea. In 2008, the Competition Commission looked at groceries supply chains and proposed the establishment of the Groceries Code Adjudicator to tackle unfair trading practices. Their report also anticipated that the GCA's remit may be insufficient, noting that if these practices continued the government "should consider the introduction of appropriate measures, including the extension of … the role of the Ombudsman [GCA]".
Find out more about the Groceries Code Adjudicator and our recommendations for improvements to support sustainable farming, in the UK and overseas:
Discussion paper: A plausible model of operating for an extended GCA
Briefing paper: Ten frequently asked questions about the case for extending the GCA to protect farmers
Sustain co-founded the Groceries Code Action Network to coordinate calls for change. This includes: Traidcraft Exchange (which coordinates the network), Bakers, Food and Allied Workers Union; Bananalink; British Independent Fruit Growers Association; Fairtrade Foundation; Feedback: The global food waste campaign; Food Ethics Council; Food Foundation; Global Justice Now; Natinal Farmers Union; National Farmers Union of Scotland; National Federation of Women's Institutes; Oxfam GB; Sustain; Tenant Farmers Association; Think Global; War on Want.
For more information on the work of the Groceries Code Action Network, contact Tom Wills, Traidcraft Exchange: tom.wills@traidcraft.org or Vicki Hird, Sustain: vicki@sustainweb.org. And join the mailing list for regular updates.
Support our campaign
Your donation will help us work with farmers to push for policies to support farming fit for our future.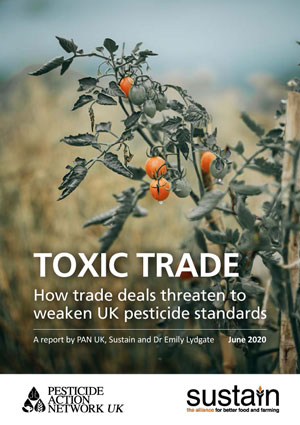 Toxic Trade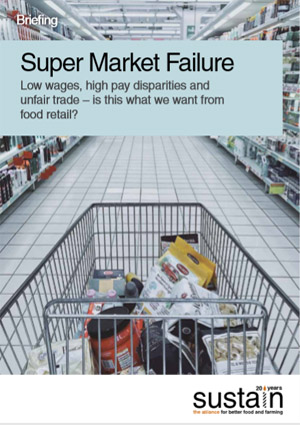 Research briefing: Super Market Failure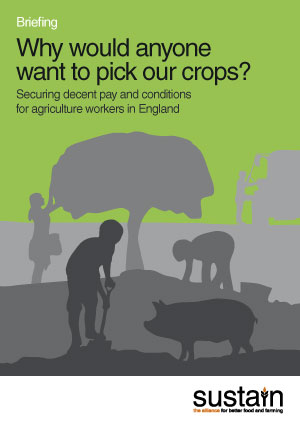 Why would anyone want to pick our crops? Securing decent pay and conditions for agriculture workers in England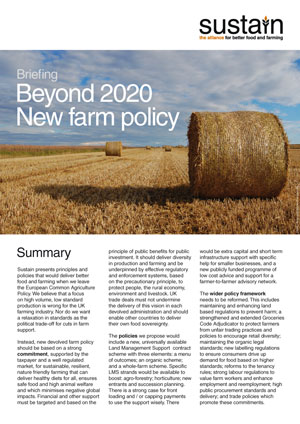 Beyond 2020 - New farm policy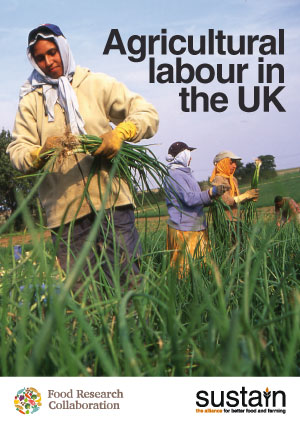 Agricultural labour in the UK