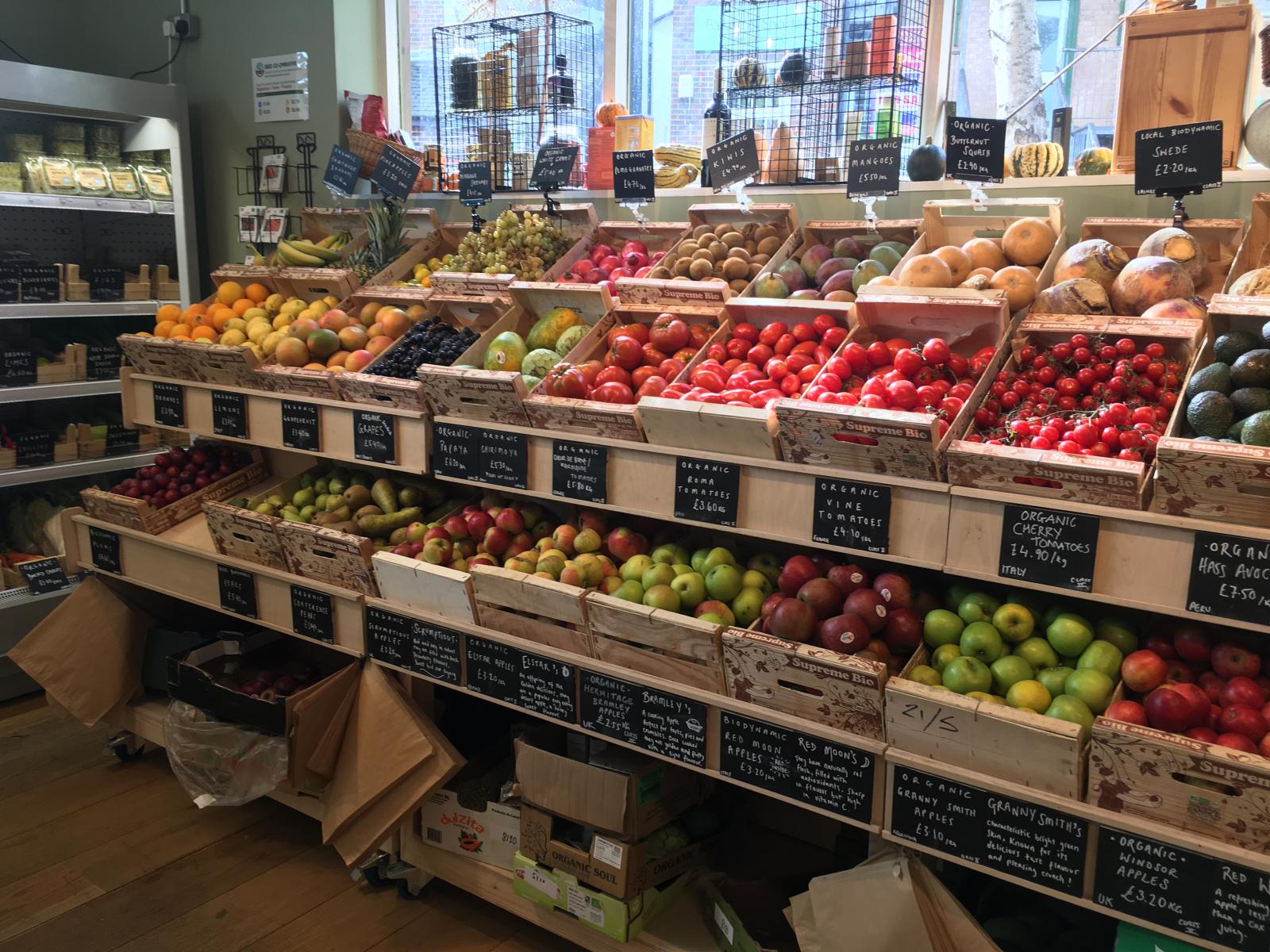 Credit: James Woodward
Our supply chains are a contributing factor in driving environmentally damaging farming and public health concerns. Over recent years, we have seen thounsands of farms go out of business and livelihoods lost, despite the large annual £3bn budget for farm subsidies. This pages covers our work on regulatins and on new and better supply chains from 2021.
We need to enable a shift away from the very centralised system and increase the market share of the more diverse markets.
In 2019, Sustain launched the Super Market Failure report. This exposed the failings of supermarkets using three key indicators: wages, pay disparities and unfair trading practices. We put forward recommendations based on a fairer trading system, decent wages and worker conditions, and shifting supply chains to support environmentally friendly systems. Read the media release and download the report.
Sustain and many others backed the original establishment of a Groceries Code Adjudicator (GCA) in 2013 which covers the top 13 retailers and their direct suppliers only. This was a valuable step in curbing the worst abuses uncovered by research.
We then wanted the government to support British and overseas farmers by extending the remit of the GCA, or formation of another body, to protect farmers and growers from unfair trading practices by all other intermediaries in the supply chain such as food manufacturers.
Sustain helped to secure the fair dealing clause in the Agriculture Act 2020 which should lead to a new Statutory Codes of Practice for all sectors, enforced by a new body (or a extension to GCA powers) and with powers to fine for non compliance with the codes. We will continue to presure Defra to implement this.
For more information on the work of the Groceries Code Action Network, contact Vicki Hird, Sustain: vicki@sustainweb.org. And join the mailing list for regular updates.
Unfair trading practices include:
buyers cancelling orders at the last minute;

making deductions from invoices; and,

or asking suppliers to pay unexplained fees.
Sustain co-founded the Groceries Code Action Network to coordinate calls for change. This includes: Traidcraft Exchange (which coordinates the network), Bakers, Food and Allied Workers Union; Bananalink; British Independent Fruit Growers Association; Fairtrade Foundation; Feedback: The global food waste campaign; Food Ethics Council; Food Foundation; Global Justice Now; Natinal Farmers Union; National Farmers Union of Scotland; National Federation of Women's Institutes; Oxfam GB; Sustain; Tenant Farmers Association; Think Global; War on Want.
In 2021, Sustain will be delivering a range of work on farmer-focused supply chains.
Sustain's position on supply chains and routes to market:
The current supply is too centralised and dominated by too few large supermarkets and processors. This affects both what is farmed and how it is produced as well farm incomes.
Farmers and producers are often treated unfairly which either forces them out of business or makes it difficult to invest in their business and build sustainability and resilience into the farm.
The supermarket and large processor model exacerbates monoculture farming, environmental degradation, increased consumption of ultra-processed food, harm to public health, and low worker wages.
We want to enable an increase in the market share for better supply chains and markets. This can include (but not limited to): box schemes, farm shops, independent retailers (butchers, grocers, bakers etc.), farmers' markets, ethical supermarkets. We have run workshops and will take the ideas forward.
This also needs better finance, infrastructure, knowledge sharing, advice, collaboration, jobs and many others.
We want to ensure that farmers and better food traders are at the heart of the conversation around enabling an increase in better supply chains.
***Further information***
We are also concerned with futher concentration in food retail and the lack of diverse market opportunities for farmers, growers and their customers. See our response to the proposed Asda Sainsburys merger announced in 2018.
Meanwhile, Brexit means that farmers and small food businesses supplying UK manufacturers and retailers are grappling with additional uncertainties and business risks.
The GCA is the regulator that currently prevents the UK's ten biggest supermarkets trading unfairly with their direct suppliers. It has made good progress in tackling the bullying behaviour of some of the supermarkets. However, most farmers and small food businesses supply supermarkets only indirectly and are therefore not protected by the Adjudicator or Code. What is needed is for the GCA's remit to be expanded to cover the widest possible extent of the food supply chains that serve our supermarkets.
This is not a new idea. In 2008, the Competition Commission looked at groceries supply chains and proposed the establishment of the Groceries Code Adjudicator to tackle unfair trading practices. Their report also anticipated that the GCA's remit may be insufficient, noting that if these practices continued the government "should consider the introduction of appropriate measures, including the extension of … the role of the Ombudsman [GCA]".
Find out more about the Groceries Code Adjudicator and our recommendations for improvements to support sustainable farming, in the UK and overseas:
Discussion paper: A plausible model of operating for an extended GCA

Briefing paper: Ten frequently asked questions about the case for extending the GCA to protect farmers
Share
Get updates
Sustainable Farming Campaign: Sustain encourages integration of sustainable food and farming into local, regional and national government policies.
What we're fighting for 2023
Menu
Support our campaign
Your donation will help us work with farmers to push for policies to support farming fit for our future.