Loaf lovers' Latitude 2023
The Real Bread Campaign lineup for the Theatre of Food tent.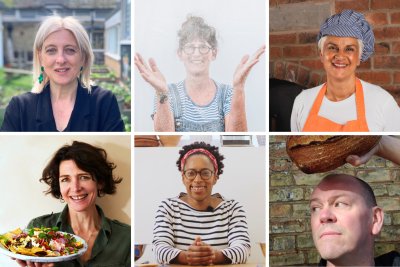 George Webber, Rebecca Bishop, Sonya Hundal, Tommi Miers, Marcia Harris, Chris Young. Copyright: Various: see bottom of article
A regular fixture in the Theatre of Food since the crew first pitched up at Latitude Festival in 2018, the Real Bread Campaign makes a fifth outing to Henham Park in Suffolk from 21 to 23 July 2023.
Real Bread bakers will kick off an afternoon food demos and tastings on the Friday and Saturday, and Real Bread will also be on Sunday afternoon's menu of panel discussions.
Friday 21 July, 12pm Rebecca Bishop sharing skills and talking about her first book, Two Magpies Bakery.
Saturday 22 July, 12pm: Sonya Hundal making mini focaccia.
Sunday 23 July, TBCpm: Making Real Bread with and for children. A discussion and audience Q&A with a panel including Marcia Harris, Sonya Hundal, Thomasina Miers, and Georgina Webber.
All three sessions will be hosted by Real Bread Campaign coordinator Chris Young.
After her demo on Friday, Rebecca will be signing copies of her book at the Waterstones stand in the nearby Listening Post tent.
Lineup, times and other details are subject to change without notice. Please check the Latitude app for details and the board at the Theatre of Food tent for the latest updates. Weekend and day tickets are available from the Latitude Festival website.
Who's who
Rebecca Bishop
Rebecca founded Two Magpies Bakery in 2012. She now focuses on teaching baking classes, which cover sourdough, laminated sweet doughs and European style bakes under the moniker The Next Loaf. Her book Two Magpies Bakery: stories and recipes from East Anglia was published April 2023.
www.thenextloaf.co.uk @thenextloaf
Marcia Harris
Real Bread Campaign ambassador Marcia Harris is a primary school child and family support practitioner, and the founder of The Flour Union, a social enterprise dedicated to offering inspiring workshops for families focused on the art of baking.
The Flour Union's flagship programme, Bread that Bonds, is a unique therapeutic bread-making experience that encourage and strengthens the bond between parents and children. With the help of specially designed resources, parents are empowered to create a special time and space to connect with their child on a one-to-one basis. This helps to develop the essential skills necessary to enhance their children's social-emotional literacy.
www.theflourunion.com @theflourunion
Sonya Hundal
Sonya is the owner and baker at Greenfield Bakers, a small wood-fired bakery in Lincolnshire, which uses stoneground flour from the Maud Foster Windmill in Boston. A past Real Bread Campaign ambassador, she is also author of Time to Bake! published by Oxford University Press for children at Oxford reading level 5.
www.ruralfabulous.co.uk @greenfield_bakers
Thomasina Miers
Cook, writer, presenter, and winner of MasterChef, Tommi co-founded Wahaca in 2007, winner of numerous awards for its food and sustainability credentials. In 2016 the whole restaurant group went carbon neutral and half of its menu is vegetarian. Tommi's passion lies in food and its power to positively impact people, health (both mental and physical) and the environment. She was a founding member of the Sustainable Restaurant Association in 2009, helped set up Chefs in Schools in 2017, for which she is a trustee and was awarded an OBE in 2019 for her services to the food industry.
Tommi has a weekly column in the Guardian's Feast magazine and lives by her firm belief that three times a day we have the chance to save the planet through what we eat, which is hopefully always delicious!
www.thomasinamiers.com @thomasinamiers
Georgina Webber
George is an innovative educator who has a personal philosophy about the importance of putting food and nature within the heart of the curriculum and school experience. This is mirrored in her work as Deputy Head at Greenside Primary School in west London, where she has developed an approach to teaching and learning that is centred around food, bread and nature. Through this approach, learning about bread, the food system and the natural world is more than a single subject specific lesson - it is integrated into everything.
The school has its own inhouse kitchen and runs its garden space as a regenerative growing project - focusing on improving soil health to grow nutritionally rich produce using only the power of nature. They have grown a regenerative wheat field in the heart of urban London and opened what may be the first school microbakery, where all students make bread that is shared with the whole community.
www.greensideschool.org @greensideprimaryschool
Chris Young
Chris has coordinated the Real Bread Campaign since March 2009. In addition to lobbying for an Honest Crust Act of better loaf composition, labelling and marketing laws; he created and runs Sourdough September; Real Bread Week; Real Bread For All; Together We Rise promoting therapeutic/social benefits and bread making; the No Loaf Lost surplus reduction initiative; as well as Lessons in Loaf and Bake Your Lawn for schools. He's the author of the Knead to Know…more microbakery handbook and Slow Dough: Real Bread recipe book; and edits True Loaf magazine. Chris has pulled on his judge's wig for BOOM Awards, The Cateys, The Great Taste Awards, The Scottish Bread Championship and The World Bread Awards. In 2017, The School of Artisan Food honoured Chris with its first Fellowship.
www.realbreadcampaign.org @realbreadcampaign
Photos: Georgina Webber © Daniel Mahara , Rebecca Bishop © Gail D'Almaine Photography, Sonya Hundal © Joel Blevins, Wooden Barn Media, Thomasina Miers © Tara Fisher, Marcia Harris © Markus Drayss, Chris Young CC-BY-SA 4.0 www.realbreadcampaign.org
See also
Support our charity
Your donation will help support the spread of baking skills and access to real bread.