Real Bread bakers taking the stage at Latitude Festival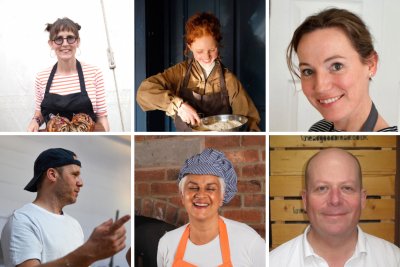 Latitude lineup. Copyright: See details below
For a fourth year, the Foodhaus Productions family have invited the Real Bread Campaign back to the Theatre of Food at the annual festival in (usually) sunny Suffolk.
If you're going to Latitude, please do come and see us.
Microbakery: from home to high street
In addition to our usual Real Bread making demo's at about lunchtime on the Friday and Saturday, we have a session on the Sunday afternoon for budding bready businessfolk.
This is an introduction to turning your Real Bread making hobby into a home-based business and perhaps even growing it to set up shop on the high street. Gain inspiration and advice from a panel of bakers at different stages of their business lives. Each will give a brief introduction to their bakery/microbakery and their story so far. We'll then open things up to the audience to ask questions about setting up, running and growing a microbakery.
The bakers
Across the weekend, Real Bread Campaign supporters sharing their knowledge and experience include:
Rebecca Bishop co-founded Two Magpies Bakery in 2012. From small beginnings in Southwold, Rebecca now oversees a team of over 100 bakers, pastry chefs and baristas across a central bakery and baking school in Darsham, plus bakery cafes in Aldeburgh, Norwich, Blakeney, Holt and Woodbridge.
@thenextloaf
Sonya Hundal is the owner and baker at Greenfield Bakers in the very rural village of Friskney in Lincolnshire. All bread is baked in a wood-fired French clay oven and is made using stoneground flour from the Maud Foster Windmill in Boston. Bread is sold through a weekly bake for local customers and a small range of markets. A past Real Bread Campaign ambassador, Sonya is also a creative writer working with local communities and schools in the East Midlands.
@greenfield_bakers
Shona Rogers was born and raised in Norfolk, then moved to the city to pursue a career in a suit. After 17 years she left it all behind to move to a small mountain village in Tirol, Austria where she re-trained as a chef, working in luxury hotels and at a Michelin star restaurant. Shona returned to Norfolk in 2020 and set up her own microbakery, Elsing Bakehouse, named after her new village home. She now makes Real Bread and other treats, delivering them by bicycle to people in local villages. [photo to follow]
@elsingbakehouse
Kitty Tait set up a bakery when she was 14 after really struggling with her mental health and finding therapy through making bread. A past Real Bread Campaign ambassador, Kitty runs The Orange Bakery in Oxfordshire with her dad, Al. Together they recently published a memoir/recipe book called Breadsong.
@kittytaitbaker
Ian Waterland: Following a 28-year career in health and social care, primarily supporting people with mental ill health, in 2013 Ian completed the Advanced Diploma in Artisan Baking at The School of Artisan Food. He then established and ran his microbakery, Knead Good Bread, in Leicestershire for eight years. Initially selling from The Bread Bus, the bakery evolved into a subscription and delivery model. A past Real Bread Campaign ambassador, Ian now shares his microbusiness and mindful baking knowledge at a variety of places, including The School of Artisan Food, of which he became MD in June 2022 and where will lead a 5-day microbakery course this September.
@the_conscious_baker
Steven Winter: Owner of the multi-award-winning Bread Source in Norwich. [Biog to follow.]
@bread_source
Each bready session will be hosted by Real Bread Campaign coordinator Chris Young. He'll take along limited number of the Campaign's microbakery handbook Knead to Know…more – please bring cash!
Everyone is volunteering their time and the lineup subject to change without notice.
Stay up to date
A full programme should appear on the Latitude website and app, plus the printed guide available on site.
All details will be subject to change but up-to-date information for the Theatre of Food will be posted on a chalkboard outside the tent each morning.
Photos: Rebecca Bishop © Chris Young, Kitty Tait © The Orange Bakery, Shona Rogers © Oliver Pugh, Steven Winter © Rosie Mills-Smith, Sonya Hundal © Joel Blevins / Woodenbarn Media, Ian Waterland © S. Waterland.
See also
Real Bread at Latitude
Real Bread baking within tent
Real Bread attitude at Latitude
Support our charity
Your donation will help support the spread of baking skills and access to real bread.