The Real Bread Campaign have been invited back to The Theatre of Food stage.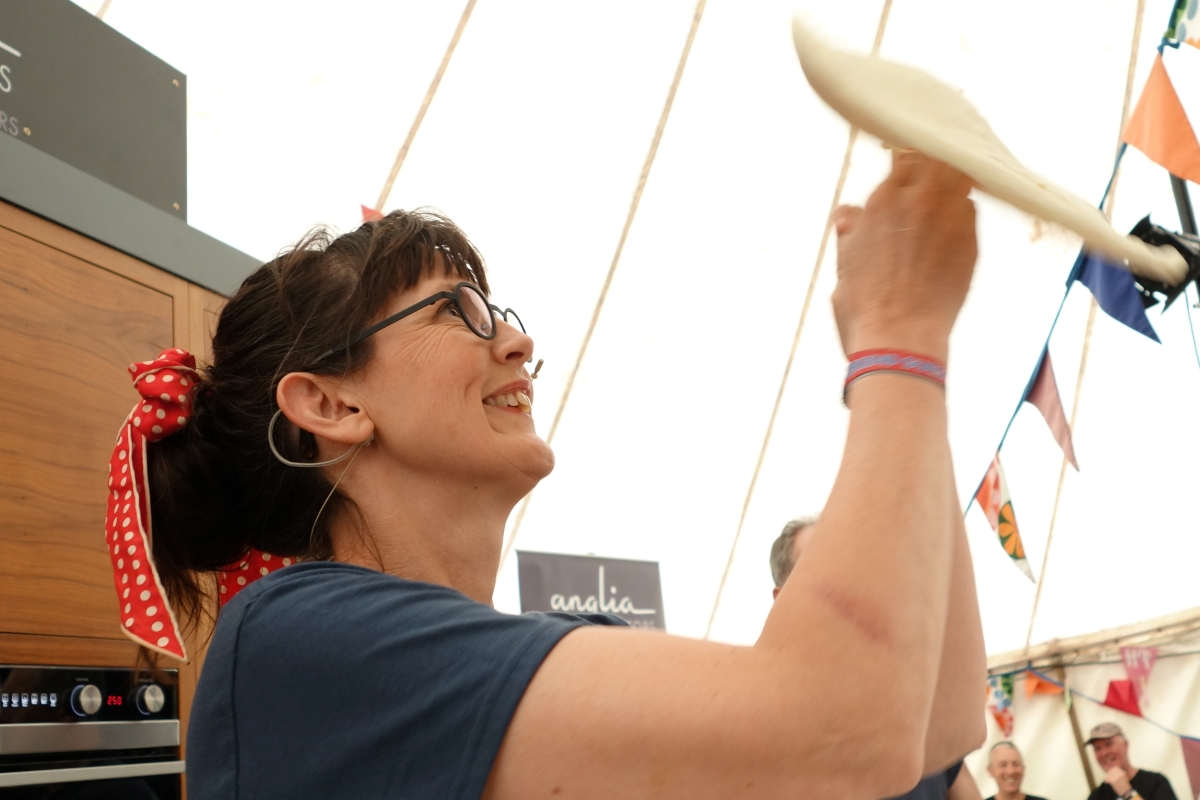 Rebecca Bishop at Latitude 2019 by Chris Young / realbreadcampaign.org CC-BY-SA 4.0
Update
Over the weekend around 350-400 people attended the Real Bread Campaign sessions.

Photos from the event
For the third Latitude running, Real Bread bakers will be opening the stage on the Friday, Saturday and Sunday over the weekend of 23-25 July. They will be demonstrating techniques and taking questions from the audience.
In addition to her demo, the first official outing for one of the new batch of Real Bread Campaign ambassadors, Cindy Zurias will also be a panelist for a discussion of non-commodity grains and pulses.
Campaign coordinator Chris Young, who will be MCing the demos and moderating the panel discussion, said: "It'll be very strange to be in a field with so many people again but we look forward to seeing our Theatre of Food friends and festival-goers who come to our sessions."
Real Bread demo's
Friday, 12.30pm: Demo by Rebecca Bishop and Steve Magnall (Two Magpies)
Saturday, 12.30pm: Demo by Steven Winter (Bread Source) [Due to Covid issues, replaced by talk from Chris Young]
Sunday, 12.30pm: Demo by Cindy Zurias (26 Degrees and Women Bakers' Project)
With the grain and on the pulse
On Sunday at 4.30pm there will be a discussion of landrace and other non-commodity grains and pulses, and local grain networks. The panellists are:
Ben Mackinnon (Fellows Farm and E5 Bakehouse)
Josiah Meldrum (Hodemedod's)
Johnny Spillings (The Penny Bun Bakehouse)
Cindy Zurias (26 Degrees and Women Bakers' Project)
After short talk from each expert, there will be an audience Q&A.
Also on the bill
At 3.30pm on the Sunday, Sustain's Local Action coordinator Vera Zakharov will be moderating a discussion on the right to food. The panellists will be:
Olivia Blake, MP for Sheffield, Hallam
Imogen Richmond-Bishop, Right to Food Coordinator, Sustain
Irina Martin, Dignity in Practice Project Officer, Nourish Scotland
Dee Woods, Food Justice Policy Coordinator, Landworkers Alliance
Sarah Woolley, General Secretary, Bakers, Food and Allied Workers' Union
A full programme should appear on the Latitude website, app and printed guide available on site, though all details will be subject to change.
Up-to-date information for the Theatre of Food will be posted on a chalkboard outside the tent each morning.
Support our charity
Your donation will help support the spread of baking skills and access to real bread.