Book now: 5 days for bakers who mean business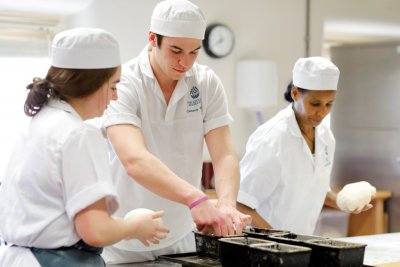 Bakery students. Copyright: The School of Artisan Food
Updated 26 May 2022.
The School of Artisan Food has created a baking business short course, which builds on information and guidance in Knead to Know…more, the Real Bread Campaign's microbakery handbook.
The five-day course runs from 5 to 9 of Sourdough September 2022. In the mix will be plenty of hands-on baking of tried and tested recipes, using a range of equipment geared to running a successful microbakery from home or other small space.
Find out more and book your place
Who's this for?
The course is aimed at people who are ready to:
Develop their hobby bread making to baking at a professional standard on a smaller scale
Scale up their kitchen table microbakery
Start a Community Supported Bakery
Set up a microbakery as (or part of) a social enterprise
Course overview
A book is great but there's nothing like learning with someone knowledgeable, skilled and experienced.
The course will be run by a team of The School's expert tutors, including Amy Warman and Toby Doy, led by past Real Bread Campaign ambassador Ian Waterland, who ran his own successful microbakery for eight years.
On the theory side, participants will explore topics such as:
Business models and planning
Legislation
Money matters
Insurance
Equipment options
Ingredients
Marketing and media relations
Work/life balance
Production planning
Practical elements will include:
Improving your bread making (sourdough and baker's yeast)
Scaling up / batch production
Retarding dough
Viennoiserie
Patisserie
Also included
All ingredients, equipment and recipes
A light lunch each day
Refreshments available throughout the day
A School of Artisan Food tote bag and baking essentials kit
A copy of Knead to Know…more*
A year's supporter status for the Real Bread Campaign*
*If you don't want/need these, you can pay one or both of them forward through the Campaign's Friends In Need initiative – see below.
Participants will need to arrange and pay for their own travel, accommodation, other meals etc.
The course will be run in the fully-equipped teaching room and lecture theatre at The School of Artisan Food's, nestled in the heart of Sherwood Forest on The Welbeck Estate, Nottinghamshire, just a few minutes from the A1 and M1.
Subsidised places
With support from The School and the Campaign's Friends In Need scheme, Matthews Cotwold Flour will subsidise a number of places on the course for would-be microbakers who face overwhelming financial barriers to starting their own businesses.
Applications are particularly welcomed from Black people, people of colour and people from other groups and backgrounds historically under-represented in bakery business ownership.
To enquire about what subsidy might be available to you, please email the School of Artisan Food, briefly outlining:
Your bakery business idea/plan
You level of baking and business experience
How you (and other people in your local community) will benefit from you starting a microbakery
A bit about yourself (who you are, your background and current situation)
Applications for subsidised places close on 1 July 2022.
Want to help a friend in knead?
The Real Bread Campaign set up Friends In Need thanks to crowdfunders of Knead to Know…more, to offer people support beyond the book.

If you'd like to contribute to the Friends in Knead fund, you can make a doughnation. Once you have, please email us so we can put your money in the right pot.
What we're fighting for 2023
Support our charity
Your donation will help support the spread of baking skills and access to real bread.