Real Bread advisors and mentors wanted
Would you like to help new bakery enterprises thrive and do good in their local communities?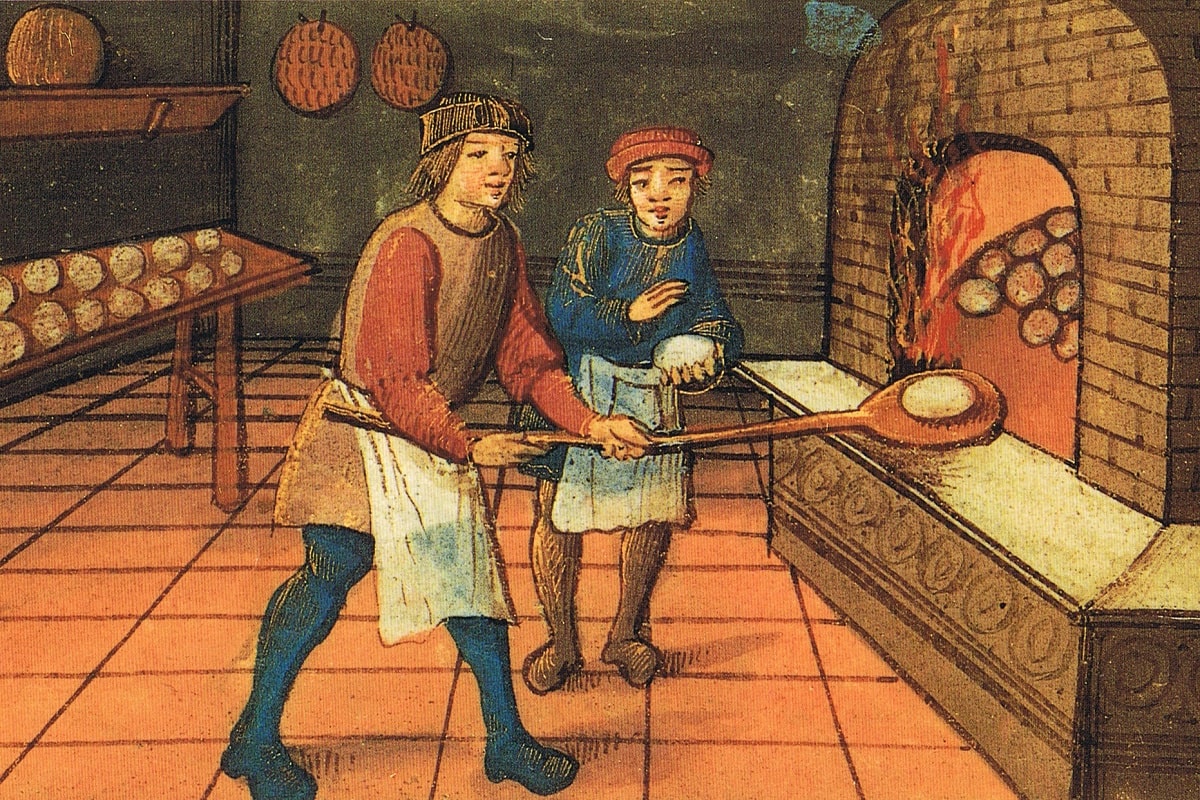 A medieval baker and apprentice. The Bodleian Library, Oxford. Public domain
Sustain, the food and farming charity that runs the Real Bread Campaign, is creating opportunities for experienced Real Bread bakery (and other good food business) experts to support the next generation in London and around the UK.
The two roles are:
Feeding the City Food Advisors: We are working in partnership with Impact Hub King's Cross on the UK-wide Feeding the City programme to support good food start-ups in our growing cities. To address the food business challenges that groups on the 12 month incubation programme face, we're looking for volunteers to run one-off advice sessions.
Pass It On Voluntary Mentors: As part of our work connecting, championing and supporting people who grow, make, cook, sell and save good food in the capital, London Food Link is filling a pool of expert volunteers willing to pass on knowledge, skills and advice.
Read how Feeding the City mentoring helped Proof Bakery founder Chernise Neo
Share your experience
The newcomers will have questions and problems around the baking itself or running the business. Whether you have set up your own Real Bread bakery, or otherwise are an expert in running one, we want to hear from you!
Once we have identified the bakery business-related challenges the newbie entrepreneurs face, we will do a bit of matchmaking with a Food Advisor who we feel best-suited to run a one-off two hour advice session to a Feeding the City group, or Volunteer Mentor able to offer more regular support to a Pass It On participant.
You will, of course, have the chance to decline a match if you feel it isn't right.
Time commitment
For Feeding the City, we are looking for Volunteer Mentors willing to commit to one (or more) two-hour sessions in the next six months. In addition to this phone / video call, or face-to-face meeting, we would expect there to be some time spent in preparation and follow up.
Pass It On is a rolling programme and the time commitment will vary.
In both cases, days, times and format of the calls/meetings will be arranged to be mutually convenient for both you and the enterprise(s) you have been matched with.
Benefits
You will have the chance to:
Help new good food enterprises on their journey to success
Gain consultancy experience
Make links with newcomers in your sector
Remuneration
We have a very small budget for the Feeding the City programme, so would love to find people willing and able to offer their time (or some of it) on a voluntary basis, so we are able to help more enterprises. That said, we will be able to offer a small payment to some of our Food Advisors.
Pass It On is unfunded and so London Food Link is unable to pay Voluntary Mentors, though we may be able to reimburse (or make a contribution towards) some direct, receipted out-of-pocket food and travel expenses.
Apply now
To apply for either role, please complete this form and email it to Sarah Williams.
Sarah is also the person to contact if you have any questions about either role.
Sustain summit
12 Oct 2022
The summit will consider meat and dairy production and consumption in the context of the climate and nature emergency, where inspiring work and opportunities exist, and the assumptions and underlying values about meat which have shaped our policy to date.
Support our charity
Your donation will help support the spread of baking skills and access to real bread.