Sustain Brexit Forum news roundup: Food standards and trade
The new UK Trade Bill, preparations for future trade deals, and US food standards have been dominating the media and Parliament. With so much to play for in food, farming and fishing, read more about the latest developments in UK trade policy. This is an extract from Sustain's Brexit Forum newsletter, June/July 2018. Sign up to receive news updates monthly or bi-monthly at: www.sustainweb.org/brexit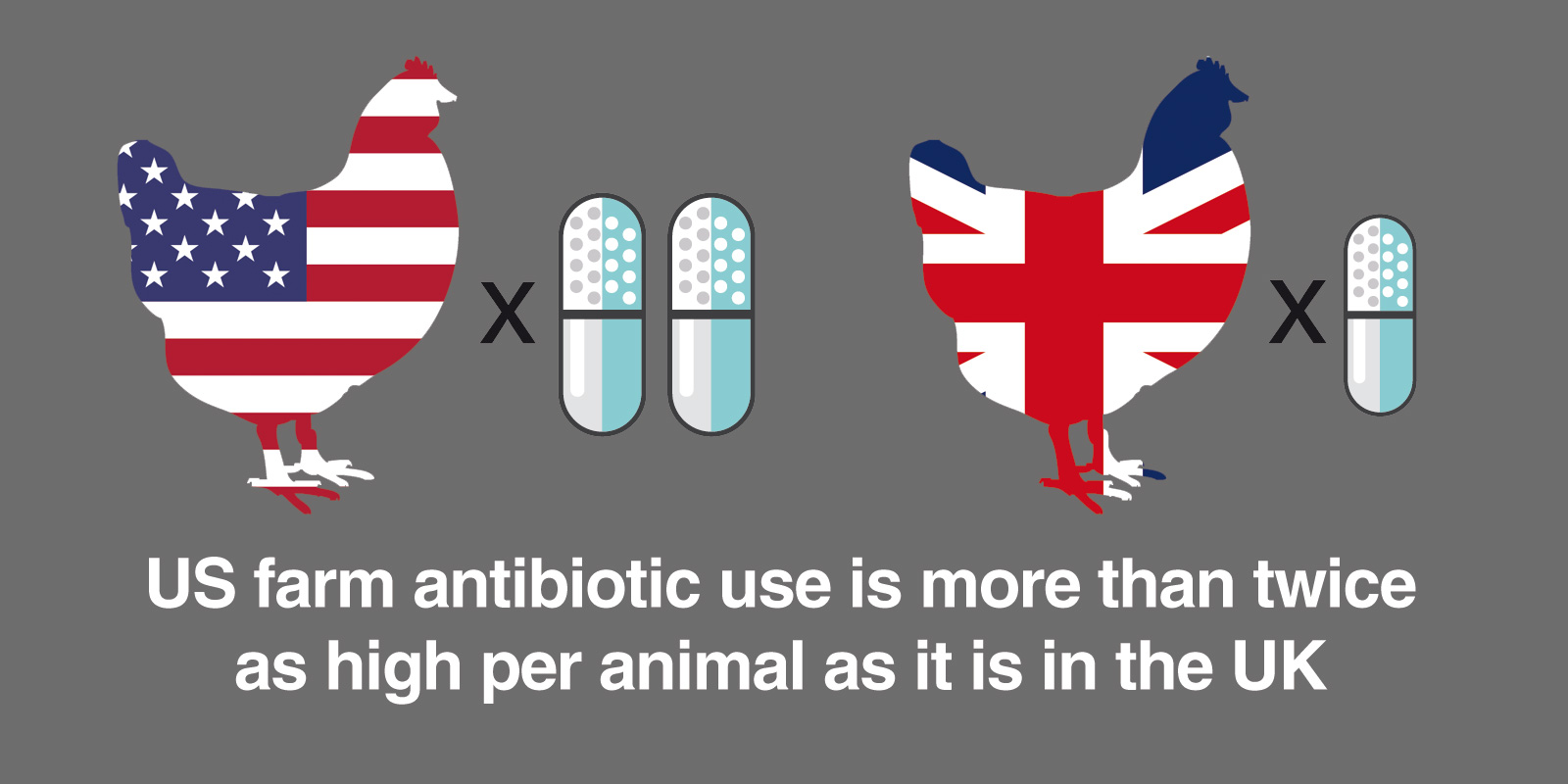 Read Sustain's briefings for MPs and policy-makers on UK policy on food standards and also UK policy on trade in food.
As part of the EU withdrawal process, the UK Government has committed to negotiate with the EU for trade deal that would involve 'a common rule book for all goods including agri-food' - Sustain's chief executive Kath Dalmeny welcomed the aspiration but raised concerns about the detail.

UK Trade Bill
The UK Trade Bill had its third reading in Parliament during July, with heated debate over key principles. Sustain member Global Justice Now summarises the key developments as:
MPs will not get a vote on future trade deals
Devolved administrations remain shut out
Limited transparency measures are a 'step forward but not enough'
A Trade Democracy amendment championed by Caroline Lucas MP, Green Party, was voted down by 314 to 284
Campaigners have vowed to take the struggle to the House of Lords
Nick Dearden of Sustain member Global Justice Now said, "Over the last year we have put democratic control of trade deals on the political agenda and we're pleased with the support we've received from MPs. We even forced the government to make promises about public consultation, impact assessments and letting parliament know what their trade strategy consists of. This is important, but Caroline Lucas' amendment would have given MPs the ability to scrutinise, change and if necessary stop bad trade deals. Unfortunately on the big question, the government has refused to give real power over trade deals to Parliament. This is a defeat for democracy."

The Bill now goes to the House of Lords in September and Trade Democracy campaigners will continue to fight for parliament's right to hold the government to account for trade policy.

UK preparations for future trade deals
The UK's Department for International Trade (DfIT) is preparing for trade negotiations after the UK leaves the EU on 29 March 2019. DfIT has published its 'approach to engagement for the pre-negotiation phase of trade negotiations' and is seeking applications for positions on the new Strategic Trade Advisory Group "from business to trade unions, consumers and non-governmental organisations (NGOs) amongst others" (all subject to confidentiality agreements). Fill in an expression of interest and return it to: strategic.advisory.group@trade.gov.uk by 17 August 2018.

'Thematic and sectoral working groups' will also be established to "facilitate expert technical policy exchanges on specific sector and thematic policy areas". Their objective is "to enable the government to draw on external knowledge and experience to ensure that the UK's trade policy is backed up by evidence at a detailed level and is able to deliver positive outcomes for the UK".

As part of the preparations, DfIT have also launched four consultations on UK trade negotiations with: New Zealand; United States; Australia; and the Comprehensive and Progressive Agreement for Trans-Pacific Partnership (CPTPP). Links to all four consultations can be accessed here. Sustain will submit responses, in discussion with the Trade Justice Movement and others, and encourages everyone to participate – either as an individual or on behalf of an organisation. The consultations close in October 2018 (check via web links for exact details).

Insights on US approach to UK food and trade
Recent moves by the World Health Assembly to encourage breastfeeding across the globe were reportedly blocked by the US, threatening withdrawal of crucial military aid if Ecuador did not champion the US approach. Drawing on decades of research showing that mother's milk is the healthiest for children the resolution ran into trouble when the US, apparently responding to the financial interests of infant formula manufacturers, objected. President Trump dismissed the story as fake news, but "I know, I was there", says Patti Rundall OBE, policy director of Baby Milk Action. She gave Sustain an eye-witness account of US government bullying tactics to prevent global efforts to protect breastfeeding and restrict misleading marketing of breastmilk substitutes.

The US Ambassador to the EU (2014-17) Anthony Luzzatto Gardner has reminded the UK (via a letter in the Financial Times) that, "Many, if not most, US companies want the UK to remain tightly aligned with EU regulations in order to benefit from friction-free access to the large EU single market. Indeed the key reason the (like their Japanese counterparts) invested in the UK in the first place is that the UK has been a gateway to Europe. The biggest issues of contention in US-EU trade are in agriculture, including restrictions on the export of hormone-treated beef, poultry disinfected with chlorine, pork containing ractopamine (a feed additive) and of course genetically modified organisms." He also warns that "the UK would have vastly less negotiating leverage with the US than does the EU" and would face "an administration that… will not hesitate to extract every advantage."

Eight out of ten Brits are 'not comfortable' with hormones in beef production, according to in-depth Which? (Consumers Association) research on public attitudes to Brexit. They also found that nine out of ten consumers think maintaining food standards after Brexit is important.




Clearly picking up the ripples of public disquiet about US trade deals and food standards, the UK Department for International Trade issued a tweet (pictured above) underlining that they consider it a 'Myth' that a trade deal with the US will lower food standards, promoting the 'Fact' that "Any future deal will uphold food safety, animal welfare standards and environmental protection."

A report from the Green Alliance on Protecting Standards in UK Food and Farming through Brexit, working with the Co-op, Nestlé, Sainsbury's and Tesco, highlighted how 'cheap food' trade policy would undermine the UK government's own sustainable farming policy. The argument in essence is that a 'cheap food' trade policy would expose the UK's food system to new risks including vulnerability to disruption in food supply, lower standard food, less information and control over where food comes from and how it is produced, and more environmentally damaging farming both in the UK and abroad. Chief executive of the Green Alliance, Shaun Spiers commented, "The cheap food narrative of Liam Fox and others in Government should worry anyone who cares for the British countryside and the quality of the food we eat."

Greenpeace Unearthed has secretly recorded the director of free-trade think tank, Institute of Economic Affairs (IEA), offering access to UK government ministers in exchange for research report funding. The IEA also said that they had been cultivating conversations with industry and potential donors in the US. An undercover reporter posed as a consultant for a US agricultural investor. IEA director Mark Littlewood said, "Beef is an area that we do genuinely happen to be interested in," explaining that a meeting with an agriculture minister would provide the donor with the opportunity "for you to say, Minister, I'm really keen to bend your ear about beef". Explaining the purpose of the paid-for research, Littlewood said, "There is no way this report is going to say the most important thing we need to do is keep American beef out of our market in order to prop up our beef farmers, in fact exactly the opposite." Littlewood told an undercover reporter that the IEA's trade adviser Shanker Singham was "unbelievably well connected" to Brexit-backing cabinet ministers including UK trade secretary Liam Fox, UK Defra secretary Michael Gove and former UK foreign secretary Boris Johnson and would be able to introduce the ministers to the prospective US agribusiness donor.

In response to the Greenpeace Unearthed report, a spokesperson for Defra Secretary of State Michael Gove said: "The government and the environment secretary have been very clear that food safety and animal welfare standards will not be weakened after Brexit. We will never be swayed on this. There will no chlorinated chicken entering the UK and we will retain the precautionary principle. That position won't change, whatever any think tank recommends."

Other international food and farming standards
Compassion in World Farming has spelled out the gaps in animal welfare standards between the UK and likely future trading partners. They also specified the measures needed to be put in place to protect animal welfare, arguing that buying cheap bacon lets down pigs and their farmers.

The UK should be prepared to relax EU rules on food standards and chemical safety as part of a new trading relationship with India, according to an unreleased report by the British and Indian governments. The official joint trade review – obtained by Greenpeace Unearthed investigative journalists– spotlights a range of non-tariff barriers to trade identified by Indian businesses, including limits on fungicides in basmati rice, the enforcement of food hygiene standards for milk and dairy products such as paneer and the use of hormone-disrupting chemicals across a range of non-food products. The CHEM Trust commented, "The difficulty that Indian exporters face in complying with EU rules on imported products should not be grounds for the UK to reduce standards of protection of human health and the environment."

Whilst not directly a food ruling, a landmark legal case has helpfully demonstrated that trade law can accommodate legitimate public health concerns. Australia has won a major trade dispute over its tobacco plain packaging law, with World Trade Organisation judges rejecting a complaint brought by Cuba, Indonesia, Honduras and the Dominican Republic. Health campaigners hailed the ruling as a "resounding victory" and a test case for public health legislation globally, which could lead to tighter marketing rules for unhealthy foods and alcohol as well as tobacco.

And finally on trade…
The UK gave notice in June that it plans to join the World Trade Organisation (WTO) government procurement agreement as a member in its own right after we leave the EU.

For anyone feeling their trade terminology is a bit rusty, this 'beginners guide to trade tariffs and the WTO' from Peter Ungphakorn is a handy tea-break read. And with the recommendation of a strong coffee, brush up on your Codex Alimentarius – the food standards used by international trading partners and closely linked to the WTO processes.

---
31/07/2018
Brexit
SHARE
---
Brexit: We stand at a cross-roads. When the UK leaves the European Union, will our leaders uphold good standards for our food, farming, fishing and trade deals? And will they agree a sensible deal with the EU? We need to make sure that they do!