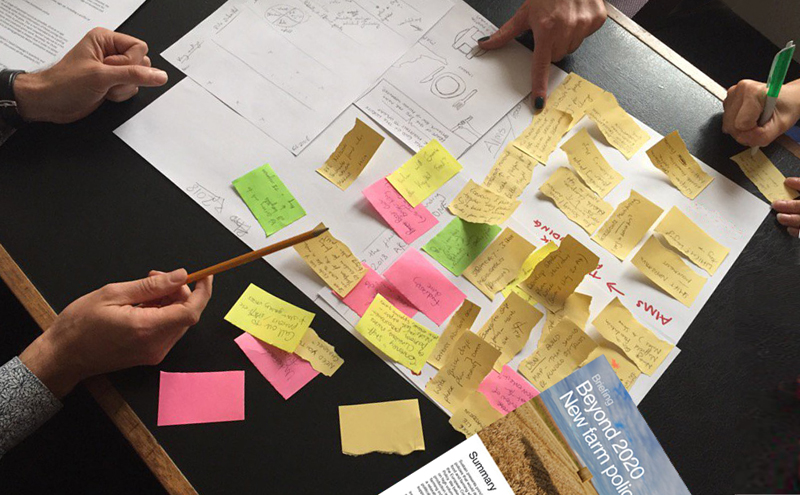 Over 50 organisations met on 27 June – coordinated by Sustain – to take stock of priorities for Brexit and the forthcoming Repeal, Trade, Agriculture and Fisheries Bills announced in the Queen's Speech in June 2017. The meeting also considered how we can work together to engage the public and to inform and influence decision-makers.
Participants represented organisations working on the diverse issues represented in the Sustain alliance – food safety and quality standards; consumer rights and protections; environmental protection; workers' rights; measures to tackle trafficking and modern slavery; labour conditions and skills; sustainable international development; organic food and farming standards; animal welfare; animal and plant health; chemical and pesticide controls; poverty and inequality reduction; and access to justice.
The Sustain alliance is working together to secure a food system that is healthy, fair, humane and sustainable, playing its part in tackling climate change. Common principles must apply to how we deal with farming, fisheries, health and social policy, as well as to new international trade deals. Together, we are campaigning for a Better Food Britain.
At the Taking Stock meeting, updates were shared from key 'hub organisations' coordinating work on Brexit: Sustain (including alliance Sustainable Farming and Sustainable Fish campaigns); Greener UK, Unlock Democracy, and the Trade Justice Movement, as well as participants from specialist organisations.
A summary of the Taking Stock event is available on the Sustain Brexit Forum webpages. Detailed notes of the meeting are available on request from kath@sustainweb.org. Sustain has also published a summary of legal milestones over the coming year to 18 months, and is preparing a shared calendar to help coordinate activities across the food, farming and fishing sectors.