Sustain supports the first Food Diversity Day on Friday 13 January - an initiative designed to celebrate Britain's most endangered foods and to help get more food diversity onto our plates. You can join talks, presentations and discussions on so many great topics.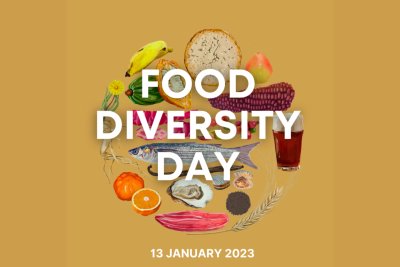 . Copyright: Food Diversity Day
Find a food that's rare or endangered where you live; try a different variety of apple or cheese; celebrate foods that have been forgotten; learn about seeds and seed saving; and support food producers and farmers helping to preserve distinctive and diverse foods in your area. For one day (and the weekend to follow), talks and food experiences will inspire us to learn about our endangered foods and to eat more diversely.
On Friday January 13th, from 9am to 7.30pm, some of the UK's leading scientists, writers, chefs, farmers, campaigners and entrepreneurs will be taking part in a continuous feed of discussions, storytelling and information sharing - all about the wonders and importance of food diversity. These discussions will be made available for free via Eventbrite, live-streamed on YouTube and available to view after the event. Explore the resources for each of the sessions here.
A message from Dan Saladino, author of Eating To Extinction: The World's Rarest Foods and Why We Need to Save Them:
"Writing Eating to Extinction filled me with wonder and fear because I realised how desperately the world needs food diversity for the future, and how quickly it's being lost. But we can make a difference by coming together, celebrating what we have and playing a role in saving endangered foods.

"I believe January 2023 is the perfect time to start a new food narrative. This is usually a time of year when we're traditionally being told to eat less, but we can send out the message that we need to eat more (diversity, that is).

"My hope is that Food Diversity Day becomes a week-long annual event held in a different season each year, a fixture in the calendar that creates new opportunities to discover the richness of British Food Culture."
Support our charity
Donate to enhance the health and welfare of people, animals and the planet.