MPs reject scrutiny, food standards and public health amendments to the Trade Bill
MPs have voted down amendments that peers put down to the Trade Bill that would have improved parliamentary scrutiny, secured food standards and added public health to the responsibilities of the Trade and Agriculture Commission.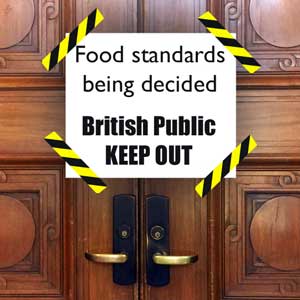 Sustain
The move gives ministers the power to approve lower standard food imports, such as chlorine chicken and hormone treated beef, which are not currently permitted in the UK. Ministers have repeatedly assured that food standards will not be lowered but this vote will allow them to make changes without consultation or the need to gain parliamentary approval.
MPs also voted down amendments which referred to the role of the Trade and Agriculture Commission. These amendments were laid in the House of Lords with the support of Sustain patron Baroness Boycott. You can read our briefing on the topic here.

Emily Thornberry, shadow International Trade Secretary said during the debate: "We welcome amendments 9 and 10, which would expand the remit of the Trade and Agriculture Commission to cover the impact of food on public health. If the Government are to leave it to the commission to protect our food and farming standards against low-cost, low-quality imports, rather than putting those protections into law, then the least they can do is ensure that the commission's remit covers all the standards that we wish to protect, including those related to public health."
There were 11 Conservative MPs who rebelled to vote for more parliamentary scrutiny. Sustain added its name to a letter to the Prime Minister calling for more scrutiny and votes on trade deals. You can read that letter here.
As we are in 'ping pong', peers in the House of Lords will now get to debate these MP votes and lay down new amendments. This debate is expected to be week begining 2 February.
You can read more of the Guardian's coverage of the food standards story here
You can access Sustain's briefing for the debate here and the Future British Standards Coalition report on the risk to standards here.
Support our charity
Donate to enhance the health and welfare of people, animals and the planet.