New report shows trade rules could hamper progress on climate
A new report from the Trade Justice Movement argues that international trade law is lagging behind global momentum to tackle the climate and nature emergencies and threatens to choke off serious action.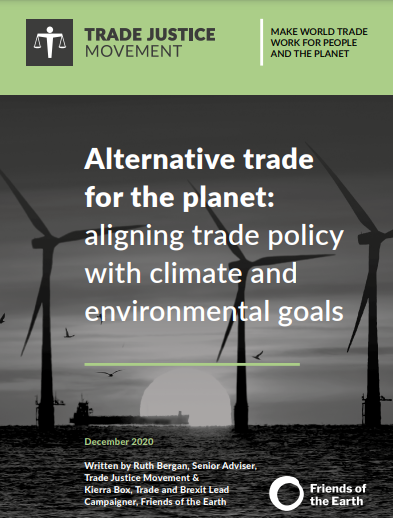 Alternative-Trade-For-The-Planet-c-Trade-Justice-Movement
The "Alternative Trade for the Planet" report calls on the UK to shape its new post-Brexit trade policy so that it is in line with its climate and environmental commitments. The authors argue that many trade provisions, including those covering agriculture, require fresh thinking to ensure they support the transition to low carbon industry, support regulatory innovation and the sharing of green technology.
They insist the need to reshape trade policy is urgent as current provisions in trade deals "are already preventing a range of measures necessary for a just transition towards a low-carbon economy". Specifically, they point to trade policies that have already hindered the phase out of fossil fuels, the expansion of renewables sectors and the transition to a sustainable model of agriculture.
Ruth Bergan, Senior Advisor at the Trade Justice Movement said:

"Current discourse around trade and food tends to be framed in terms of 'agricultural commodities' and the need to 'drive down prices for consumers'. This reflects an industrial model of agriculture and excludes important considerations such as the environmental impacts of food production or the kinds of farming that might be most socially useful. As a result, current trade rules tend to benefit large-scale industrial agriculture and can drive deforestation, both of which contribute significantly to climate change."

She continued: "Trade liberalisation can increase trade in more carbon-intensive products, in terms of agriculture this could include increased trade in products such as beef, soy and palm oil which are driving deforestation. It can also disadvantage small scale farmers using less carbon intensive production methods. The UK needs to take the lead in shaping a trade policy that incentivises and supports efforts to tackle climate change and nature loss."

You can read the "Alternative Trade for the Planet" report here
Support our charity
Donate to enhance the health and welfare of people, animals and the planet.