Government Bill rules out protecting human health from trade deals
The impact of future trade deals on human health will be ruled out of scope by the government in a new amendment to its trade bill, which returns to the House of Lords on Monday (7 December). This is despite food safety and standards being overwhelmingly a top priority for the British public, as shown in numerous surveys, polls and petitions, and in responses to the Government's own consultations.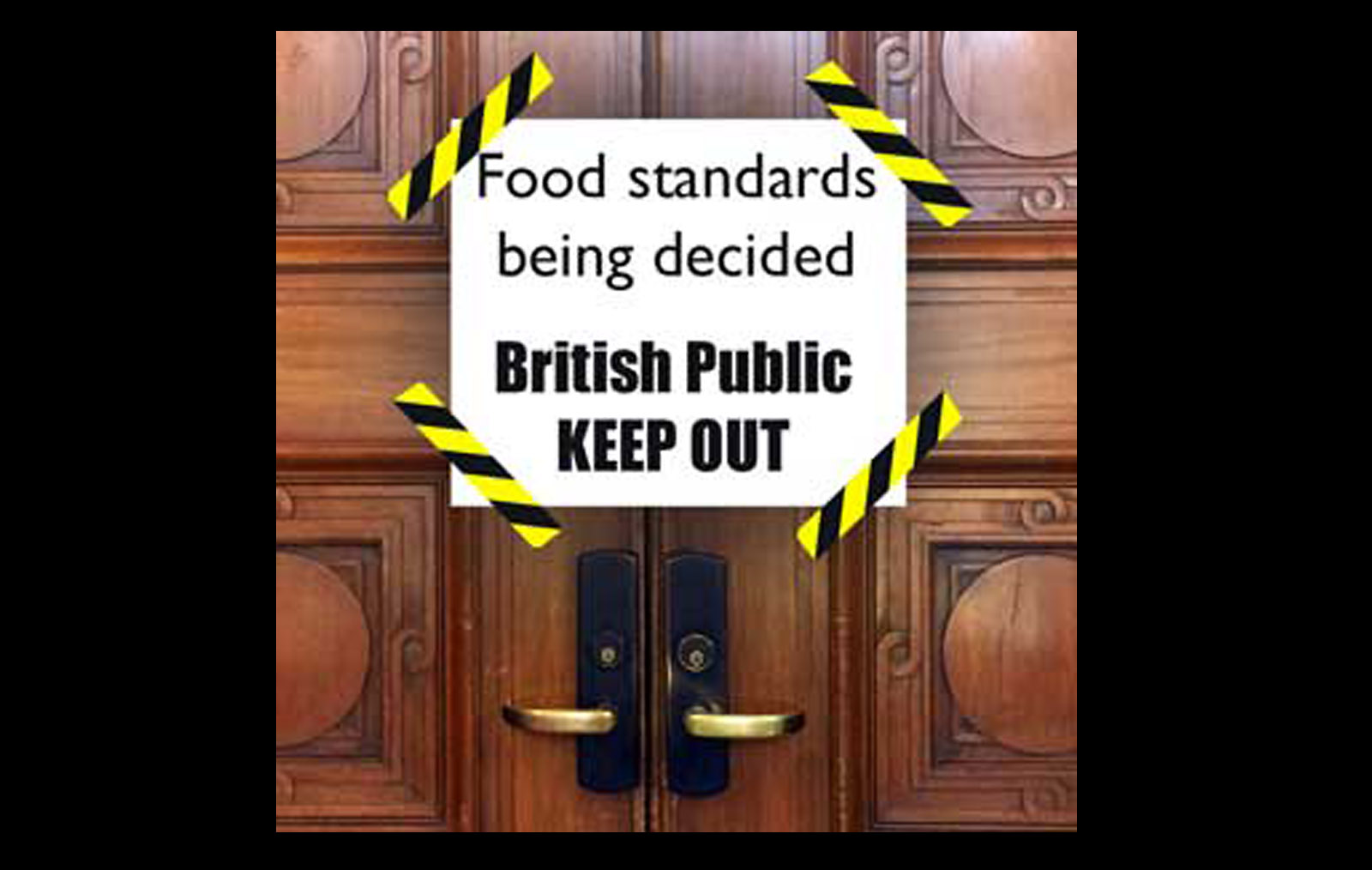 Photo credit: Sustain
The amendment, laid by Lord Grimstone of Boscobel on behalf of the government, states that future reports on trade, promised in the recently passed Agriculture Act, will only need to ensure trade deals line up with UK laws on "animal or plant life or health, animal welfare and the environment". There is no requirement for the Secretary of State, nor the advisory Trade and Agriculture Commission, to consider the extent to which trade deals affect human life or health.
The Department for International Trade will be responsible for producing the reports, with advice from the Trade and Agriculture Commission. But the government's new amendment effectively prohibits the Commission from saying anything about human health, meaning that food imports will not be challenged on issues such as pesticide residues in food, irresponsible farm antibiotic use and food safety.
It also raises questions about the government's most recent obesity strategy initiative which aims to help people eat more healthily, lose weight and protect themselves from the worst effects of Covid-19. Obese people are significantly more likely to become seriously ill and be admitted to intensive care with Covid-19 compared to those with a healthy BMI. Research also shows that the types of highly processed food and soft drinks that often feature in trade deals contribute to increased obesity and other diet-related ill health.
Campaigners concerned with the potential future impact of trade deals on food safety and standards, healthy diets and farm antibiotics stewardship are alarmed at the development.
Kath Dalmeny, chief executive of Sustain, an alliance of food, farming and health organisations, said:
"The British public have said time and again that trade must not be allowed to compromise food standards, yet the Government is ignoring them. By this amendment, the Government is committing, by law to considering the impact of future trade deals on the health of animals and plants. Yet they are specifically ruling out protecting human health. People and public health are just as important as pigs and plants.

"We already know that other nations are actively lobbying the UK to lower its regulations on pesticides, antibiotics, junk food marketing and health labels on food. If the Trade and Agriculture Commission are banned from advising government on these matters, then who will be defending our health? And if this is not being picked up in trade legislation, then where is it? This a gaping hole in the government's trade policy that could result in worsening diets, pesticide residues in food and further rises in lethal antimicrobial resistance.
The Trade and Agriculture Commission was formed in response to overwhelming consumer demand and farming concerns. In total it is thought 2.6m people signed petitions calling for food standards to be written into the law - the government resisted these calls and opted instead to the form the Trade and Agriculture Commission.
Kath Dalmeny continued:
"We welcome the government's move to put the Trade and Agriculture Commission onto a statutory footing, expand its lifespan and require it to advise on future trade agreements. We also welcome the government amendments in which they pledge to broaden the membership of the TAC- which we called for – to include trade, plant and animal health, animal welfare and environmental experts. However, there is still a need for public health and consumer interests to be represented on the TAC, and we call on government to fill the gap they have left."
Sustain is also urging parliamentarians to support amendments on parliamentary scrutiny.
This story was covered by the Daily Mail, and you can read it here.
Support our charity
Donate to enhance the health and welfare of people, animals and the planet.