Try London's Christmas Markets this weekend
A fantastic way to shop for your Christmas food is through London's huge range of markets. We've put together a list of ones to visit this weekend.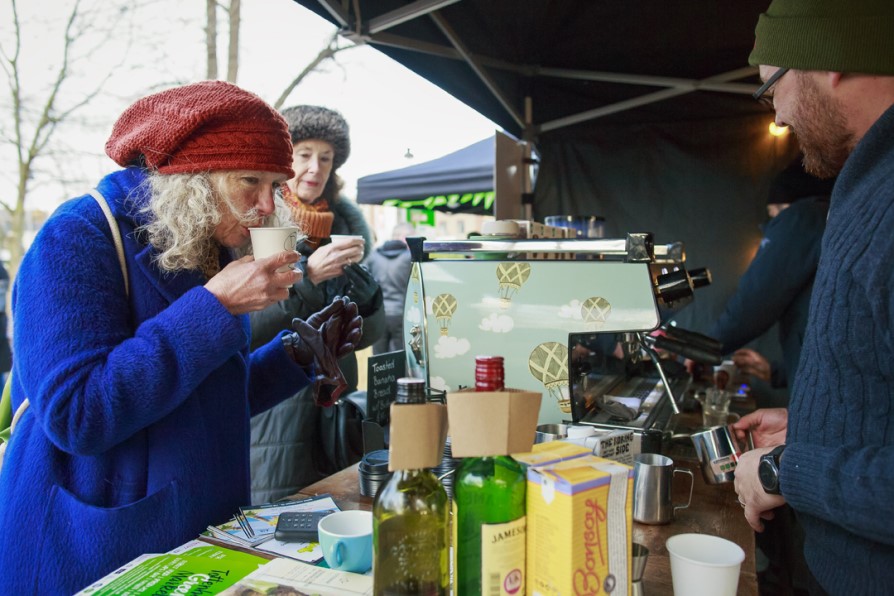 Whether you want the best local grown veg, ethically produced meat, or expertly cooked sweet treats look no further than your nearest market stalls. A great chance to safely get out of the house and support your local food producers over the holidays. And if you don't fancy leaving your bubble – we've compiled some stay-at-home lists, so you don't miss out on London's best food.
Tottenham N15, Sunday, 11-4pm
Pop down to Tottenham Green Christmas Market full to the brim of local bakers, cheese sellers, craft beers, organic wines, honey and gifts. Shopping includes - farmers Christmas stall, organic veggies, Christmas trees & wreaths, zero waste stalls, pre-loved kids clothes, Christmas bakeries, street food, world deli's, mulled wine & cider and much more.
Stoke Newington N16, Saturday 10-2.30
Support small sustainable farms at this weekly market, most of which are based within 60 miles of London! Their farmers are all organic or biodynamic, and stallholders selling processed food source most their ingredients from the farmers who come. This means amazing, delicious food produced in a sustainable and ethical way. As well as selling all your festive food there are loads of local, ethical and sustainable gifts too.
Herne Hill, SE24 OJN, Sunday, 10-4pm
Right opposite Brockwell Park, Herne Hill Market provides locally produced foods, arts and crafts all from within 100-miles of the market. Pop in on Sunday for a special gift or something for the Christmas table.
Shop and gardens are open Saturday and Sunday, 11-3pm
Pick up some of their award winning veg which is grown by the amazing community.
Head to your nearby LFM for food from local farmers and producers. From veg and meat, to pastries and cakes, to plants and flowers. Everything you need for the Christmas table. Putting you in direct contact with the farmers, fishermen, growers and bakers who make your food.
Also look out for these stalls:
Breadwinners are an amazing social enterprise who provide employment and training for refugees. They also sell incredible artisan bread and other treats – good food with an amazing purpose. Check them out across London's markets or order online.
Saturday 19th at the Hornbeam and Transition Leytonstone Market, Sunday 20th at the Hornbea, and Silas Yard Find here
A community food project based in Lea Valley on the north-east edge of London who grow and distribute food locally, and inspiring vision of a just and sustainable food society. Pick up their amazing produce in weekend markets in the North East area.
Haggerston E8, Saturday
An artisan bakery based in Haggerston, East London are a social enterprise we that support adults recovering from mental ill health.They freshly bake sourdough loaves and pastries, using organic ingredients, every day and sell them at their bakery and at Growing Communities Farmers Market.
Staying in?
For pantry fillers and general groceries have a look at our list of London's best bakers, grocers and independent producers.
To sequre a big centre piece or post lunch cheeseboard have a look at Around Town: Meat and Dairy
Fancy a restaurant dinner? Around Town: Home Edition
And sort out your Christmas shopping with our 12 Christmas Foodie Gifts
---